Americans knighted into German hunting brotherhood
by
Martin Egnash
March 10, 2018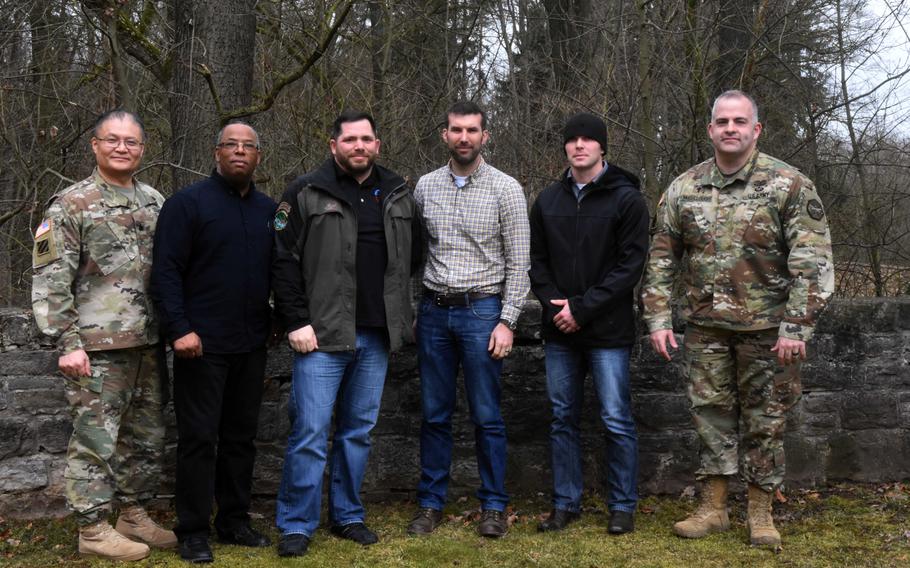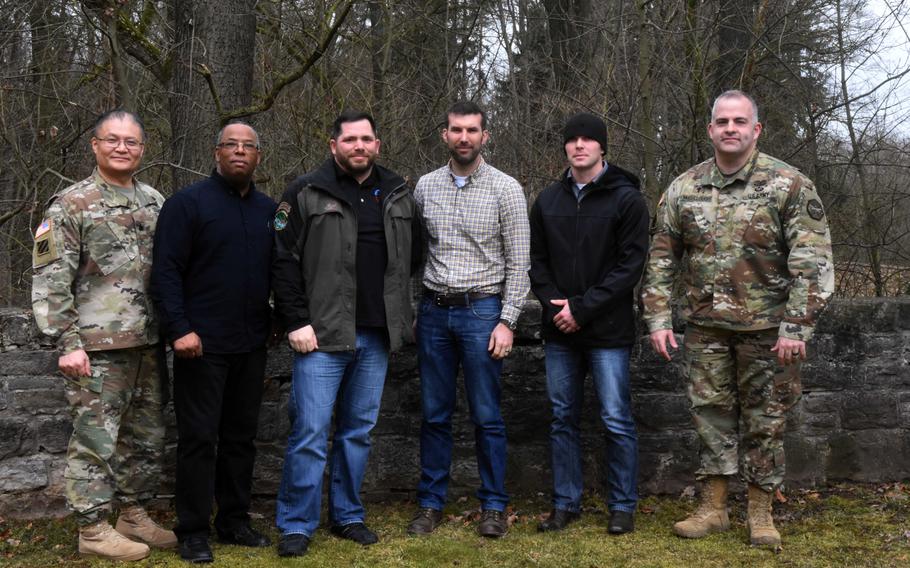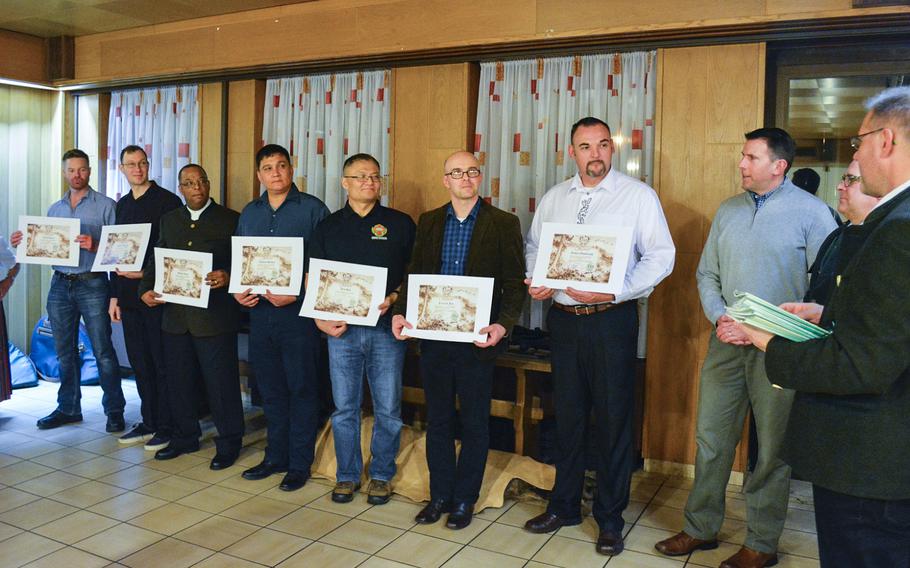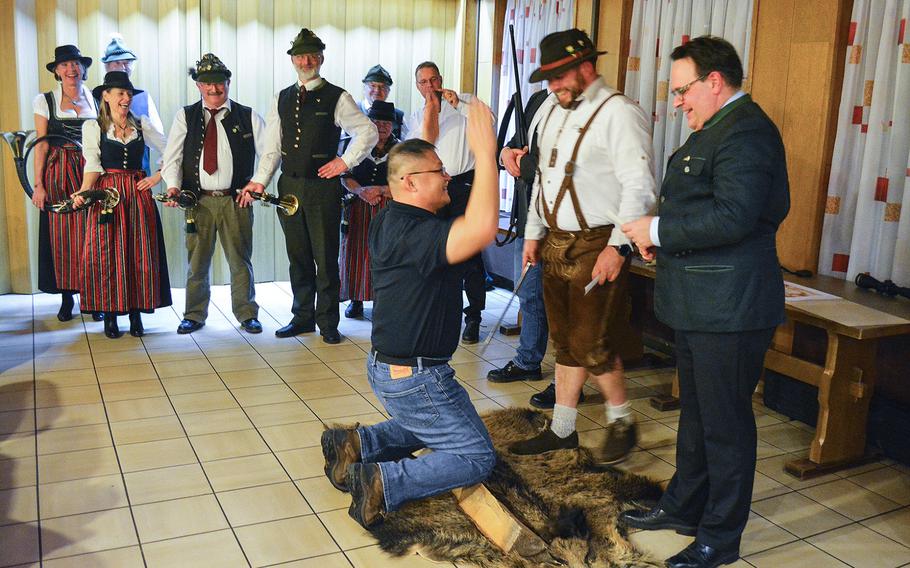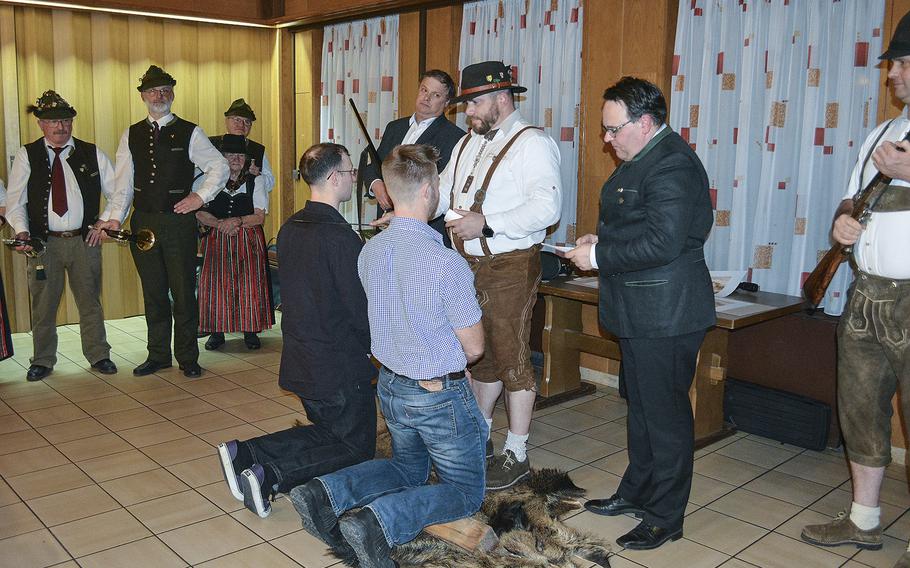 ANSBACH, Germany – For U.S. hunters stationed overseas, the process of obtaining a hunting license outside the U.S. is more a rite of passage than a simple application process.
After nearly three months of hard work, a group of American soldiers and U.S. base workers recently were knighted into a German hunting order as jungjaegers, or young hunters.
During the knighting ceremony, traditional Bavarian horns sounded as the seven Americans knelt on a wooden board – an austere, pain-inducing ritual to remind them of their responsibilities as hunters.
Not every American goes through a knighting ceremony when they are accepted into a German hunting order, but they all must participate in a rigorous, time-consuming training process.
The new American inductees into the German Hunting Brotherhood went through 90 hours of training, meeting several days a week, to learn German hunting laws and the thousand-year-old history of hunting in the region.
The Americans formed a close bond during the training. The Morale, Welfare and Recreation course emphasized team work and dedication to each other, said Lt. Col. Suk Kim, one of the hunters who was knighted.
There were 14 hunters originally in the course, but due to the high level of commitment it takes to keep with it, half dropped out, said course instructor Fred Lane.
The hunters attributed the high attrition rate to the time commitment and the German language skills required to qualify for the license. German hunting vocabulary is almost a language in itself, they said.
"This is the hardest hunting license to get in the world," Lane said.
In addition to learning about German wildlife and hunting laws, the Americans soon found out that hunting is fundamentally different in Germany, said Maj. Jesse McCullough.
"In the U.S., you're out there on your own, and you appreciate nature, and that's beautiful. But here, you're not just out there hunting for yourself. Here, they treat hunters like stewards of the land, and you feel an even deeper connection to the nature because of it," McCullough said.
One reason hunting is less of an individual sport in Germany is because hunters must lease land from property owners, so you're always doing it in conjunction with other people, Lane said.
But a big part of it is the mindset. Hunters in Germany are encouraged to kill their prey in the most humane way possible and to hunt as a way to promote the overall health of the land, the hunters said.
"It's not just about getting a deer. It's about culling the population, so the animals can thrive. They teach you to be part of the ecosystem," McCullough said.
Hunting programs like this are available to U.S. personnel and families at most Army garrisons overseas. To find out more information about a program near you, contact your local MWR representative.
egnash.martin@stripes.com Twitter: @Marty_Stripes
---
---
---
---