Airman jailed for secretly filming women as they undressed, showered in his house
by
Jennifer H. Svan
September 27, 2019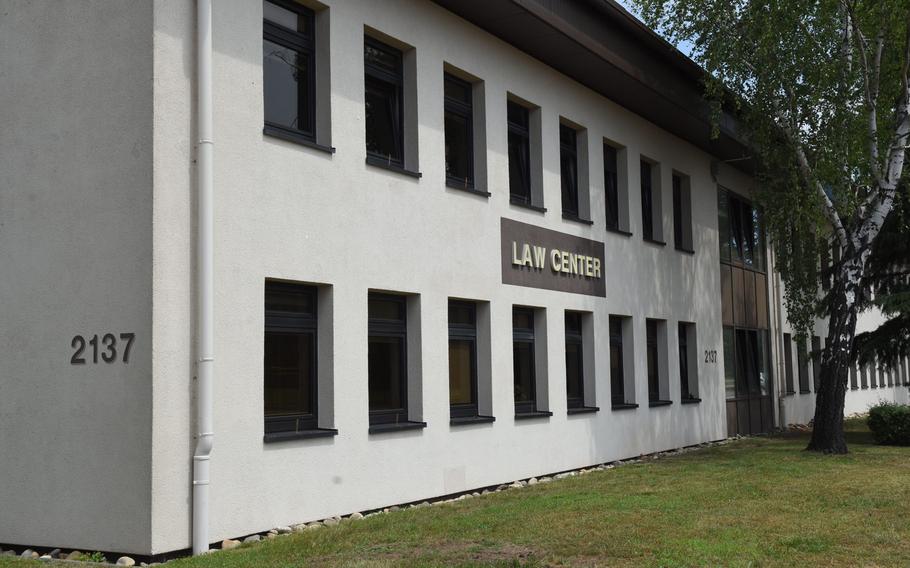 RAMSTEIN AIR BASE, Germany — An airman who used hidden cameras to film women as they undressed, bathed or used the toilet while staying in his home was sentenced to five years in jail Thursday by a court-martial here.
Staff Sgt. Andrew P. Rogers admitted at a general court-martial this week that, between November 2015 and April 2018, he used cameras hidden in alarm clocks and smoke alarms and set up in the bathroom and guest bedroom of his off-base house to film more than half a dozen women who stayed with him or house-sat for him while he was away. The cameras were angled to capture the women's private areas as they engaged in intimate activity such as bathing or undressing, the court heard.
Some of the devices were motion-activated and connected to WiFi, allowing Rogers to view live-stream video of the women from wherever he happened to be. Other videos were saved on data cards, and Rogers would view them later on his laptop or phone, the court was told.
One of the women, who met Rogers through social media, told the court she was excited to stay at his home with her sister-in law last year, to feed Rogers' fish while he vacationed in Bali.
Rogers encouraged the women to use the bathtub and bath salts that he had, but told them not to use the bathroom's separate shower, the woman recalled being told.
She soon learned the reason for the no-shower instructions, and her discovery unraveled a dirty secret that this week ended Rogers' promising Air Force career.
Rogers pleaded guilty to six counts of indecent recording, an Article 120c violation under the Uniform Code of Military Justice. He was found guilty of a seventh specification of the same offense, but not guilty of two further, similar counts and one specification of indecent exposure.
In addition to sending him to jail for five years, military judge Lt. Col. Willie Babor gave Rogers a dishonorable discharge and demoted him to E-1. The stiff sentence was just shy of the six years requested by government prosecutors.
Rogers used his "deceptively friendly personality" to lure seven unsuspecting women to his home and then "shattered their trust one by one," recording their intimate moments to satisfy his sexual perversions, said Capt. Ryan Schmidt, one of the military prosecutors.
"Every time they sat on the toilet, every time they popped a pimple, took a shower, changed their clothes … only to find out years later, there were eyes in the darkness watching their every move," Schmidt said.
Rogers' victims told the court that they now have nightmares and have become obsessively paranoid about being watched. One of them, an airman who worked with Rogers at the 603rd Air and Space Operations Center, said she checks for hidden cameras almost everywhere – "even in my own house."
Rogers first bought an alarm clock with a hidden camera because he suspected his now ex-wife was cheating on him, he told the court.
He didn't set it up until the couple moved to Ramstein in early 2016, but only, he said, because he needed a clock in the bathroom.
When a fellow airman watched the couple's dogs that spring while they were away, "it occurred to me the camera was in there," Rogers said.
Upon returning, he viewed the footage recorded by the camera hidden in the clock. It was, he said in court, a turning point that "started the darkest period of my life."
Rogers set up more hidden cameras and recorded airmen and civilians who, considering him a friend, had agreed to house-sit for him, or, in the case of one victim, lived in Rogers' guest room for a couple of months when she needed a place to stay.
The victims asked not to be named. Stars and Stripes typically does not name victims of sexual crimes without their permission.
Rogers' activities were discovered in April 2018, when the woman who stayed at his house with her sister-in-law noticed a smoke detector at about eye level while she was standing up in the bathtub, taking a shower. The device was flashing.
The woman removed the smoke detector and saw that it had a slot for a data card.
When she returned from work that day, the woman found an alarm clock in the guest bedroom. She'd seen "the same exact model on Amazon" when she did a google search for spy cameras at work.
The woman and her sister-in-law placed a data card they'd removed from one of the hidden cameras and viewed the video. The first images were of Rogers appearing to test the camera, she told the court.
Rogers was confronted by Air Force investigators when he returned from vacation in Bali. He admitted to the secret recordings and provided the names of other victims he thought he may have recorded, defense lawyers said.
In court this week, he apologized to his victims and tried to explain – to himself and everyone else – why he had done what he did.
"I've searched my soul for answers," he said. "I became obsessed with something so unhealthy, something I knew was destructive, but I continued to do it."
svan.jennifer@stripes.com Twitter: @stripesktown