Air Force tanker makes emergency landing at Mildenhall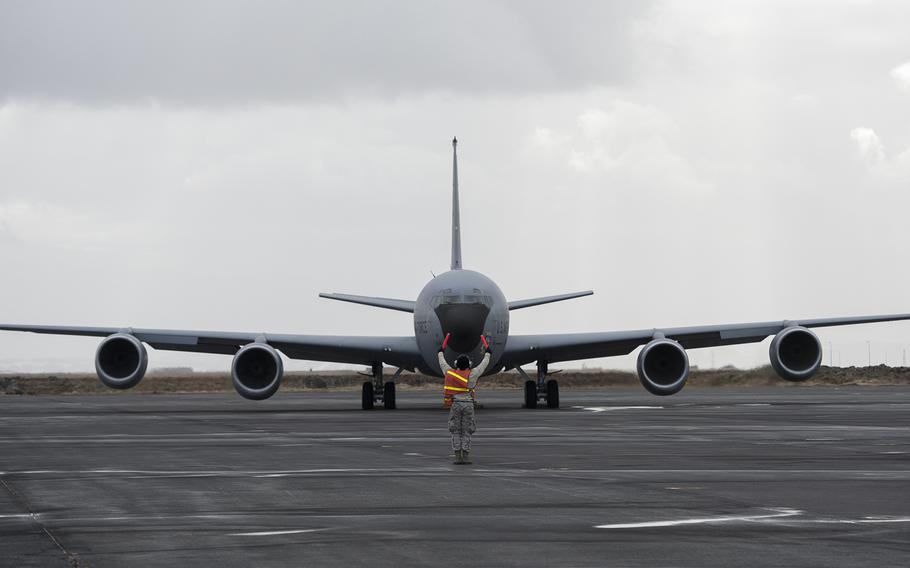 RAF MILDENHALL, England — The crew of a U.S. Air Force refueling plane declared an in-flight emergency after experiencing a problem with the controls and landed at RAF Mildenhall early Wednesday morning.
No injuries were reported.
The KC-135 Stratotanker, carrying three crewmembers and three passengers on a refueling mission, experienced a "flight-control related malfunction," a spokeswoman for Mildenhall said in an email.
The crew declared an emergency three hours into their flight plan about 12:20 a.m. and landed at Mildenhall, the plane's original destination, at 1:20 a.m., the spokeswoman said.
"The crew and aircraft were never in jeopardy, and they safely returned to home station," the spokeswoman said.
The 100th Air Refueling Wing, stationed at Mildenhall, has flown about 600 local refueling missions since the start of fiscal 2015.
This was not the first emergency landing for the aging tanker this year. In January, a Stratotanker belonging to the 128th Air Refueling Wing was forced to land at Mitchell International Airport in Milwaukee after smoke and fumes appeared in the cockpit.
The KC-135 fleet has been in continuous service for more than 50 years. The Air Force is due to start replacing its fleet of 179 Stratotankers with the new Boeing KC-46 Pegasus in 2017.
---
---
---