GALLERY
A new breed of dog is sniffing around RAF Mildenhall
---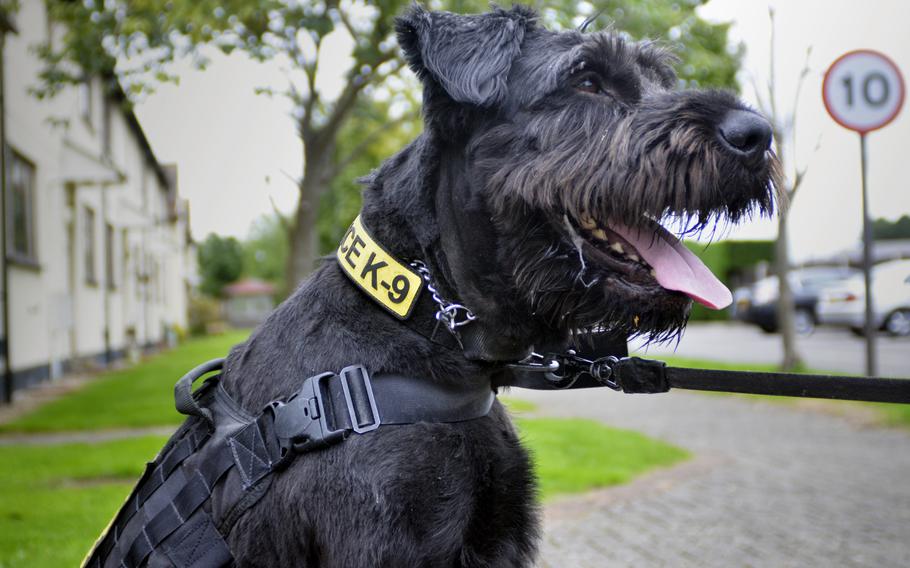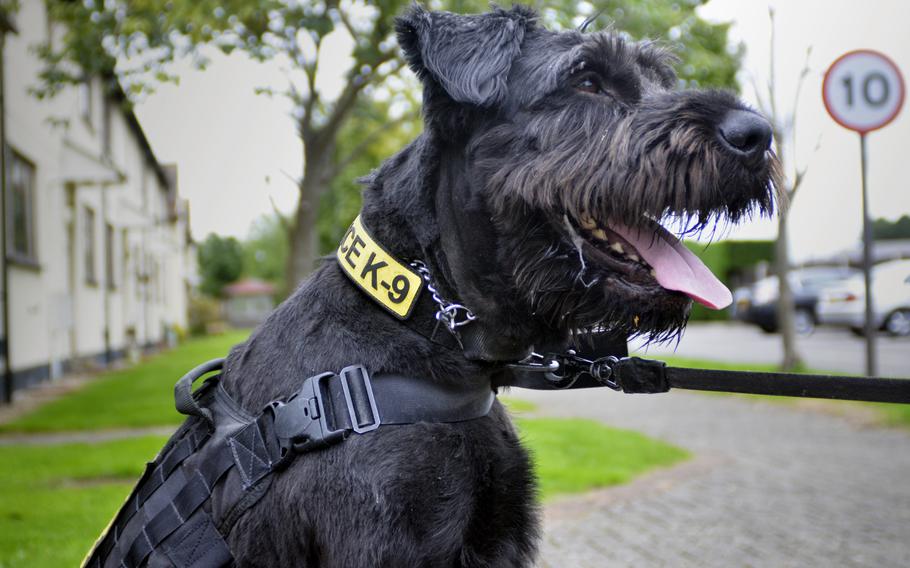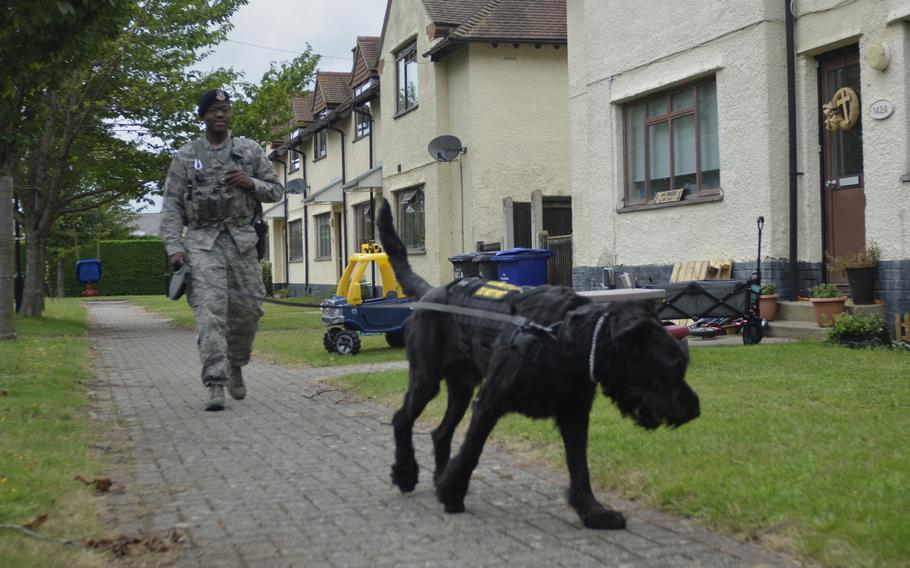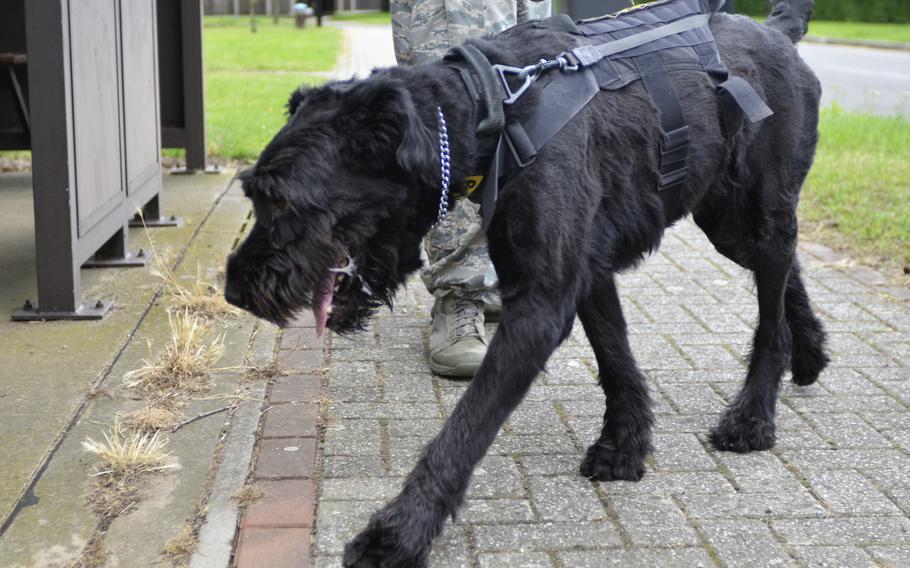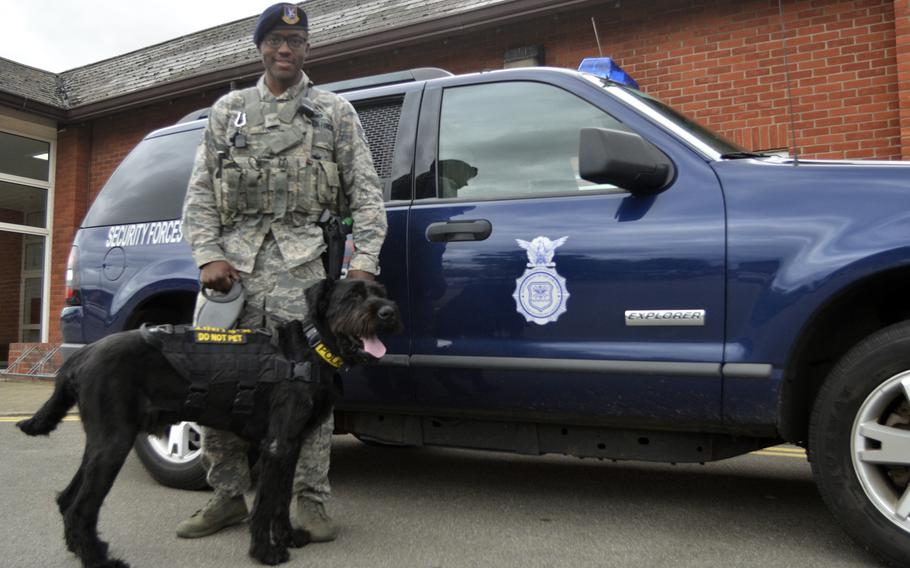 RAF MILDENHALL, England — A tall, black, shaggy giant schnauzer has been turning heads since becoming a member of the U.S. Air Force's 100th Security Forces Squadron two and a half years ago.
Brock is the first giant schnauzer to work alongside German shepherds and Belgian Malinois for the Department of Defense in more than 30 years.
Staff Sgt. Kelly Webster, a military working dog kennel master, said the unusual breed was at the top of the list for a new military working dog.
"We just got the luck of the draw with Brock," Webster said. "His personality is out of this world. He's almost a hundred pound dog but runs around and looks like a big puppy."
Brock was originally intended for the Transportation Security Administration, but the TSA only accepts sniffer dogs that aren't trained to bite.
Brock fits the U.S. Air Force requirements for much needed patrol dogs and began initial training basic training — obedience and aggression, explosive or narcotics detection and patrol work — at the 341st Training Squadron at Lackland Air Force Base, Texas.
After arriving to RAF Mildenhall, Brock teamed up with first-time handler Staff Sgt. Dominick Young. He said they initially struggled to bond during the 45-90 day validation process to become fully certified for security operations.
"It was rough at first because he's one of those dogs where you need to gain his trust and respect," Young said. "I came in on my days off to take him on walks and play with him and that's pretty much all it took."
Now they protect the base during 12-hour shifts at night and recently worked alongside Secret Service dog teams as part of the security detail for President Donald Trump's visit to the G-20 Summit in Hamburg, Germany.
Young said even the Secret Service agents were surprised to see Brock in uniform.
"They've never seen a giant schnauzer (in uniform) either, so I got the same reaction from them," Young told Stars and Stripes.
The U.S. military began enlisting the breed for military service during World War II. But after the war, German shepherds gradually became the preferred military dog.
Young will have to pass on his canine partner to a new handler when he transfers to a new assignment in February.
"I'll be devastated," Young said. "I've built such a close bond with him."
---
---
---
---