Putin still aims to conquer Ukraine despite early losses, Pentagon official says
By
Stars and Stripes
June 14, 2022
---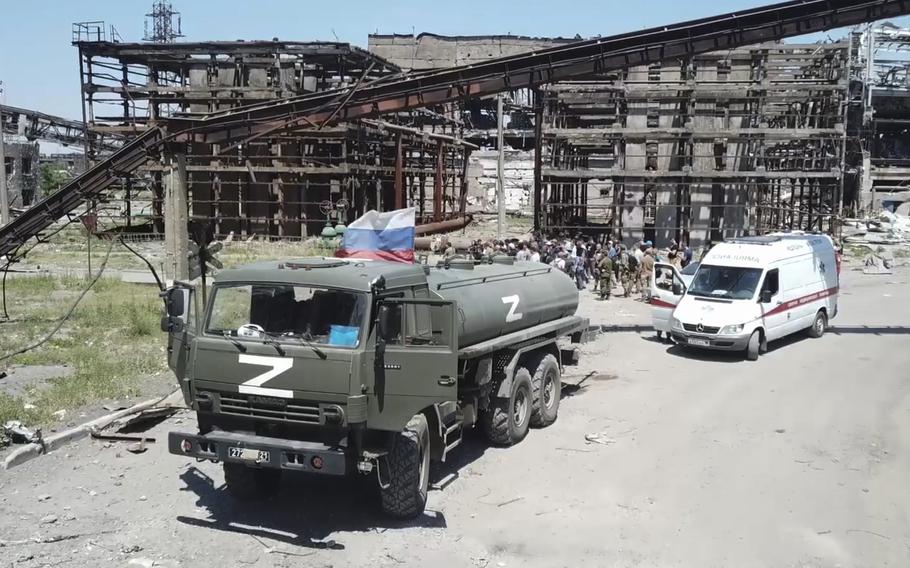 WASHINGTON — Russian President Vladimir Putin still desires to take over Ukraine completely as his armed forces make progress in the eastern part of the country, Undersecretary of Defense for Policy Colin Kahl said Tuesday.
"Our sense is that he has not changed his overall objectives," Kahl said during a national security conference held by the Center for a New American Security, a Washington think tank. "I still think he has designs on a significant portion of Ukraine, if not the whole country. That said, I do not think he can achieve those objectives."
Russian troops failed to capture Ukraine's capital city of Kyiv in the early weeks of the war, and Putin refocused his forces in April toward the eastern Donbas region. Since then, Russia has been making small but steady gains, defense officials have said.
"[Putin] has been forced to recognize that they had to narrow their operational objectives to focusing on the east," Kahl said. "So, one could imagine a scenario in which that's all he thinks he needs to achieve. But I don't think so."
In recent days, some news outlets have been predicting a bleak future for Ukraine as Russia closes in on Sievierodonetsk, one of the last holdouts in the Luhansk region of the Donbas.
But Kahl said the claims are overblown.
"The media narrative is that the Russians have been making gains," he said. "To some degree that is true, but the gains are really, on any given day, measured in blocks. They are not large sweeping breakthroughs of Ukrainian defenses."
Nonetheless, Kahl said Putin in the past week has resurrected his pre-invasion rhetoric that Russia has a historical right to govern Ukraine.
"There's a little bit of him saying the quiet out loud as it relates to his imperial ambitions and seeking to reclaim territory that he believes belonged to a glorious past of the Russian Empire," he said.
The undersecretary still believes Ukraine can handle the fight, as the U.S. and other partners continue flowing in weapons and artillery, such as M777 howitzers.
"[Russia] may make tactical gains here and there, but the Ukrainians are holding tough," Kahl said. "I do not think the Russians have the capacity to achieve those grandiose objectives."
Ukrainian troops are now training on rocket systems that the U.S. and the United Kingdom have pledged to them, Kahl said. The U.S. is sending four multiple-launch rocket systems, or MLRS, and associated ammunition that have a range of roughly 43 miles.
The rockets' range will offer significant advantages to the Ukrainians, who Kahl said need to be able to place more distance between them and the Russian front lines. In comparison, the M777 howitzer's range is about 15 miles.
The undersecretary described the rocket system as "basically just a truck with a canister of missiles on the back." As their name indicates, they can fire multiple rockets at once — but Kahl said the specific ammunition the U.S. is sending is shot as one large payload.
"Sometimes when you see images of MLRS firing off, it's like salvos of multiple rockets going off at the same time," he said. "That's really not how this system is meant to operate. [This] is a precision-guided munition, and a big one — a 500-pound munition."
Some critics have said the U.S. should ensure it is sending enough rockets, which officials said the U.S. intends to do. Kahl said the single-shot nature of the ammunition will allow it to last longer.
"Think of [it] more like the effect of an airstrike rather than launching off whole salvos," he said. "In other words, you can do a lot with a little or you don't need a lot to have a significant effect."
Though Kahl said he believes Ukraine will ultimately prevail, the future of the war — and the possibility of meaningful negotiations — remains ambiguous.
"It's not clear whether the minimum requirements of either side match up with the maximum concessions of the other side," he said. "Our position has been we're not going to tell anybody what to negotiate and when to negotiate."
But one thing is clear, Russia has "thus far failed to secure its strategic objectives," Kahl said.
"Vladimir Putin went into this war seeking to gobble Ukraine up," he said. "I think he had in his mind envisioned some kind of a thunder run to Kyiv and change the regime."
---
---
---
---