Ramstein Air Base gives reason for canceling kids' reading event with drag queen
By
Stars and Stripes
June 1, 2022
---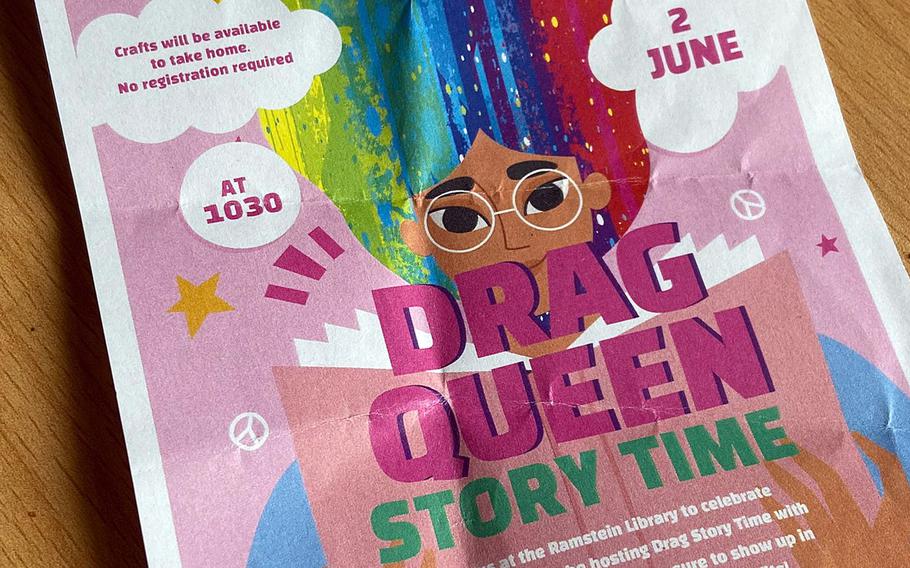 RAMSTEIN AIR BASE, Germany — It was late March when drag queen Stacey Teed got the call about performing in a storytelling event for children at Ramstein's library, which was in search of a drag queen reader.
Teed, a performer associated with the local entertainment group Fans of the Monarchy of RoyalTEA Drag Family, had done a similar reading for the military community at an off-base site last year and said it was "very well-received."
Now, days after announcement of the cancellation of the Drag Queen Story Time that had been slated for Thursday at the Ramstein library, conflicting explanations are being offered.
News that Ramstein was quashing the Pride Month event came late last week amid a high-profile backlash that included a complaint from U.S. Sen. Marco Rubio, R-Fla., who called on the Air Force to investigate.
Teed said the reason she was given for the cancellation was "an outpouring of complaints."
On Wednesday, the 86th Airlift Wing at Ramstein said the decision was mainly rooted in base officials' desire for a more comprehensive focus instead of one dedicated solely to drag queens.
"Rather than viewing the reading as acceptable or not, base leaders decided it would be better to broaden it to reflect and include the larger LGBTQ+ community, in an attempt to make it more inclusive, rather than focus exclusively on one aspect of it," Lt. Col. Will Powell, an 86th Airlift Wing spokesman, said in a statement Wednesday.
No wing leader instructed the library to cancel the event, but base officials didn't have enough time to modify it, the wing said.
"This decision was not based on individuals speaking out against the event or LGBTQ+ community," the wing said.
Base officials said that so far, no events have been approved for Pride Month, which is in June, but they added that they are trying to get some lined up.
When contacted Wednesday by Stars and Stripes, a representative of the Ramstein library declined to comment.
Still, for base officials, the public controversy over the drag queen event has thrust the Air Force into the middle of a culture clash. Drag is a performance, and transgender is an identity. But the two are often conflated by politicians in relation to how issues should be dealt with in the public square, especially among children.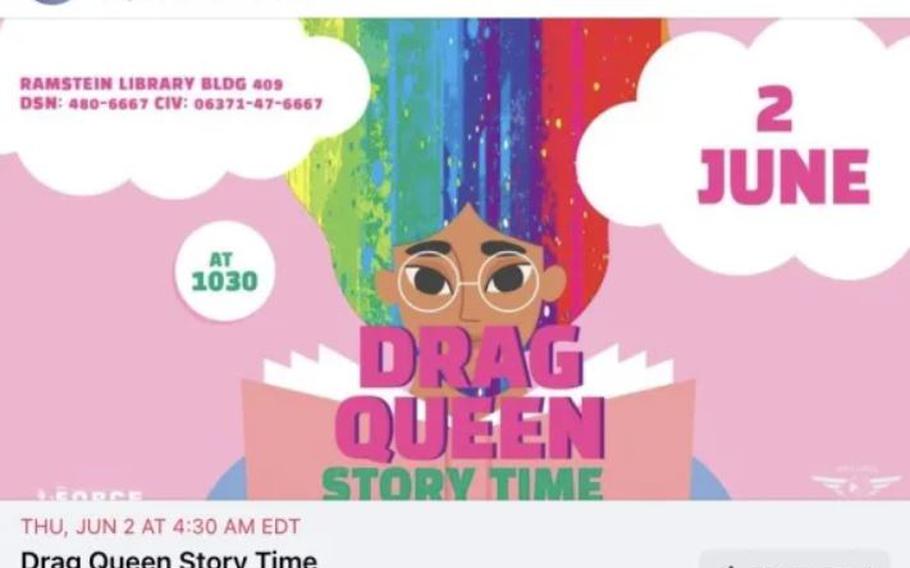 The broader issues Rubio associated with the planned event have become a flashpoint in Rubio's home state, where Gov. Ron DeSantis in March signed a bill into law that forbids the teaching of sexual orientation and gender identity in kindergarten through third grade.
"These inappropriate events are extremely divisive at home for good reason; in all cases, they place young children in close proximity with adults who are intentionally and explicitly sexualized," Rubio wrote in a May 27 letter to Air Force Secretary Frank Kendall.
Rubio called on the Air Force to cancel the event and investigate to determine how frequently such readings have been held on bases and how much government funding has been used to support the events.
The 86th Airlift Wing said it has not yet been issued a direct order from the Air Force to launch such a probe.
The so-called "don't say gay" law has sparked widespread condemnations in the LGBTQ community.
But where conservatives see discussions surrounding gender identity as a threat to the well-being of children, LGBTQ advocates see it as an opportunity to foster a more welcoming environment for people in minority groups.
Teed said drag queen book readings are about showing children that differences should be celebrated.
"Children are not inherently hateful. Hate and prejudice is a learned concept," she said. "It's OK to be different. It just creates less negativity in the world. But I understand a lot of people may not understand it."
Drag Queen Story Time, also known as Drag Queen Story Hour, is connected to an initiative that started in 2015 in San Francisco. Since then, readings have been held at various libraries around the United States.
The idea is to capture "the imagination and play of the gender fluidity of childhood and (give) kids glamorous, positive, and unabashedly queer role models," the program's web site states. "In spaces like this, kids are able to see people who defy rigid gender restrictions and imagine a world where people can present as they wish, where dress up is real."
Books read by the presenters often revolve around the idea of accepting people who don't identify with the gender with which they were born.
In Rubio's letter, he took issue with one book in particular that was read at a previous Drag Queen Story Time event. The book, "The Hips on the Drag Queen go Swish, Swish, Swish" involves children experiencing the "magic of drag" and "shaking their hips or shimmying their shoulders," he wrote.
"As I hope you can agree, decisions over children and their bodies should be left to moms and dads serving our nation, not mediated through publicly funded propaganda on U.S. Air Force bases," Rubio wrote.
But Teed said her experiences with such events have been nothing but positive. At the off-base reading last year, the program was expected to last about 30 minutes but went over an hour because children were inquisitive, Teed said.
"If you don't have the opportunity to ask questions, how is anyone going to understand? And so it has to be put in terms kids can understand," Teed said. "The kids had a lot of questions, and by the end we were all on the same page."
---
---
---
---