Protracted conflict could wipe out '18 years of socio-economic achievements' in Ukraine, U.N. warns
By
Annabelle Timsit, Maite Fernández Simon
The Washington Post
March 16, 2022
---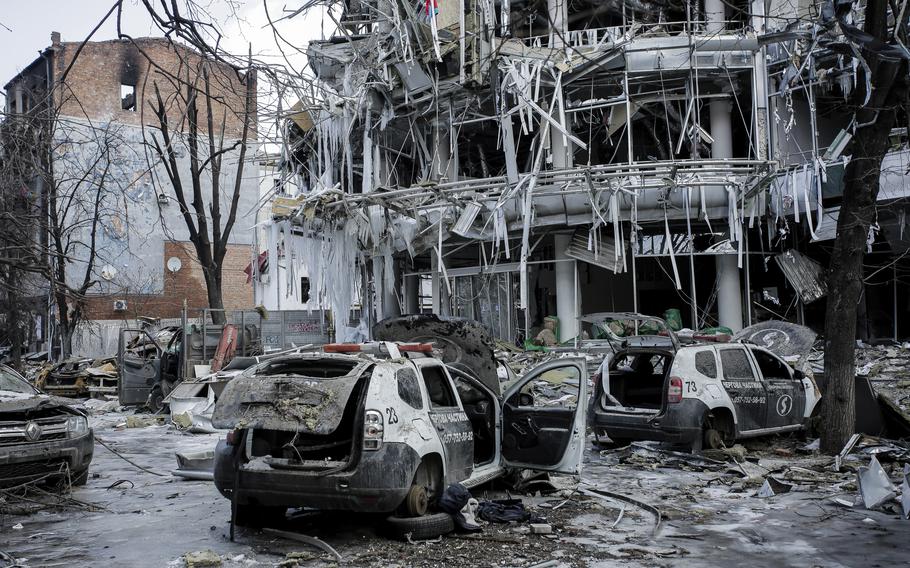 If Russia's invasion persists, Ukraine could see a free fall into poverty, according to an assessment by the U.N. Development Program - wiping out "18 years of socio-economic achievements in Ukraine" under a worst-case scenario.
The report calls for bolstering the Ukrainian government in addition to providing humanitarian assistance. More than 3 million Ukrainians have fled their country since Russia's invasion began, while the UNDP estimates that more than 7 million could become internally displaced.
The UNDP report says that at least $100 billion worth of infrastructure has been destroyed, according to estimates by the Ukrainian government, whereas 50% of Ukrainian businesses had to shut down completely because of the war, while the rest have been forced to operate below capacity.
The UNDP, which has continued to operate throughout the invasion, previewed four economic scenarios. They range from a 7% contraction of the economy to a 60% collapse during a "severe and protracted crisis." That could translate "into a loss of 18 years of socio-economic achievements in Ukraine and a return back to poverty levels last observed in 2004," the UNDP said. Its report is one of the earliest attempts to quantify how far back the war could set Ukraine.
Had there been no war, the agency estimates that fewer than 1 million Ukrainians would be living below the poverty line ($5.50 per day) in 2022. Post-invasion, that figure would range from 1.7 million to 11.28 million.
A strong response from the global community could mitigate some of these drastic effects, the UNDP said. It called for "humanitarian, early recovery, and development" investments.
The agency proposes an emergency cash transfer operation at large scale to alleviate the rise of poverty. One proposal would cost about $250 million per month and would cover partial income losses for 2.6 million Ukrainians expected to fall into poverty. A more ambitious plan would cost $430 million a month and give a temporary basic income of $5.50 per day per person.
The International Monetary Fund recently approved $1.4 billion in emergency funding for Ukraine, which was disbursed right away to help the Ukrainian government keep up with urgent spending needs.
The emergency funding is meant to "help the government very quickly deal with these shortages, to be able to pay their bills, to be able to buy the imports that they need to buy. To basically keep the economy functioning as best possible in these extremely difficult times," Gita Gopinath, the IMF's first deputy managing director, said in an interview with Canadian broadcaster CBC News.
---
---
---
---