US sends sizable contingent to Norway for giant NATO exercise in region rattled by Russia
By
Stars and Stripes
March 14, 2022
---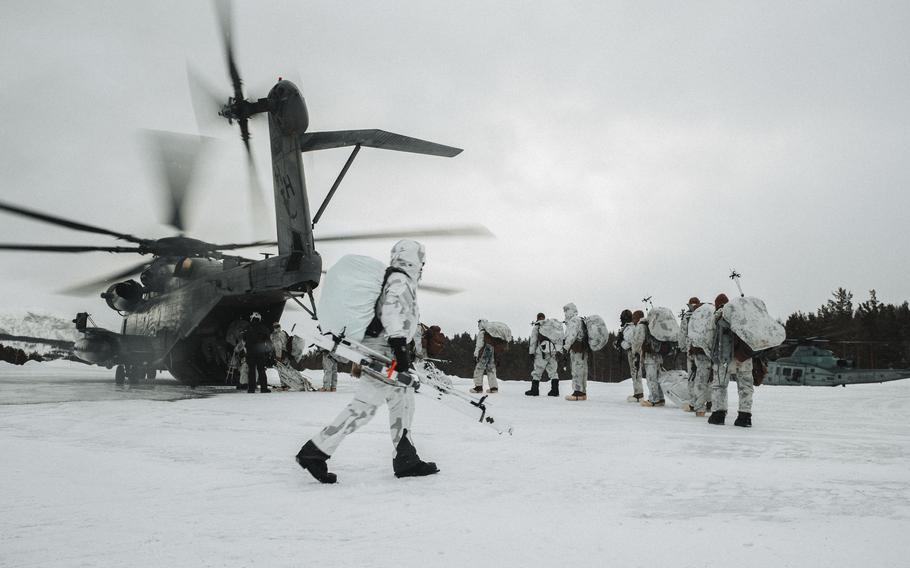 Several thousand U.S. Marines and sailors are among the roughly 30,000 troops from 27 NATO and partner countries taking part in Norway's largest military exercise since the end of the Cold War.
The biennial Cold Response exercise kicked off Monday and includes land, sea and air drills. This year's record number of attendees was confirmed months before Russia began its invasion of Ukraine on Feb. 24.
"I think this exercise is a good counterpart, a good companion to the ongoing reinforcement of the (alliance's) eastern flank that has been taking place since Russia's invasion began," Charles Kupchan, a senior fellow at the Council on Foreign Relations, said in a telephone interview.
The war is prompting fears of further Russian aggression in other parts of Europe, and some of the activities in the drill are planned for areas less than 200 miles from the Russia-Norway border.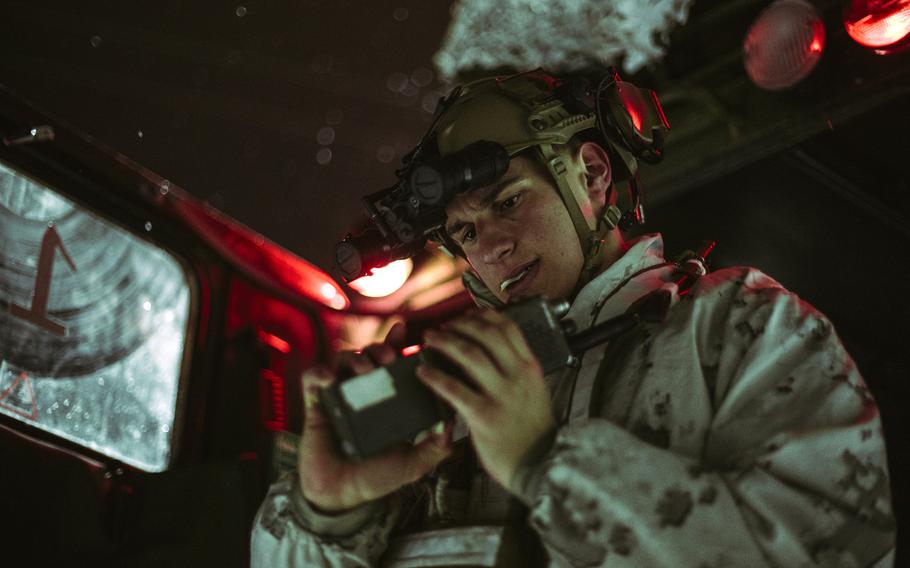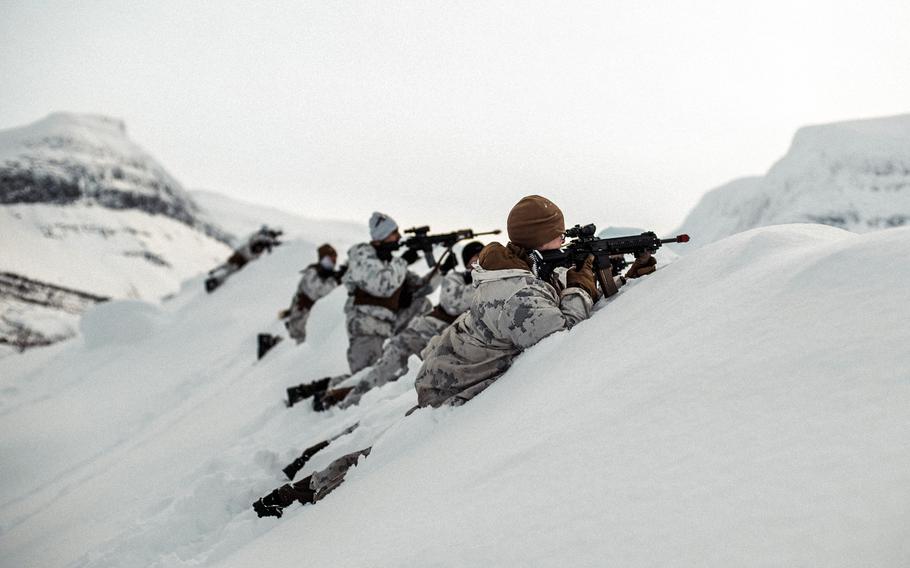 The II Marine Expeditionary Force is the largest American military unit participating in the exercise, Defense Department spokesman John Kirby said in a briefing last week, adding that some 3,000 Marines are taking part.
Elements of 2nd Marine Aircraft Wing, 2nd Marine Division, II MEF Information Group and 2nd Marine Logistics Group will conduct numerous field training exercises above and below the Arctic Circle, U.S. European Command told Stars and Stripes on Thursday.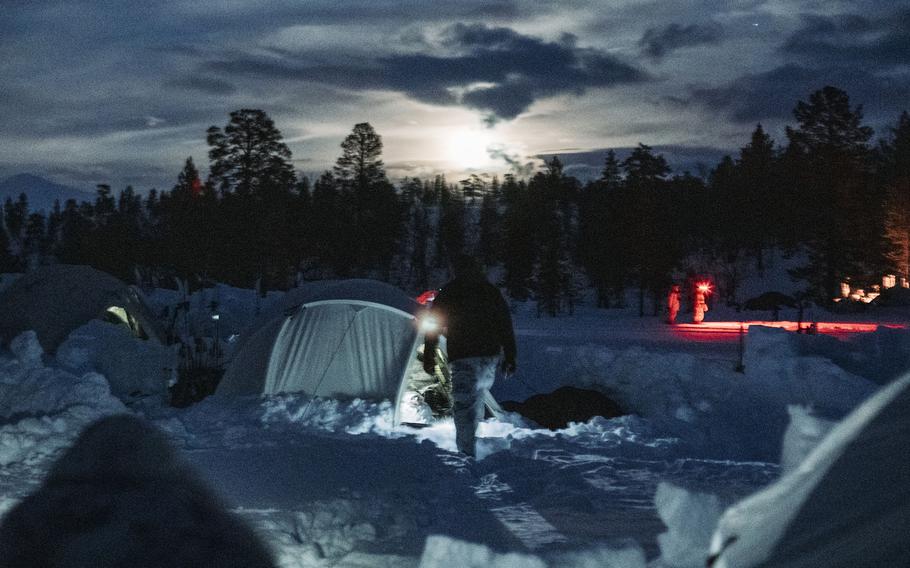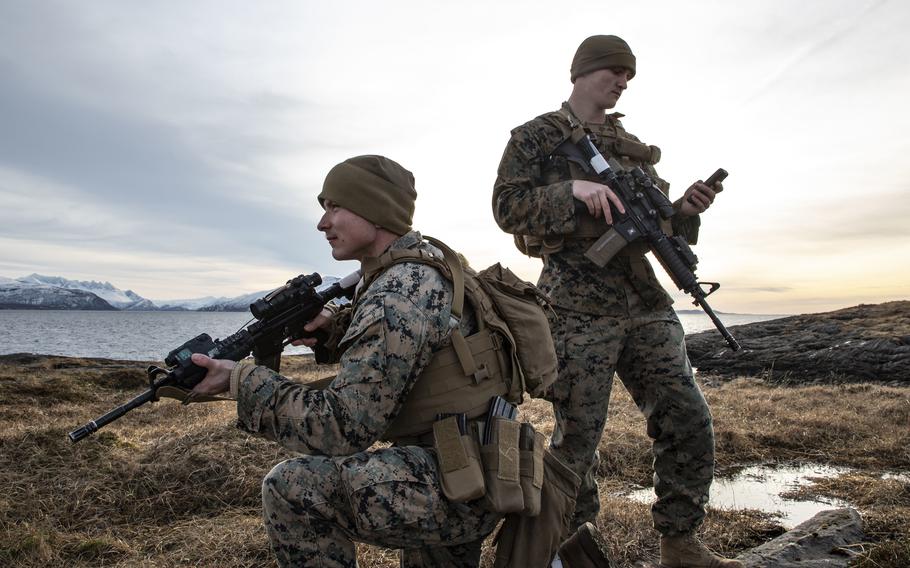 Third Battalion, 6th Marines will train with allies on the Dutch amphibious transport ship HNLMS Rotterdam, the command said.
Overall, about 220 aircraft and more than 50 ships are taking part in the drills, and the total number of participants has more than doubled from the last edition in 2020, making it the largest Norway-led exercise in over three decades, according to the Norwegian military.
Both American and Norwegian officials have attempted to assuage worries that the Cold Response exercise could exacerbate tensions between NATO and the Kremlin.
The U.S. and other NATO allies have so far refused to send troops into Ukraine, although they have been arming Ukrainians and have imposed harsh sanctions on Moscow. The U.S. has also sent thousands of troops to Eastern European NATO member states amid concerns that Russian forces may try to enter their territory.
Moscow declined an offer to observe the exercise this year despite acceptance of similar invitations in the past, Lt. Gen. Yngve Odlo, head of the Norwegian joint operations headquarters, told government broadcaster NRK earlier this month.
Norway is a long-standing member of NATO, whereas fellow Nordic countries Sweden and Finland are not, though they are considered security partners.
However, interest in NATO membership has markedly increased in both countries amid Russia's latest attack. Under the alliance treaty's Article 5, an attack on one ally is considered an attack on all members and calls for a collective defense.
Both Sweden and Finland are participating in Cold Response.
The events in Ukraine follow worries over possible Russian aggression in the Arctic that have grown over the past decade alongside the Kremlin's military buildup in the region.
In a further sign of the region's importance to Moscow, President Vladimir Putin last year upgraded the status of Russia's Northern Fleet to a military district, a move that consolidated a large part of the country's Arctic capabilities under one roof, and announced that it would be supplied with nuclear-capable Kh-47M2 Kinzhal hypersonic missiles.
The Northern Fleet's headquarters is about 90 miles from Russia's border with Norway.
While analysts largely agree that a Russian attack in the Nordic region — be it overt and traditional or covert and hybrid — remains unlikely for the time being, the unpredictability displayed by Putin's invasion of Ukraine has put the region on edge.
"Unlike Norway, the main concern of Sweden and Finland is that they are not NATO members, and this puts them in a vulnerable position," Jason Moyer, a program associate for the Global Europe Program at the Washington, D.C.-based Wilson Center, said in an email to Stars and Stripes.
Both Nordic countries have brushed aside Russian threats of "military and political consequences" if they were to join the bloc. Not only has Moscow's invasion of Ukraine galvanized support for membership among Swedes and Finns, but it's also "provided the alliance with purpose for decades," Moyer said.
---
---
---
---