173rd Airborne Brigade battalion heads to Latvia as Ukraine comes under Russian attack
By
Stars and Stripes
February 24, 2022
---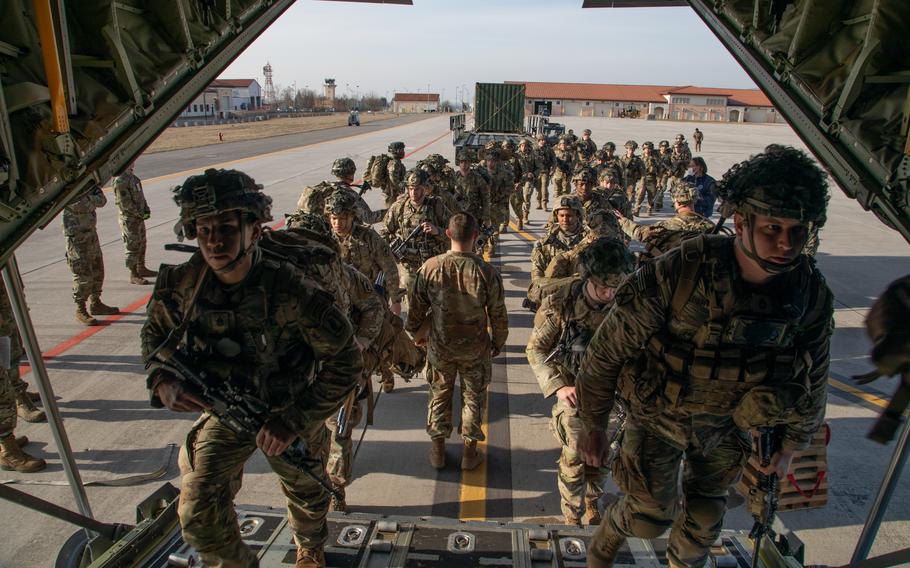 VICENZA, Italy — Paratroopers from the 173rd Airborne Brigade are deploying to Latvia as part of the NATO response to Russia's invasion of Ukraine.
The 2nd Battalion, 503rd Infantry Regiment began moving into the Baltic country Wednesday on C-130 aircraft out of Aviano Air Base and was expected to have hundreds of troops in place Thursday, said Maj. Cain Claxton, a Vicenza-based Army spokesman.
The troops will link up with Latvian forces, Claxton said. The tiny nation has just one active army brigade.
On Thursday, Russia fired missiles at facilities in or near Ukraine's largest cities, including the capital of Kyiv. It also sent some of its forces into Ukraine after massing up to 190,000 troops and heavy weaponry along the borders, U.S. officials said.
Claxton said he did not have information available on the exact nature of the paratroopers' mission, but called the deployment "an opportunity to get out the door and work in another country on behalf of U.S. security interests."
The brigade, which is the conventional airborne strategic response force for Europe, is "well-prepared to move out at a moment's notice," Claxton added.
The deployment is part of a repositioning of Europe-based U.S. forces announced by the Defense Department this week to defend NATO's eastern flank.
Also moving eastward are a battalion of 20 AH-64 helicopters from Germany, the Pentagon said Wednesday. Additionally, an attack aviation force of 12 AH-64 helicopters from Greece are heading to Poland, defense officials added.
Six F-35 fighter jets deployed from Utah to Spangdahlem Air Base, Germany, were sent Thursday to air bases in Estonia, Lithuania and Romania to support NATO's air policing mission along the alliance's eastern borders, Air Force officials in Europe said.
Two B-52 bombers deployed to England, meanwhile, were flying over Sweden and Poland on Thursday afternoon along their usual training routes, according to public aviation tracking websites.
Some 5,000 U.S.-based airborne troops moved into central and Eastern Europe in recent weeks to join thousands more deployed to NATO member countries concerned about Russian aggression.
The Baltic states of Estonia, Latvia and Lithuania had increased their calls for permanent U.S. bases in their countries in the run-up to Russia's invasion of Ukraine.
And on Thursday, all three joined Poland in asking NATO to invoke Article 4 of its founding treaty. Article 4 provides for consultation of all NATO members if any country in the alliance deems its territorial integrity, political independence or security to be under threat.
Russian President Vladimir Putin has repeatedly referred to Russians and Ukrainians as a single people, causing worry in many parts of Eastern Europe that were previously subjugated by the Soviet Union.
Stars and Stripes reporter Jennifer H. Svan contributed to this report.
---
---
---
---