82nd Airborne troops poised to help evacuees from Ukraine, but few Americans have crossed the border as Russian invasion begins
By
Stars and Stripes
February 23, 2022
---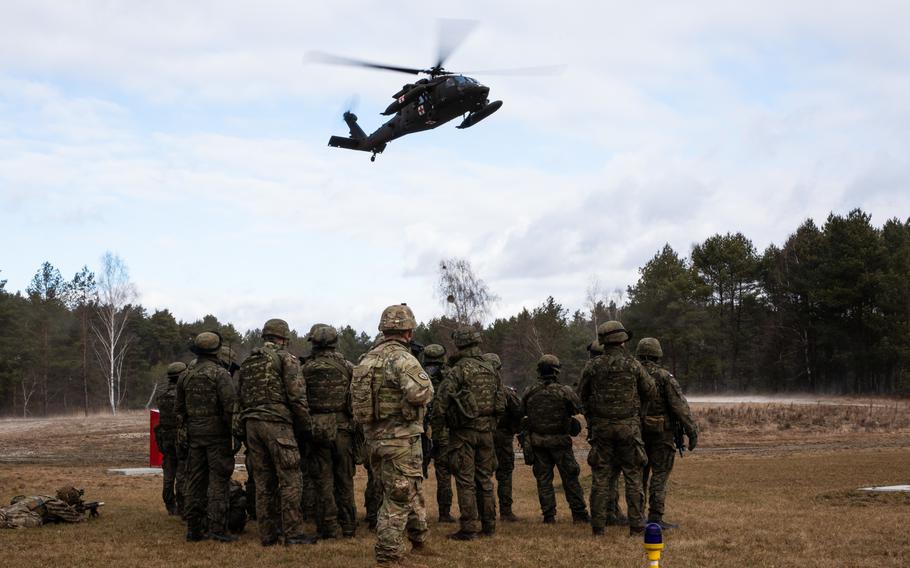 WASHINGTON — Some of the 4,700 troops deployed from the U.S. to Poland are poised to help evacuees from Ukraine, though few Americans have crossed the border as the Russian invasion begins, a senior defense official said Wednesday.
President Joe Biden in the past three weeks has sent roughly 4,700 troops from the 82nd Airborne Division in Fort Bragg, N.C., and the 101st Airborne Division in Fort Campbell, Ky., to Poland. Those forces joined about 4,000 troops already stationed there on a rotational basis.
Some of those troops are positioned at several points near the Polish border with Ukraine "working in lockstep with Polish authorities and the State Department," said the official who spoke on condition of anonymity. However, they have not yet seen many Americans come through those checkpoints.
"We have not seen significant numbers of American citizens crossing that border to date," the official said. "Now that could change. Hopefully, they'll abide the advice of the State Department and the president and leave Ukraine."
However, the official noted Americans in Ukraine might have found alternate ways to leave the country, such as by air or train.
Biden and the State Department for weeks have been urging Americans in Ukraine to leave the country as Russian President Vladimir Putin stacked more than 150,000 troops along Ukraine's borders with Belarus and Russia.
The U.S. assessed Wednesday that Putin has "near 100% of all the forces that we anticipated he would move in [to invade Ukraine]," the official said, adding about 80% of those forces are now in a "ready position" to attack.
"[Putin] has a cruise-missile capability, he's got ballistic-missile capability arrayed, he's got armor artillery [and] certainly infantry [and] special forces," the official said.
While the Pentagon has not independently verified recent reports of Russian troops arriving in the eastern Ukrainian region of Donbas, the official said, the U.S. does not deny that it has happened. Russian parliament on Tuesday approved Putin's request to deploy its forces abroad.
The senior defense official also said Putin might be planning a mass invasion of Ukraine, rather than just targeting the breakaway regions of Donetsk and Lugansk that Russia on Monday recognized as independent of Ukraine.
"[Putin] made it very clear in his speech the other day [that] he does not recognize Ukraine's sovereignty, he does not recognize their right to exist as a separate state," the official said. "That, by itself, was pretty telling."
Putin has also amassed a significant naval presence to Ukraine's south in the Black and Mediterranean seas, where the USS Harry S. Truman aircraft carrier strike group is also operating, the official said.
"He has more than two dozen warships in the Black Sea, the majority of them are surface combatants," the official said. "We see that he has more than 10 landing ships in the Black Sea, and those ships exist for one reason and that's to put boots on the ground, we have to assume."
Despite some U.S. and Russian ships operating in the same area, the official said there is no "naval standoff" between the navies.
"[Russia is] obviously monitoring the Truman — that is not unusual — but it is only that," the official said. "The Truman and her strike group aren't being shadowed by an overwhelming number of Russian surface combatants, it's classic intelligence monitoring of U.S. naval activity."
In addition to the troops deployed to Poland, the U.S. in the past three weeks moved 1,000 troops from Germany to join about 900 troops already stationed in Romania and sent 300 troops from Fort Bragg to establish a joint force headquarters in Germany.
"You can expect to see [troops] conduct training missions, training flights and conduct exercises to improve [NATO] alliance defensive capabilities," the official said.
On Tuesday, Biden also ordered an infantry battalion task force of about 800 U.S. soldiers in Italy to move to the Baltic region, which includes Estonia, Latvia and Lithuania, after Russia refused to withdraw its forces from Belarus. An attack aviation battalion of 20 AH-64 helicopters from Germany will also join them.
"Largely the mission that they're being assigned in the Baltics is one of reassurance, joint training and improving defensive capabilities up there," the official said. "Obviously, one of the things that military is good at doing is humanitarian assistance and evacuation support. If that's the mission that's assigned to them, they'll be able to contribute to that [too.]"
Additionally, "up to eight" F-35 strike fighter jets will move from Germany "to several operating locations along NATO's eastern flank," a defense official said Tuesday. An attack aviation task force of 12 AH-64 helicopters will also move this week from Greece to Poland.
The Pentagon also on Tuesday announced the addition of company-sized Stryker units to Hungary and Bulgaria, meaning the U.S. has now deployed additional forces to almost all NATO countries that border Belarus and Ukraine.
In total, there are 90,000 U.S. troops based across Europe, and 8,500 additional troops in the U.S. are on heightened alert to deploy to the Continent should NATO activate its Rapid Response Force, which is made up of 40,000 troops from multiple NATO countries.
---
---
---
---