US 2nd Cavalry troops deploying to Bulgaria as NATO reinforces Russia's neighbors
By
Stars and Stripes
February 17, 2022
---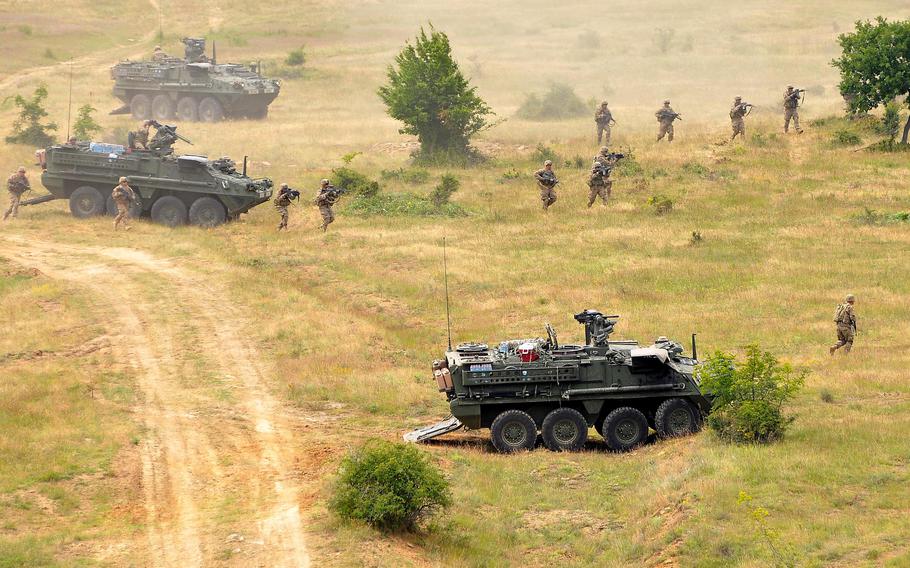 STUTTGART, Germany — More U.S.-based troops in Germany will head to southeastern Europe in the coming days, Defense Secretary Lloyd Austin said Thursday at the conclusion of two days of talks at NATO headquarters that focused on Russia's military buildup around Ukraine.
Austin said a company of troops from the 2nd Cavalry Regiment in Vilseck will travel to Bulgaria to train with allies. The move comes on the heels of the recent repositioning of 1,000 other regiment troops to Romania. Several thousand other U.S.-based soldiers also have been sent to Poland on a mission to reassure allies worried about Russian aggression in the region.
"Mr. Putin says he doesn't want a strong NATO on his western flank. He's getting exactly that," Austin said during a news conference in Brussels.
Austin said there is no sign that Russian President Vladimir Putin has begun to reduce the number of forces around Ukraine, despite recent Moscow claims to the contrary. Instead, allies say Russia is adding troops.
Austin said Russian forces are "inching closer" to the Ukrainian border and that their ground forces were stocking up on blood supplies.
"I know firsthand that you don't do these sorts of things for no reason," said Austin, a retired four-star general who led U.S. soldiers at war in Iraq.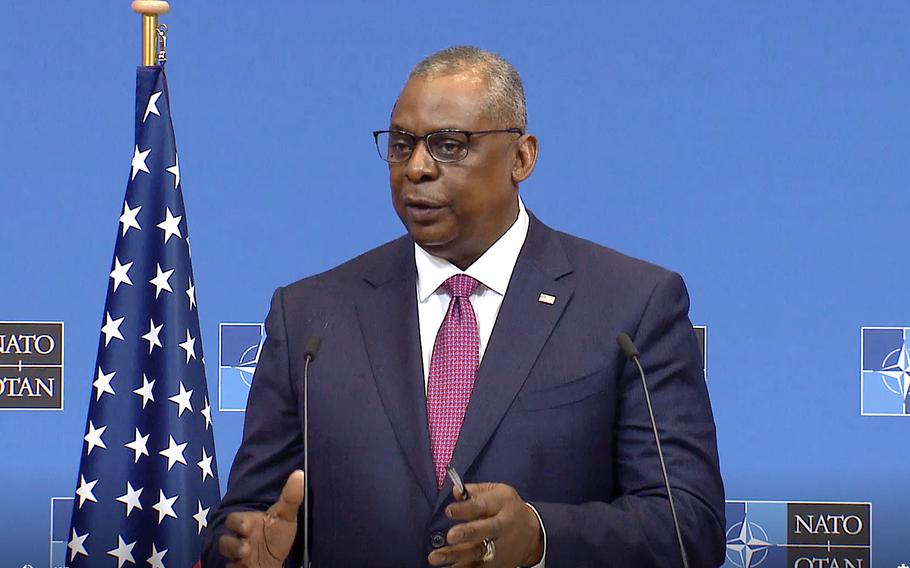 In Brussels, allies directed military commanders to develop plans for adding new battlegroups in southeastern and central Europe as a way to reinforce NATO's eastern flank. While it's not clear what countries could be included, France has already volunteered to lead a contingent in Romania.
Russia has massed about 150,000 troops and advanced weaponry along Ukraine's borders, President Joe Biden said Tuesday. Austin said the Russians also have stepped up military operations in the Black Sea and in Belarus, which borders NATO territory.
"In many ways, this brings Russian troops right up to NATO's doorstep," Austin said.
Austin reaffirmed the U.S.'s commitment to NATO's Article 5 provision that an attack on one member demands a collective response from the alliance.
"We will, if we must, defend every inch of NATO territory," Austin said. "There is no reason, of course, it should ever come to this."
Austin's comments come as tensions escalated Thursday in Ukraine itself, where there were reports of increased shelling in the eastern region by Russian-backed separatists who have been at war with government forces ever since Moscow's 2014 intervention in the country.
Austin and NATO Secretary-General Jens Stoltenberg said Thursday that allies were concerned Moscow was attempting to gin up a reason for launching an invasion.
"We have seen attempts to stage a pretext, false flag operations, to provide an excuse for invading Ukraine," Stoltenberg said. "This of course is a concern."
---
---
---
---