Nuclear missiles in Europe become latest thorn in tensions between NATO, Russia
By
Stars and Stripes
December 15, 2021
---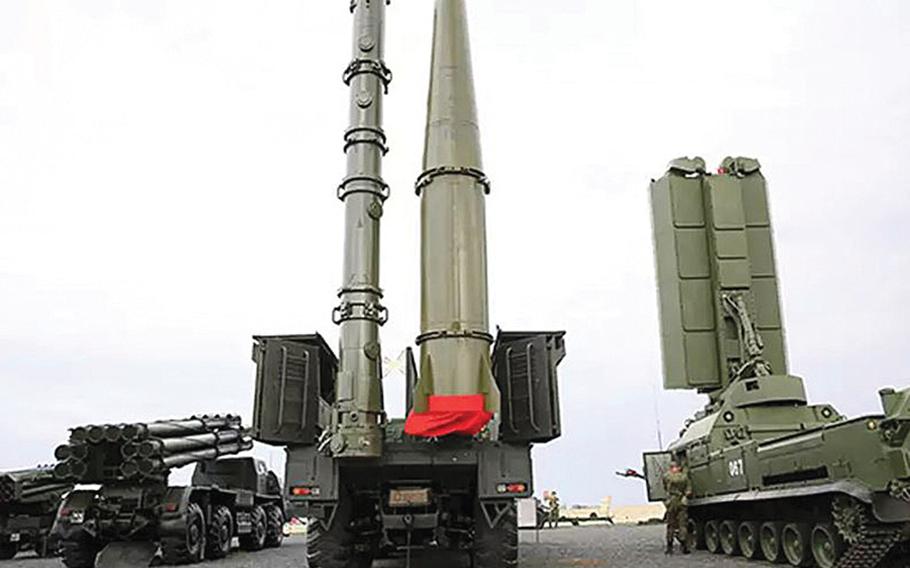 Russia's latest threat to deploy intermediate-range nuclear missiles in Europe if NATO doesn't make new promises has one hitch: the U.S.-led NATO alliance says Moscow has already activated such weapons.
Moscow wants the U.S. to restart talks over the now defunct Intermediate-Range Nuclear Forces Treaty, which Washington pulled out of in 2019, saying that Moscow had already broken the Cold War-era agreement.
The treaty put a ban on missiles with a range between 310 and 3,400 miles.
"It is not credible when (the Russians) now propose a ban on something they actually have already started to deploy," NATO Secretary-General Jens Stoltenberg told reporters Tuesday in Brussels.
Stoltenberg's comments were in response to a new round of threats from Moscow, this time related to the status of intermediate-range nuclear range missiles in Europe.
In an interview Monday with state-owned Russian news agency RIA Novosti, Deputy Foreign Minister Sergey Ryabkov warned that if the West doesn't agree to a moratorium on intermediate-range nuclear weapons, Moscow will be forced to position more weaponry near NATO borders.
"The absence of progress in the direction of a political-diplomatic solution to this problem will make it so that our response is military," Ryabkov said. "That is, it will be a confrontation, the next round, the deployment of such tools from our side."
The threats marked the latest in a series of warnings and tit-for-tat threats between Russia, the U.S. and its allies in NATO in connection with escalating tensions over Russia's military buildup around Ukraine.
The U.S. and NATO say Russia's recently developed SSC-8 missile system violates the weapons ban and poses a new threat since it can reach European capitals within minutes.
On Tuesday, Stoltenberg blamed Russia for the treaty's demise, while also saying that NATO had no intention of countering Moscow by deploying similar nuclear-capable missiles in Europe.
But Ryabkov said the U.S. Army's reactivation in early November of the 56th Artillery Command, which is based in Wiesbaden, Germany, is among the "indirect indications" to Russia that NATO intends to redeploy such weapons in Europe.
He also dismissed statements to the contrary, saying that Russia regards the alliance with "a complete lack of trust" and "does not believe in NATO assurances."
"(NATO leaders) don't allow themselves to do anything that could increase our security somehow," Ryabkov said. "They believe they can act as they need to, according to their own advantage, and we simply have to swallow all of this and deal with it. This is not going to continue."
Moscow has repeatedly denied that the missiles at issue violated the terms of the INF treaty.
Stoltenberg said that the belief that the other side is acting in bad faith is mutual.
"We need to engage in arms control to prevent a new arms race," he said. "But this particular proposal over (a) moratorium is not credible."
---
---
---
---