173rd Airborne Brigade troops to deploy to Middle East
by
Nancy Montgomery
January 6, 2020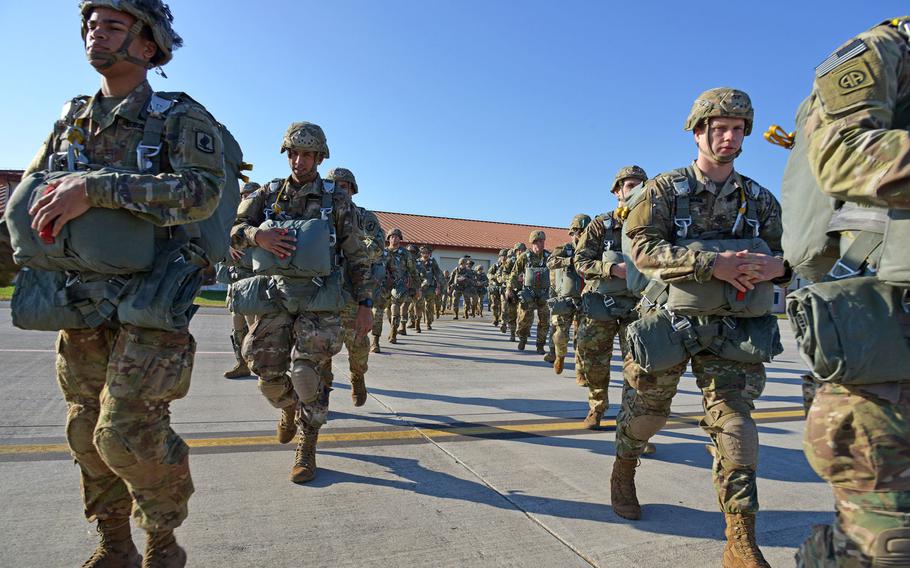 VICENZA, Italy — Soldiers with the 173rd Airborne Brigade are deploying to the Middle East, a brigade spokesman said Monday.
"We do have troops from the brigade that are deploying to posture to defend U.S. personnel and property as directed," said Maj. Chris Bradley, a spokesman for the Italy-based brigade.
He declined to discuss the deployment further, including how many paratroopers would deploy and where, until after a Pentagon announcement.
The deployment will add to the thousands of troops sent to the region following a U.S. drone strike that killed Iran Gen. Qassem Soleimani and Iran-backed Iraqi militia leaders in Baghdad on Friday. The deaths unleashed calls among Iranian and Iraqi supporters for revenge.
Iranian officials have said they will retaliate following the death of Soleimani, who led the country's elite Quds Force. He oversaw Iran's various proxy forces in the region, some of whom have been blamed by U.S. officials for the deaths of hundreds of American troops.
Washington has accused Tehran of repeatedly attacking U.S. and partner interests through its proxies since May.
The 173rd consists of approximately 3,800 paratroopers, including two infantry battalions, a light reconnaissance battalion and a field artillery regiment.
Word of the brigade's possible deployment first came Friday in media reports from an anonymous Pentagon source, as officials announced that some 4,000 82nd Airborne Brigade troops were headed to the region.
Like the 82nd, the 173rd Airborne Brigade is a quick reaction force.
It is tasked with being able to deploy within 18 hours. As a Europe-based unit, it must rapidly deploy while obtaining country permissions to move through the ground and air.
The 173rd could be sent to Lebanon to guard the U.S. Embassy in Beirut, the Pentagon source said.
The USS Bataan and more than 2,000 embarked Marines with the 26th Marine Expeditionary Unit are also headed to the region.
Some 5,000 American troops are deployed to Iraq to help its forces battle the Islamic State group, along with more than 3,000 U.S. civilian contractors in Iraq and Syria, U.S. Central Command figures from October show. The U.S. said Sunday it had suspended training the Iraqis and was bolstering security at bases with U.S. personnel.
montgomery.nancy@stripes.com Twitter:@montgomerynance
---
---
---