Yongsan Garrison closes gates as winds from Typhoon Lingling knock out power
by
Kim Gamel
September 7, 2019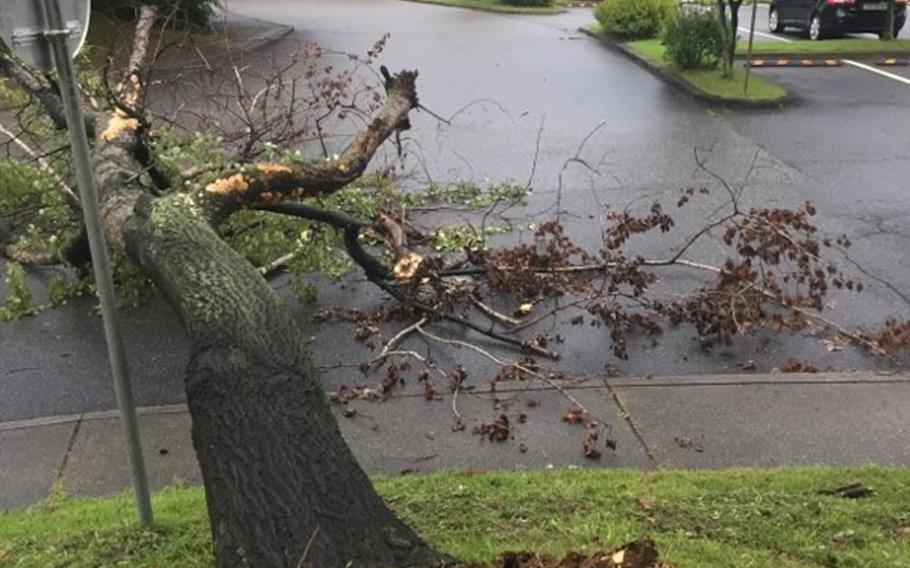 SEOUL, South Korea — Strong winds knocked out power on Yongsan Garrison on Saturday, forcing the Army post to lock down for the night as Typhoon Lingling tore through South Korea.
The powerful storm left heavy damage in its wake as it skirted the peninsula's western coast with winds of more than 80 mph before making landfall in North Korea.
Yongsan, which sits in the heart of Seoul, already had urged people to stock up on essentials and to stay inside. By Saturday afternoon, the garrison made that mandatory and closed all gates except for emergency traffic.
"Due to dangerous weather conditions, including fallen trees and blowing debris, all gates are closed and no walking outside is permitted until the all clear notice is given," Yongsan said in an emergency alert.
Toppled trees knocked out power lines, leaving the largest populated section of the garrison known as South Post without power.
The Brian D. Allgood Army Community Hospital and Dragon Hill Lodge were operating with emergency generators, officials said.
The garrison initially said crews were working to restore power but later said the outage would last all night and gates would remain closed in the meantime.
"South Post will be out of power for approximately 24 hours," according to an update issued Saturday evening. "The Shelter in Place is still in effect until the morning due to limited visibility and downed power lines."
The situation will be reassessed at first light on Sunday, the garrison said.
"Please exercise patience during this restoration timeframe, Typhoon Lingling has hit Korea hard," it said.
Yongsan has sharply reduced its population to just over 5,600 in recent months as it prepares to close after the U.S. military moved its main headquarters to a newly expanded Camp Humphreys, south of Seoul.
Humphreys and other bases also remained in Tropical Cyclone Condition of Readiness 1. Most non-essential services including stores, taxis and buses were closed.
Elsewhere in South Korea, the storm grounded planes, knocked out electricity for more than 57,000 homes and left at least two people dead, according to The Associated Press.
Traffic to Incheon International Airport also was disrupted due to the closure of its gateway bridge and a powerful failure on a commuter rail network, the news agency reported. gamel.kim@stripes.com Twitter: @kimgamel