Yokota's new Super Herc wraps up maiden operational mission to Philippines
---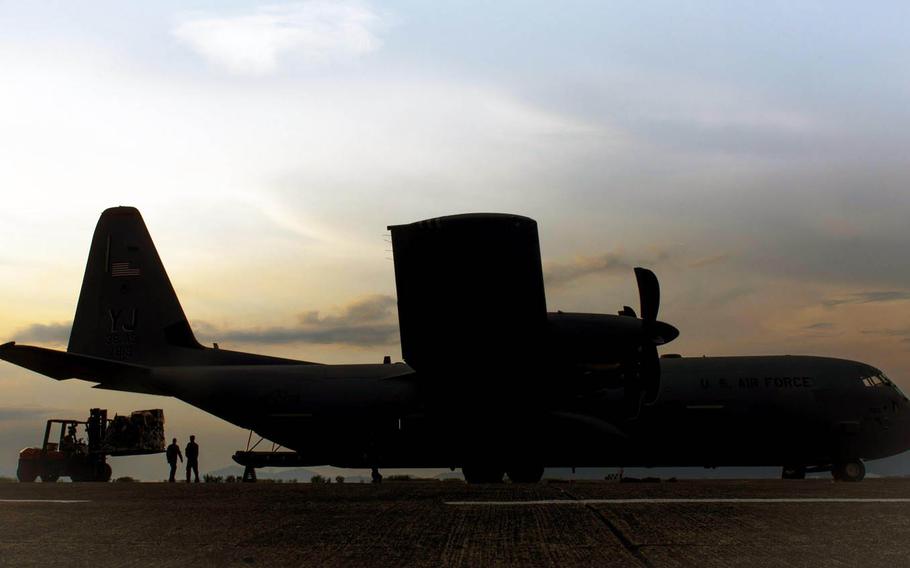 YOKOTA AIR BASE, Japan — One of Yokota's new C-130J Super Hercules has completed its first operational mission, carrying about 12,000 pounds of training equipment to Japan from the Philippines.
The cargo plane, which boasts more advanced avionics than the venerable C-130H model that's being phased out, took off in the rain from the western Tokyo air base last week to much fanfare.
It's destination was Clark Air Base, Philippines, where it picked up four pallets of U.S. military equipment and some personnel, a U.S. Pacific Command statement said.
The 36th Airlift Squadron transports cargo throughout the Pacific theater, a task the J models can perform much more efficiently than the base's aging fleet of H models.
Each Super Herc needs two fewer crewmembers thanks to automated navigation and engineering systems, and its Rolls-Royce engines provide more power, fuel efficiency and range. They can also carry up to eight cargo pallets — two more than the older model.
"This was our opportunity to showcase to headquarters that the aircrew and maintainers are ready to hit the road and bring that capability to Pacific Air Forces," Maj. Chris Dolby, a C-130J pilot, said in the statement.
Yokota has so far received two of its 14 Super Hercs. The H model planes, which are being sent to Air National Guard units in the states, will be phased out by early 2018, the statement said.
---
---
---
---