Yokosuka Naval Base loosens coronavirus restrictions in time for holiday weekend
by
Caitlin Doornbos
July 1, 2020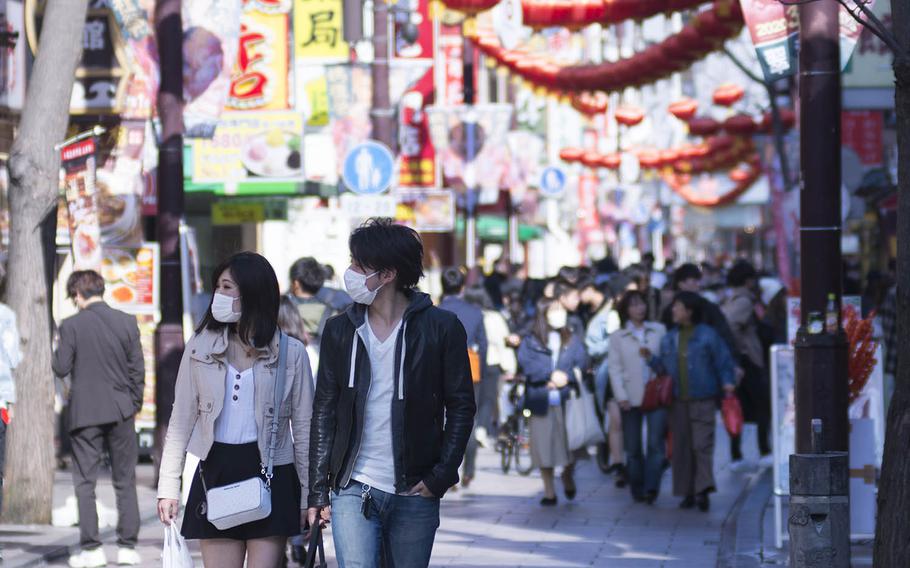 Stars and Stripes is making stories on the coronavirus pandemic available free of charge. See other free reports here. Sign up for our daily coronavirus newsletter here. Please support our journalism with a subscription.
YOKOSUKA NAVAL BASE, Japan — The base commander here further eased coronavirus travel restrictions on sailors, civilian employees and their families Wednesday, opening up more of Japan for trips as Independence Day weekend approaches.
Personnel from the base may explore Yokohama, previously off-limits, and the neighboring prefectures of Shizuoka and Yamanashi to the southwest and west, respectively, and stay in off-base hotels, according to the order signed by base commander Capt. Rich Jarrett.
However, the city of Kawasaki, north of Yokohama, and Tokyo are still off-limits.
Also, crowded off-base venues such as bars and night clubs, gyms, amusement parks and swimming pools are prohibited, along with tattoo parlors. Other venues, such as theaters, concert halls, karaoke clubs and similar places remain off-limits.
With the expanded liberty area comes permitted activities like shopping and dining in at restaurants. Jarrett's order requires base personnel to wear masks where social distancing is not possible and to adhere to other hygiene practices.
The news arrives in time for the four-day Independence Day holiday. The new boundaries allow access to regional outdoor and historic attractions such as Mount Fuji, Hakone and Hamamatsu Castle, where Tokugawa Ieyasu, founder of the last shogunate in Japan, once lived.
Navy spouse Ahoefa Adjowa, who plans to buy Krispy Kreme donuts and Lush Cosmetics products in Yokohama over the weekend, said she appreciates the chance to explore Japan while stationed abroad.
"This is a once in a lifetime opportunity, so it's important to travel outside Yokosuka," she said on Wednesday. "Japan has so much to offer; let's all go out and embrace the diversity."
Yokosuka on Wednesday also opened the Purdy Gym to civilian employees, family members and other users, according to the official base Facebook page. Active duty may continue to use the Fleet Recreation Center's gym.
Jarrett's order is a conservative move compared to a decision Friday by U.S. Army Japan to allow its personnel to travel throughout most of Honshu, the main island of Japan.
The Army, however, put Tokyo, Yokohama and the northern island prefecture of Hokkaido off-limits. The commander at Yokota Air Base issued a similar order on Tuesday.
Compared to the United States, Japan has fared well during the global pandemic.
While nearly 2.6 million tested positive for coronavirus in the U.S. as of Tuesday, fewer than 18,600 people had tested positive in Japan since the outbreak's start, according to data from the U.S. Centers for Disease Control and Prevention and Japan's Ministry of Health, Labor and Welfare.
As of Tuesday, about 126,700 coronavirus patients had died in the U.S., while fewer than 1,000 in Japan had died, according to the data.
Still, base commanders encourage caution in public. Across U.S. Forces Japan, face masks, physical distancing and frequent handwashing remain required, according to health protection guidance.
doornbos.caitlin@stripes.com Twitter: @CaitlinDoornbos