Yokosuka increases its health-risk level as coronavirus cases ease elsewhere in Japan
by
Joseph Ditzler
August 10, 2020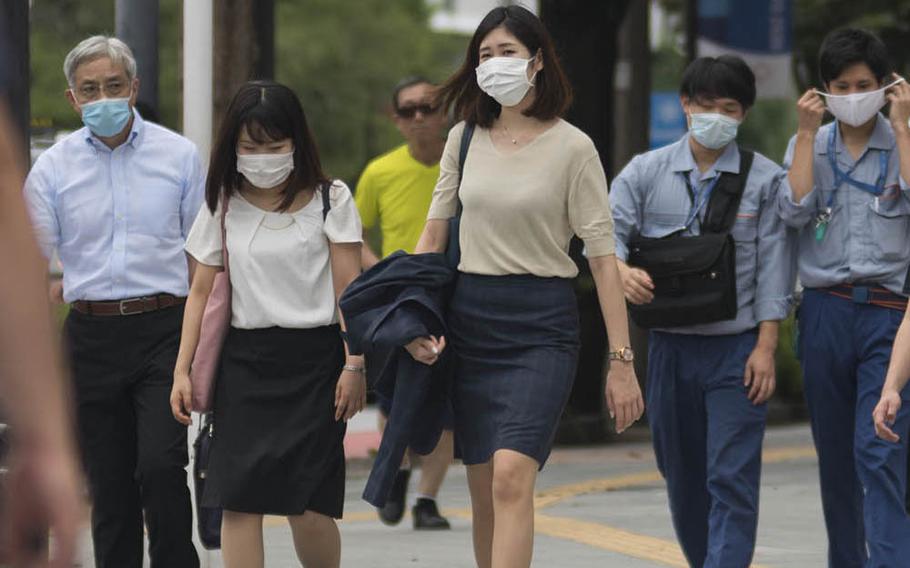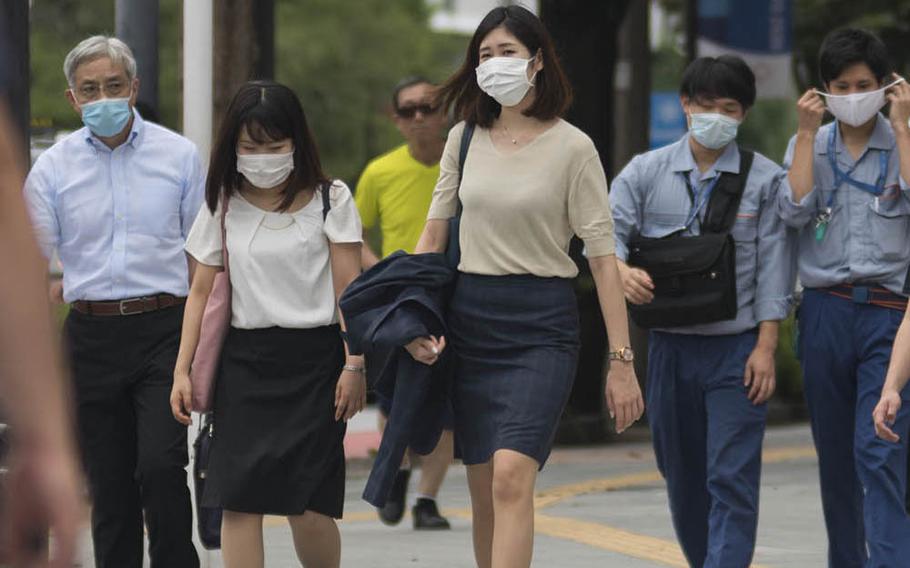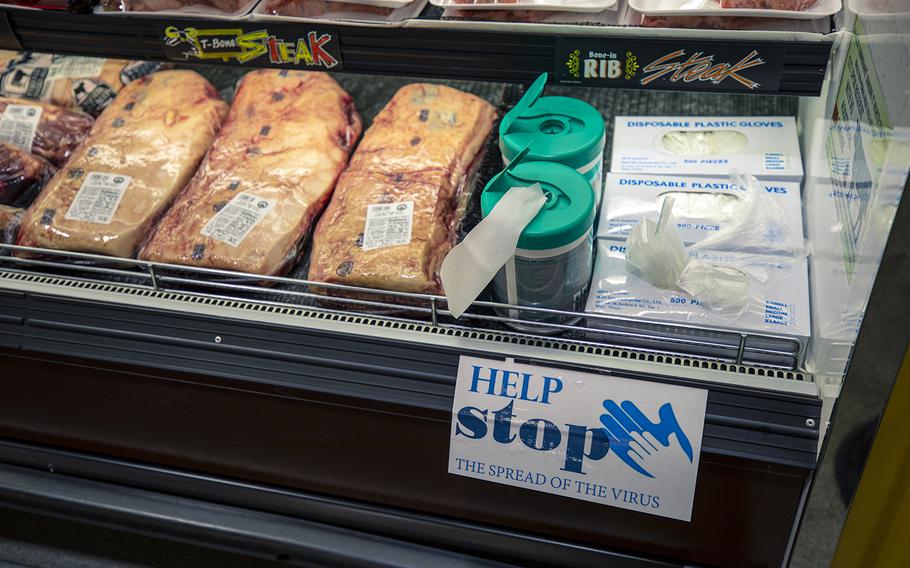 Stars and Stripes is making stories on the coronavirus pandemic available free of charge. See other free reports here. Sign up for our daily coronavirus newsletter here. Please support our journalism with a subscription.
TOKYO — Yokosuka Naval Base, home of the 7th Fleet in Japan, increased its health protection level Monday as expected to reflect a substantial risk of coronavirus infection a day after reporting six new cases on base.
Japan observed Mountain Day, a national holiday, on Monday and case reporting was light. Sunday, the country reported 1,343 new infections, according to the World Health Organization.
In Tokyo, a surge in new cases that began in early July receded Monday, when the city reported 197 infections, the first daily total below 200 since July 27, according to public broadcaster NHK.
Okinawa reported 52 new cases on Monday, according to the Okinawa Times, citing prefectural authorities. The prefecture reported a pandemic one-day record of 159 new patients Sunday, according to local news reports.
Mass testing at nightclubs and cabarets in the Matsuyama district of Naha city found 86 new cases on Sunday, the Okinawa Times reported on Sunday. One person died Sunday late night on nearby Miyako Island, the eighth death in the prefecture since the pandemic began and the first since July 8.
U.S. military bases in Japan reported just three new cases on Monday, one each at Misawa Air Base, Kadena Air Base and Camp Courtney, a reprieve from a month of cluster outbreaks and a continuous stream of infected new arrivals.
On Saturday, U.S. Army Japan reported a civilian affiliated with the command in western Japan had tested positive the day before. The patient, who was not further identified, fell ill Wednesday, was tested at a Japanese hospital and then placed on quarantine, according to an Army news release.
Yokosuka base commander Capt. Rich Jarrett imposed Health Protection Condition-Charlie to allow "time to analyze the developing trends with cases on base, as well as assess additional risks for spread" of the coronavirus, according to a video posted to the base's Facebook page Monday.
Jarrett on Sunday re-imposed restrictions he had lifted in time for the Fourth of July weekend. Four clusters had developed on base last week, he said in Monday's video message.
"While we have enjoyed a nearly two-month retreat of COVID-19 cases here on our base, the storm clouds for this virus have been gathering for a couple weeks now in the local area," Jarrett said in the video. COVID-19 is the respiratory disease caused by the coronavirus.
"As of yet, we do not see any indication of broader community spread on the installation, but it will take some time to know if our actions were swift enough."
With the base moving to condition Charlie, Defense Department schools there will switch to virtual learning when school starts Aug. 24, according to an announcement by Yokosuka schools Monday on Facebook.
The Pacific East District of the Department of Defense Education Activity had offered parents and students concerned about the coronavirus the option of continuing to learn online, as they had in the spring when the pandemic took hold. Most students in the district opted for returning to physical classrooms.
However, DODEA announced recently that any base under condition Charlie would return to virtual learning. One other installation, the Army's Camp Zama near Tokyo, is also in the higher risk level.
The Yokosuka schools' Facebook post indicated more information would be coming Friday.
The six new cases announced Sunday at Yokosuka stem from contact with infected individuals, according to a base Facebook post. The sudden increase prompted the new round of restrictions and higher risk level at the base.
For Yokosuka personnel living off base, for example, exercise like walking, running, biking and hiking is limited now to "sparsely populated and low traffic areas" within three kilometers, a little less than two miles, from the person's residence.
For everyone affiliated with the base, dining out, except for takeout and outdoor dining, is prohibited.
The regulations apply to service members, Defense Department civilians, contractors and family members affiliated with Yokosuka.
The base is under a 50% workforce reduction "to the extent possible" and only essential activities or mission-essential activities in the off-base community are permitted, such as bill paying, medical and dental appointments and commuting to and from the base.
Elsewhere in Japan, Misawa Air Base, on the northern tip of the main island of Honshu, reported one new case on Monday.
The individual tested positive at the end of a mandated two-week quarantine after arriving on a government-chartered flight, according to a post on the base's Facebook page. That person is the only active case at Misawa and had no contact on the base or in the local community, the post said.
On Okinawa, Marine Corps Installations Pacific reported one new case Monday at Camp Courtney, according to a post on the command's Facebook page. The new case stemmed from contact with a previous case identified at the installation.
At Kadena Air Base, an employee at the Navy Gateway Inns & Suites tested positive, according to a post on the base's official Facebook page Monday. That person has been quarantined since experiencing symptoms Aug. 1, the message said. Kadena reported three others free of the virus after quarantine.
Stars and Stripes reporters Caitlin Doornbos, Matthew M. Burke and Aya Ichihashi contributed to this report.
ditzler.joseph@stripes.com Twitter: @JosephDitzler