Yokosuka bears brunt of Typhoon Faxai as Category 3 storm slams Tokyo-area bases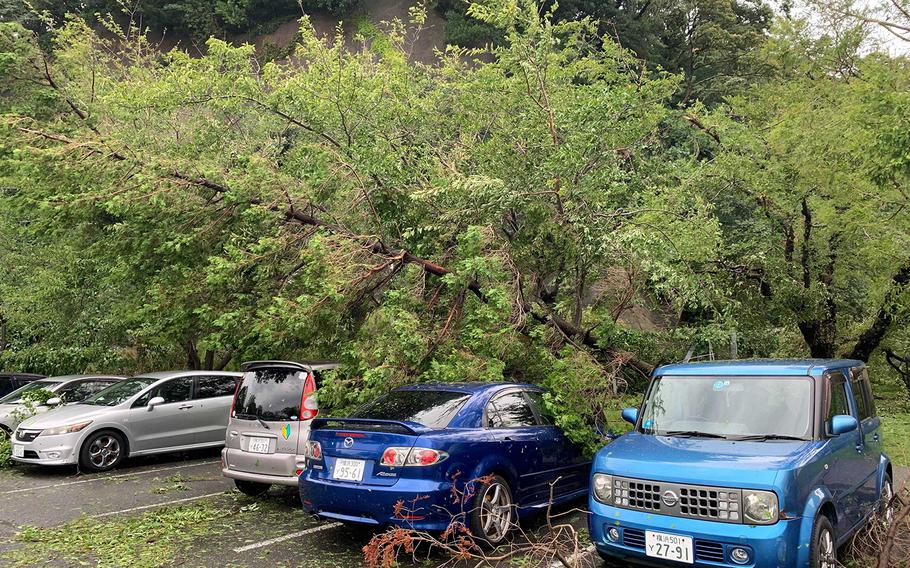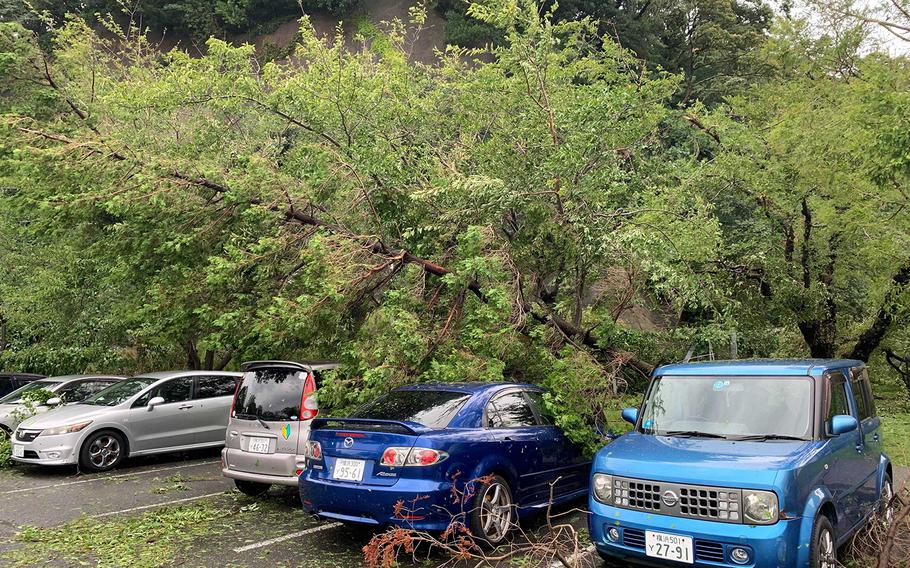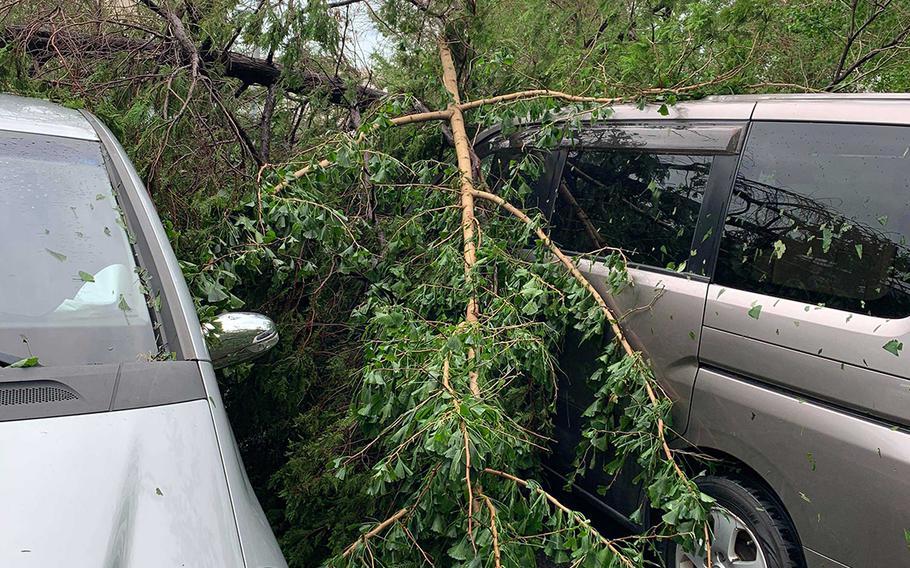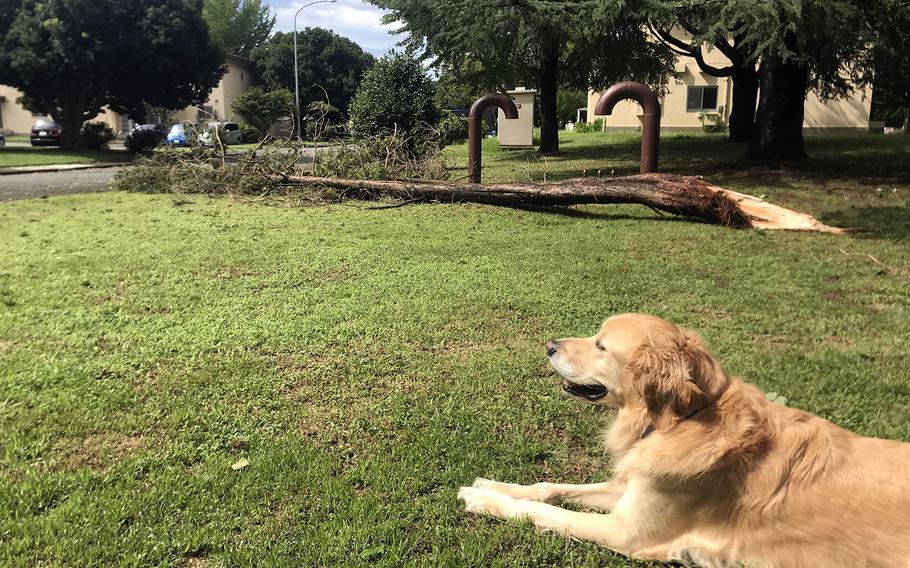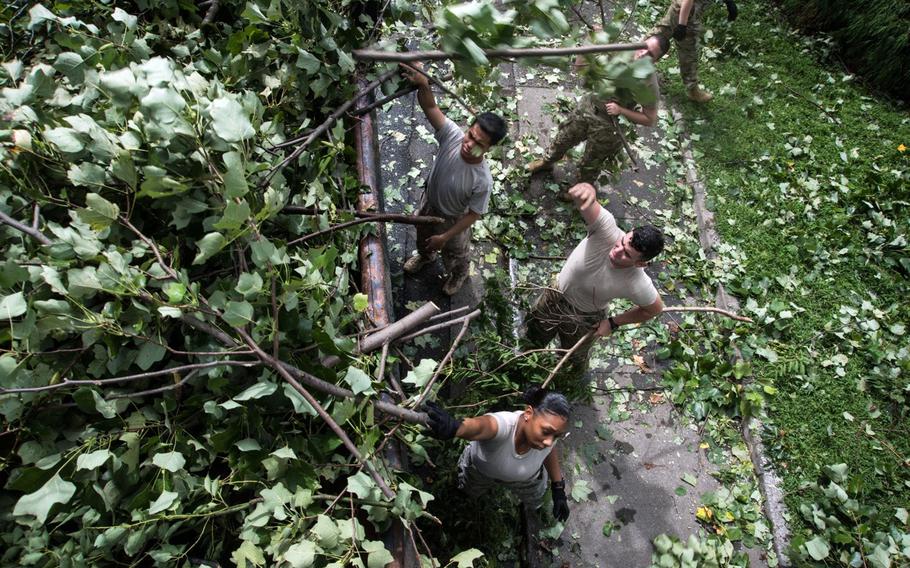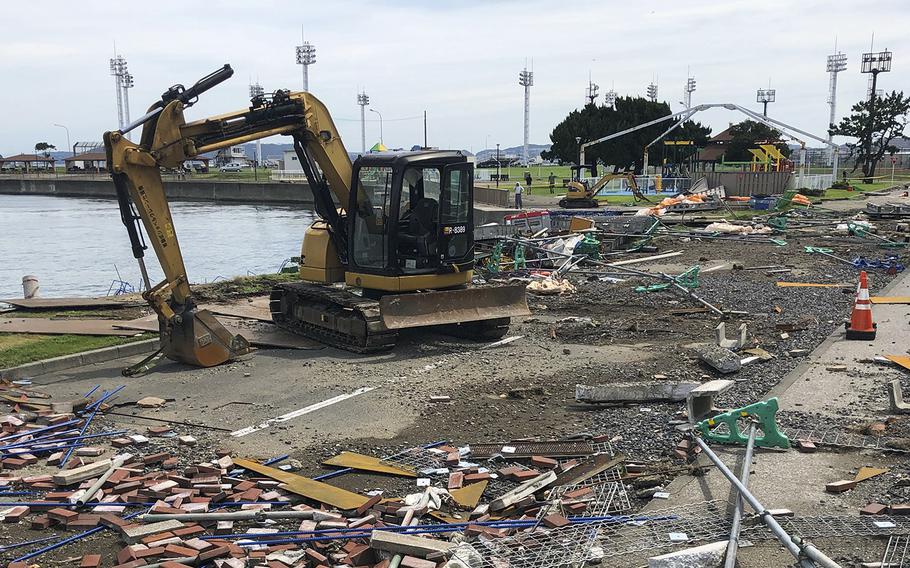 TOKYO — Yokosuka Naval Base suffered moderate damage but fallen trees and minor flooding were the worst that most U.S. military bases around Tokyo experienced from a typhoon that brought record winds to central Japan early Monday.
Typhoon Faxai made landfall near the Japanese capital before 5 a.m., according to Japan's Meteorological Agency. Its strongest winds measured 129 mph at 4.30 a.m. near Chiba City. At Haneda Airport, where 138 flights were canceled, winds peaked at 97 mph at 3.30 a.m.
One person died in Tokyo from a fall related to the storm and dozens of people in the Kanto area were injured, according to Japanese broadcaster NHK. No injuries were reported on U.S. bases.
About 932,000 households in the Kanto area were without power at 8 a.m. Monday, according to Tokyo Electric Power Co. That number fell to about 800,000 by the afternoon.
On military bases in Tokyo and nearby Kanagawa prefecture, most residents were asked to stay home from work and school for two or three hours while cleanup crews cleared fallen trees and branches from the streets.
At Yokosuka, south of Tokyo, personnel inbound from off-base homes were met with traffic jams and no morning trains.
"The [Yokohama-Yokosuka] Expressway is closed and Route 16 is in grid-lock traffic. The Keikyu [rail line] has just now started running, and the status of the JR line is unknown," the base's official Facebook page announced at 10:10 a.m.
The all-clear was given at 11:15 a.m.
Defense Department schools at Yokosuka and Ikego housing area were closed Monday, according to the same page.
The naval base was in recovery mode for nearly 5 ½ hours, with only essential personnel expected at work and assessment teams from public works surveying damage.
Yokosuka-based ships, including the aircraft carrier USS Ronald Reagan and 7th Fleet flagship USS Blue Ridge, did not relocate during the storm, 7th Fleet spokesman Lt. Joe Keiley said in an email.
"Our units and our personnel took every appropriate measure to weather the storm," he wrote.
The storm left myriad fallen trees and a carpet of branches in its wake. At Yokosuka, a fallen tree blocking a street forced temporary closure of the Womble gate about 6 a.m., according to the base official Facebook page.
Facebook groups associated with Yokosuka posted photos of trees that fell on automobiles, damage to a McDonald's restaurant window and some flooding and waves lapping over the seawall. A portion of a sidewalk along the seawall appeared to be damaged, according to Facebook posts.
Other photos appeared to show debris left overnight by surging water.
At Yokota Air Base – home of 5th Air Force and U.S. Forces Japan in western Tokyo – workers and residents were clearing fallen branches from yards and streets ahead of a late start to school and work Monday.
The base's official Facebook page stated that the morning bus to Narita Airport was delayed and that trains into Tokyo were also delayed due to a fallen tree.
Nonessential personnel at Yokota were told to report for work three hours later than normal while schools were delayed two hours, official said.
In Yokota's eastside housing area, Duke, a golden retriever belonging to Jon and Sara Rember, guarded the remains of the large pine that had, fortunately, fallen in the opposite direction of nearby homes.
Jon Rember and Duke heard the tree fall during the storm, said Sara Rember, who slept through it.
Base residents had ample warnings from officials ahead of the typhoon and the couple prepared by bringing potted plants and a swing inside on Sunday, she said.
"We know this is typhoon season. There were two storms last year. The second one took down so many cherry blossom trees," Sara Rember said.
U.S. Army Garrison Japan's Facebook page said crews were responding to multiple reports of downed trees at Camp Zama, some of which were blocking roadways Monday morning.
Anyone other than essential personnel were asked to report to work by 9:30 a.m. with school buses picking up students two hours later than normal.
At Naval Air Facility Atsugi, north of Yokosuka, commanders issued the all-clear Monday morning but announced the base health clinic was accepting urgent care patients only and cancelling routine appointments.
A section of Kearsarge Street off King Street was temporarily impassable, according a base Facebook post at around 9 a.m. Classes at Shirley Lanham Elementary School on base were canceled for the day, although teachers reported for work, said base spokeswoman Briana Baglini.
Damage was minimal, she said, and consisted mostly of downed trees and branches.
Typhoon LinglingFaxai hit Japan a day after Typhoon Lingling tore through South Korea, leaving heavy damage in its wake as it skirted the peninsula's western coast with winds of more than 80 mph before making landfall in North Korea.
At Yongsan Garrison in Seoul, toppled trees knocked out power lines, leaving a populated area known as South Post without electricity for about 24 hours. Brian D. Allgood Army Community Hospital and Dragon Hill Lodge operated with emergency generators, officials said.
Elsewhere in South Korea, Lingling grounded planes, knocked out electricity for more than 57,000 homes and left at least two people dead, according to The Associated Press.
Traffic to Incheon International Airport also was disrupted due to the closure of its gateway bridge and a power failure on a commuter rail network, the news agency reported.
Stars and Stripes reporters Joseph Ditzler, Kim Gamel, Hana Kusumoto, Christian Lopez, Dave Ornauer and Seth Robson contributed to this report.