WWII soldier meets with Zama students for Veterans Day event
by
Charlie Reed
November 9, 2010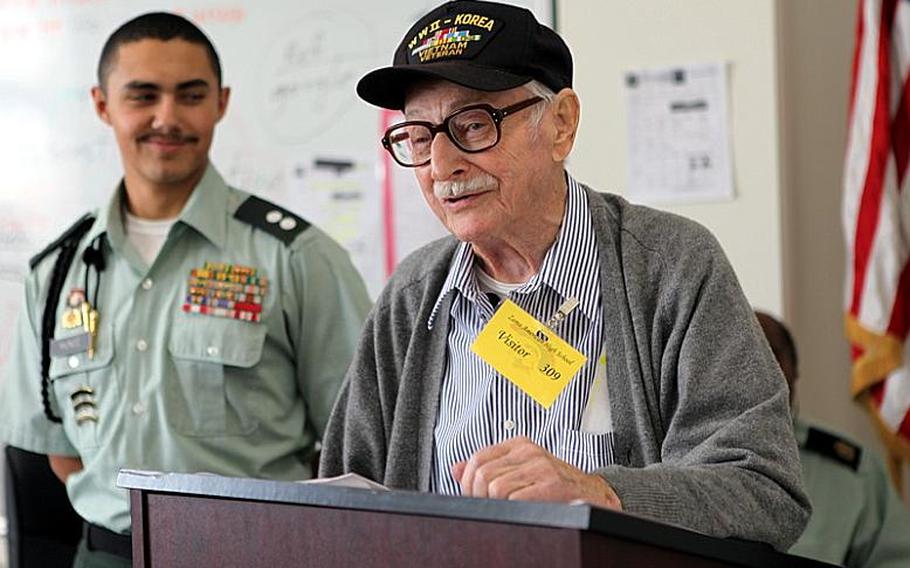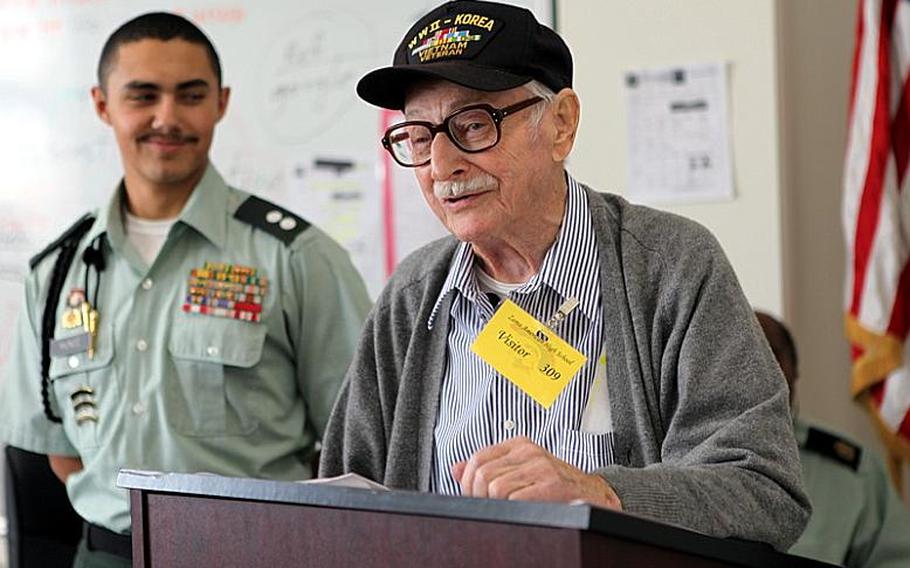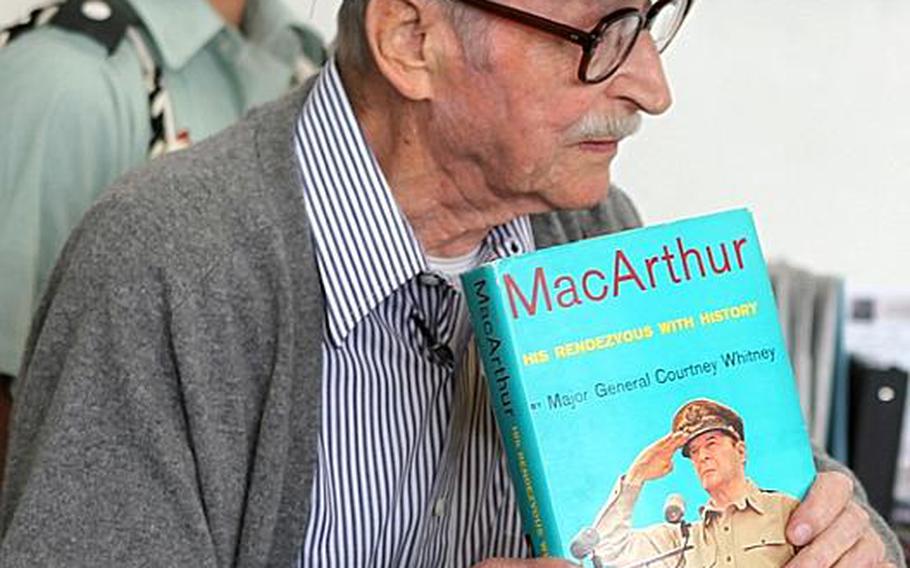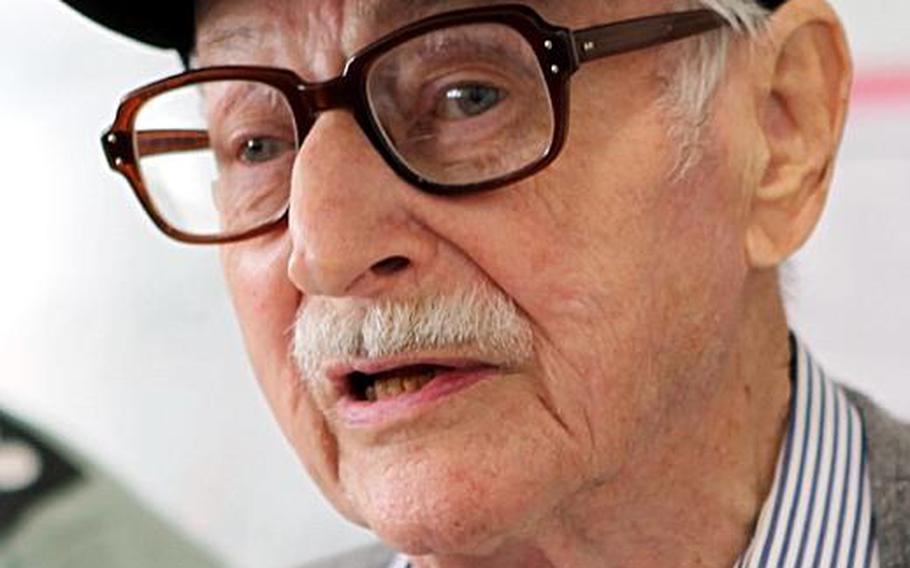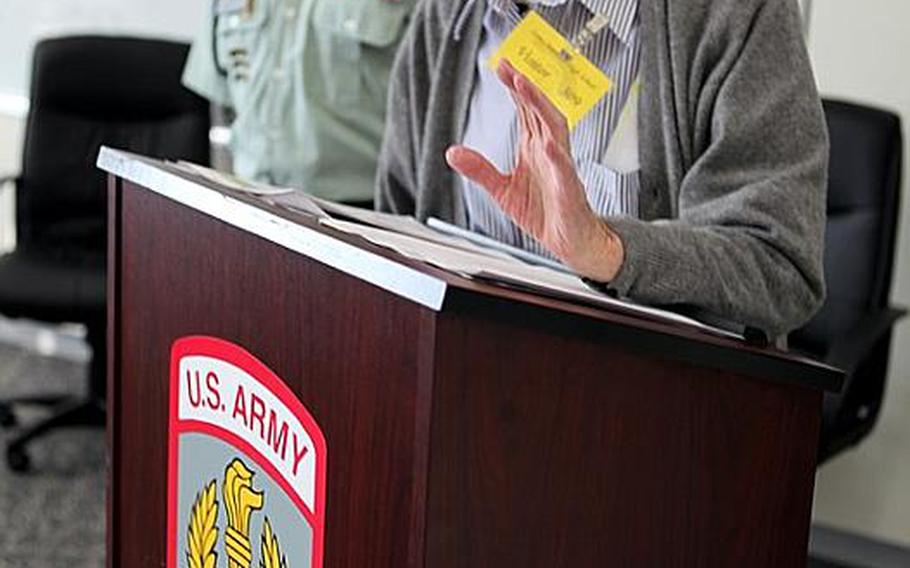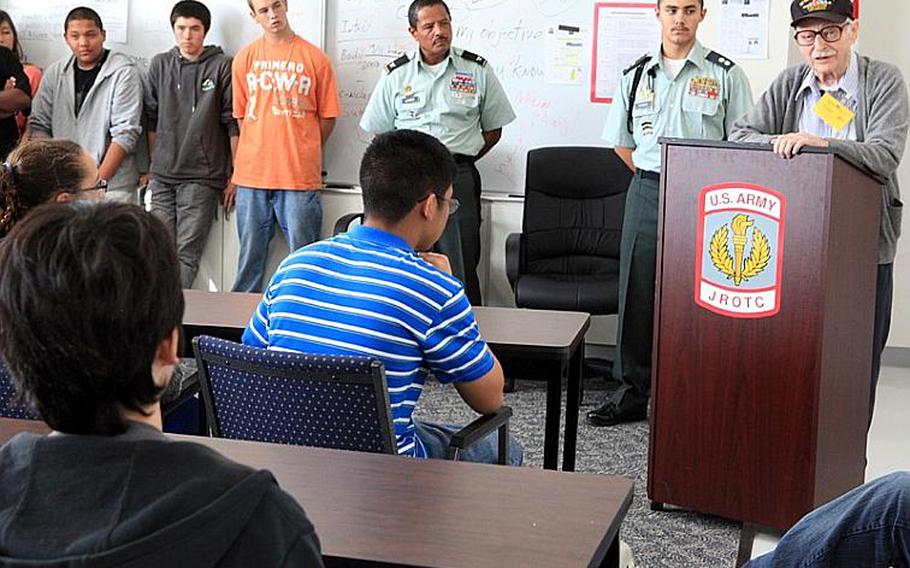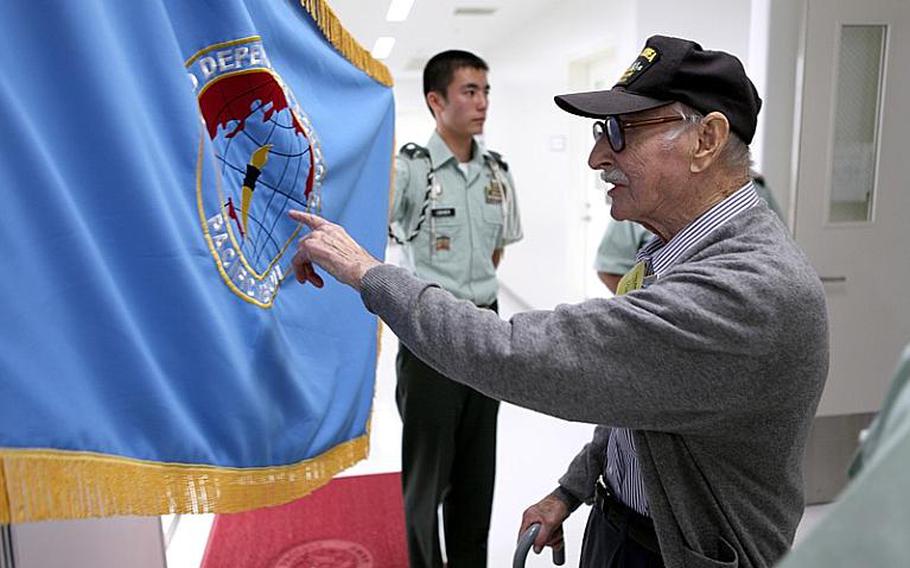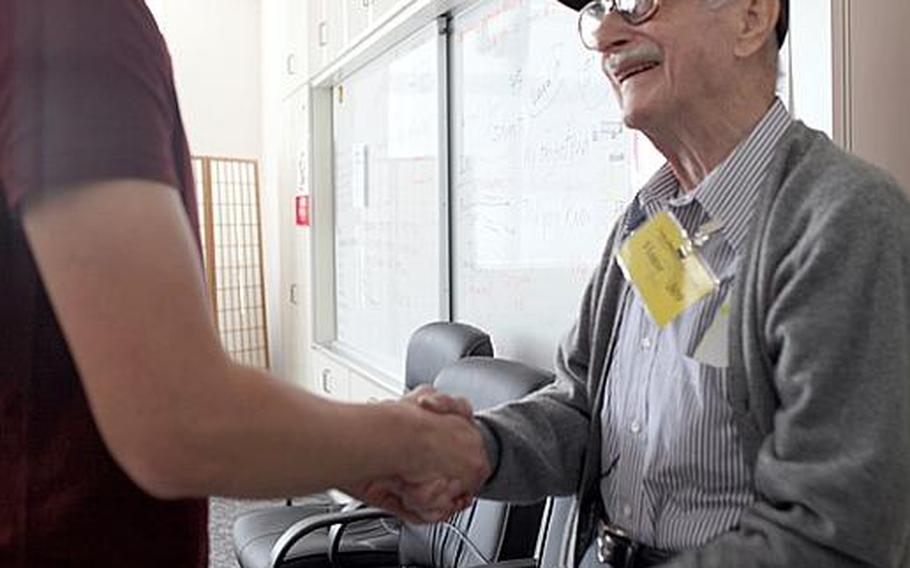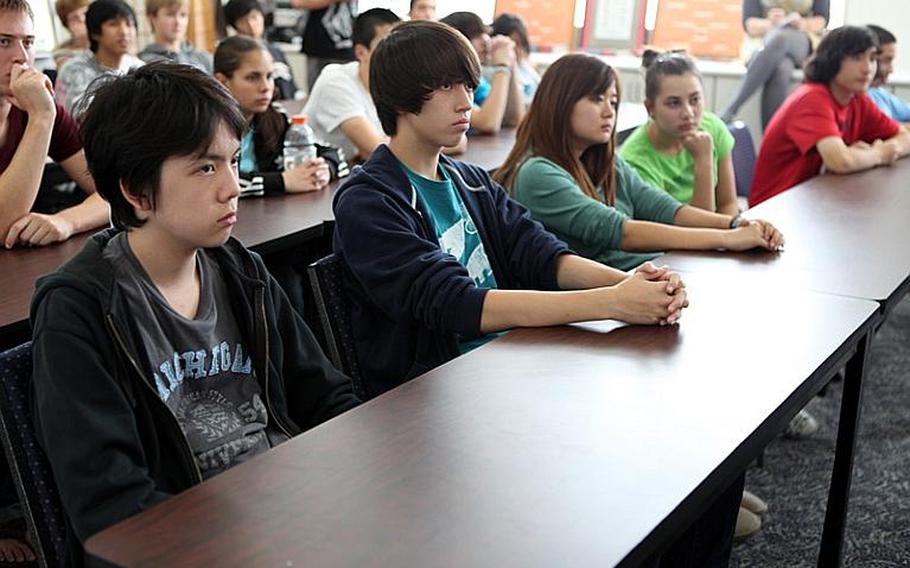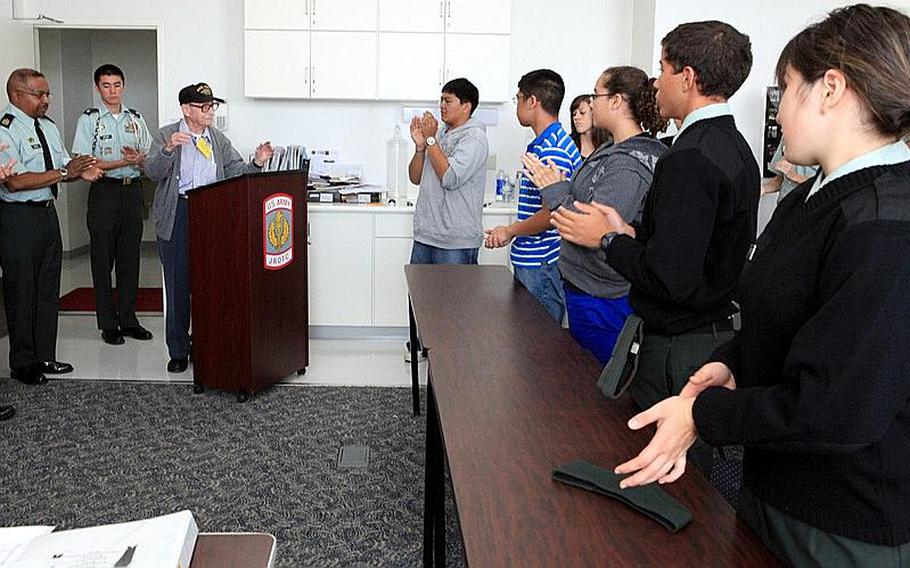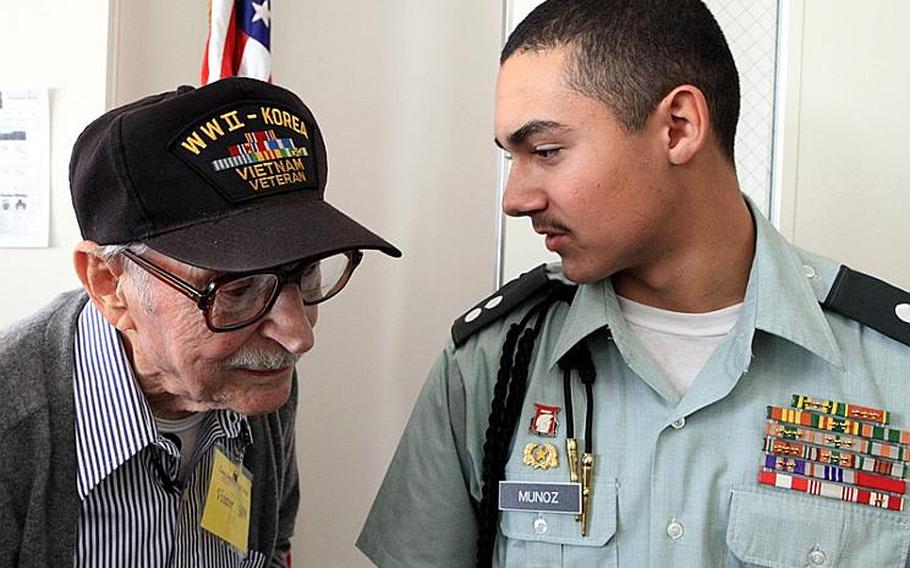 CAMP ZAMA, Japan — Mike Jurkoic considered getting drafted during World War II a stroke of luck.
It was 1942 and the 23-year-old had been trying to join the Navy for several years but was always rejected for "being a shrimp." The Army called him to duty that year after the military lowered its physical standards to boost the ranks fighting in Europe and the Pacific.
"At that time, if you could walk and you could talk you were in," Jurkoic, now 90, told students Tuesday at Camp Zama during a Veterans Day assembly.
"I was happy when I got drafted. All my friends were going to fight in the South Pacific and I felt useless," said Jurkoic, who was pumping gas in his hometown of Bellows Falls, Vt., when he got drafted. "Deep in my heart I wanted to be a soldier."
Three wars and 30 years later, he retired as a sergeant major.
"I made a vow that after I finally got in (the Army) they were never going to get rid of me," joked Jurkoic, who has lived in Japan – near Camp Zama – with his Japanese wife since retiring in 1972.
Jurkoic was a medical administrator and helped run military hospitals in the United States, Germany, France, Japan, Korea and Vietnam. He never experienced combat during his career but saw firsthand the toll it took on fellow soldiers through his job in the medical field.
"We didn't know anything about PTSD back then. During my time (the military) ignored those guys, thought they were faking," he said. "There is some confusion now about the best way to help them and I hope they figure it out soon."
Jurkoic reflected on other sweeping changes to the military that occurred during his career, recounting to the class stories of helping train the country's first female soldiers in the Women's Auxiliary Army Corps in 1942 and the long process of military desegregation.
"I remember at one hospital I worked at, my captain turned away a bus full of black soldiers who had just arrived to work there," he said. "I'll never forget that. It didn't sit well with me."
"Nobody knew how it was going to work out at the time," but the integration of women and minorities into the ranks has built a stronger Army, Jurkoic said. "Anybody who wears the uniform is a soldier in my book."
When asked about where he stands on the don't-ask-don't-tell debate, Jurkoic said he believes homosexuals should be allowed to serve but that the current policy is sufficient in allowing that to happen.
While times have changed and the use of technology has revolutionized the way the military and its troops operate in recent years, the WWII vet said the spirit of the soldier remains intact.
"It's about dedication," he said. "You saw it in soldiers then, you see it in soldiers now."
For students such as 16-year-old Victor Usher, an ROTC cadet and self-proclaimed military geek, meeting Jurkoic was a privilege.
"You see these World War II vets on TV, and to finally meet one is such an honor," Usher said.
---
---
---
---