WWII foes US, Japan back in Philippines to help storm victims
by
Seth Robson
November 19, 2013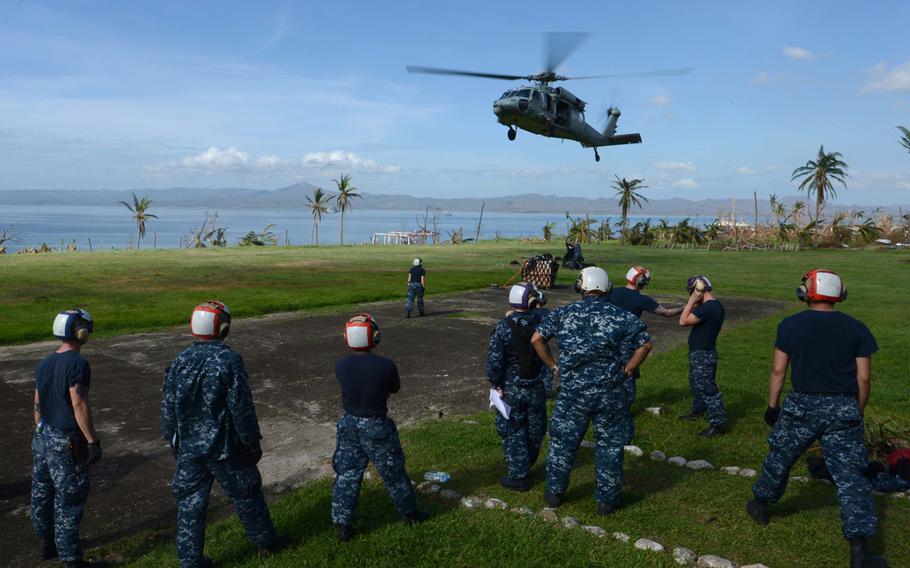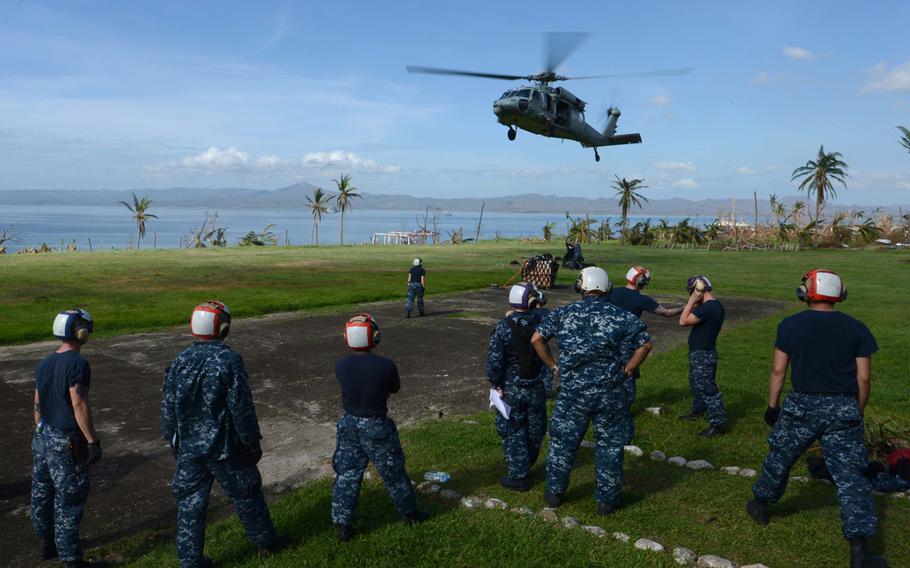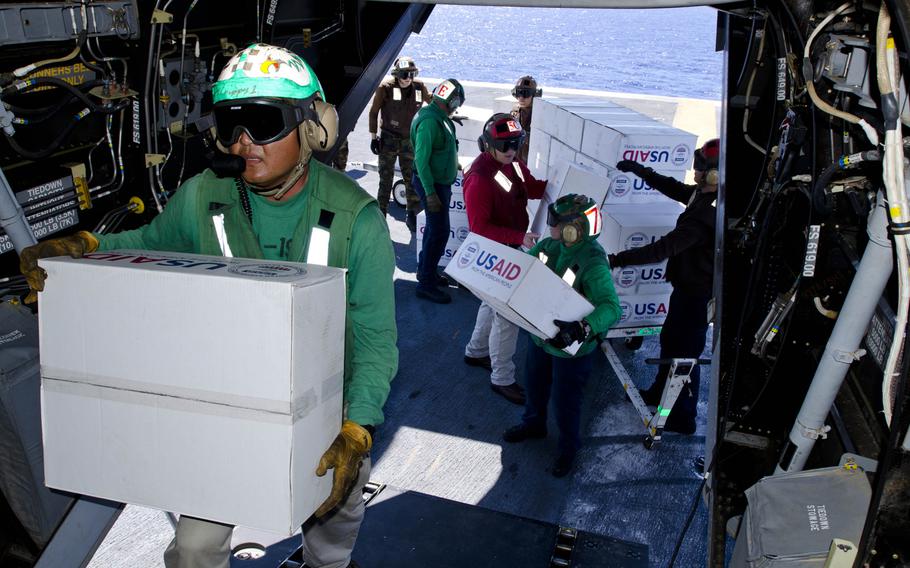 CLARK AIR BASE, Philippines — Almost 70 years after fighting what may have been the biggest naval battle in history, U.S. and Japanese forces are back in the same area — this time as allies working together to help the typhoon-ravaged Philippines.
"This area of the Philippines is where the U.S. fought some of the most important battles of World War II," Rear Adm. Mark C. Montgomery, commander of the USS George Washington Carrier Strike Group, said during a visit to the battered city of Tacloban on Friday.
Nearby, a contingent of Japanese soldiers worked alongside U.S. Special Operations troops at Tacloban Airport.
"This is where MacArthur landed," Montgomery said, referring to Army Gen. Douglas MacArthur's Oct. 20, 1944, "return" to Palo, just over eight miles from Tacloban on Leyte island.
The Battle of Leyte Gulf, off Tacloban, involved more than 200 ships, including 12 aircraft carriers and 200,000 sailors, according to historical accounts.
Many of the airfields that the U.S. military is using to support the relief effort were built by U.S. or Japanese forces during the war.
According to Joint Task Force 505 — the headquarters overseeing the U.S. relief effort — nearly 850 U.S. personnel are on the ground in the Philippines with 6,200 more offshore in the USS George Washington Strike Group. An extra 1,000 Marines and sailors with the 31st Marine Expeditionary Unit are expected to arrive in about three days.
Almost 1,200 Japanese Self-Defense Forces personnel will soon be working alongside the Americans here, conducting medical activities and helping move supplies in Cebu, Manila and Tacloban, according to a Japanese Joint Staff Office spokesman; 100 are on the ground, with the rest expected to arrive soon.
Japan Maritime Self-Defense Force ships, including the destroyer Ise, transport vessel Osumi and supply vessel Towada, are heading for the Philippines. Japan has also deployed three CH-47s, three UH-1s and 2 SH-60s, two KC-767s, seven C-130s and one U-4 aircraft.
"This is the largest deployment of SDF [Self Defense Force] personnel to an international disaster relief activity," the spokesman said.
Japan will also provide $52.1 million in disaster assistance, according to its Ministry of Foreign Affairs.
U.S. forces will coordinate relief efforts with other foreign military units and non-governmental organizations, according to a statement by III Marine Expeditionary Force commander Lt. Gen. John Wissler, who is commanding the U.S. effort from Camp Aguinaldo, near Manila.
"The U.S. military has a history of successfully working with international relief organizations and host nations to respond to those people affected by natural disasters," he said.
In a statement Tuesday, Montgomery said there were signs that ground routes were opening up for aid delivery by trucks instead of helicopters.
"Ground transportation is much more efficient and can transport a greater load of supplies over the long term," he said. "During our initial emergency response, a vast majority of transport was carried via helicopter, while now we see 80-85 percent of relief supplies going by truck."
The waning demand for air support means the U.S. carrier will likely be needed for only two more days. Two amphibious ships, due to arrive Wednesday morning, will assume the lead in relief duties, he said.
By Tuesday, the Navy had delivered 417,000 liters of water and 290,000 pounds of food and transported 724 people out of the disaster zone, he said.
The duration and extent of U.S. military support will depend on the Philippine government's needs, Wissler said.
"We will be present as long as we are needed but no longer than required," he said.
Stars and Stripes reporter Hana Kusumoto contributed to this report.