Wife and baby of US soldier who has coronavirus moved to isolation unit at Camp Humphreys, military says
by
Kim Gamel
February 29, 2020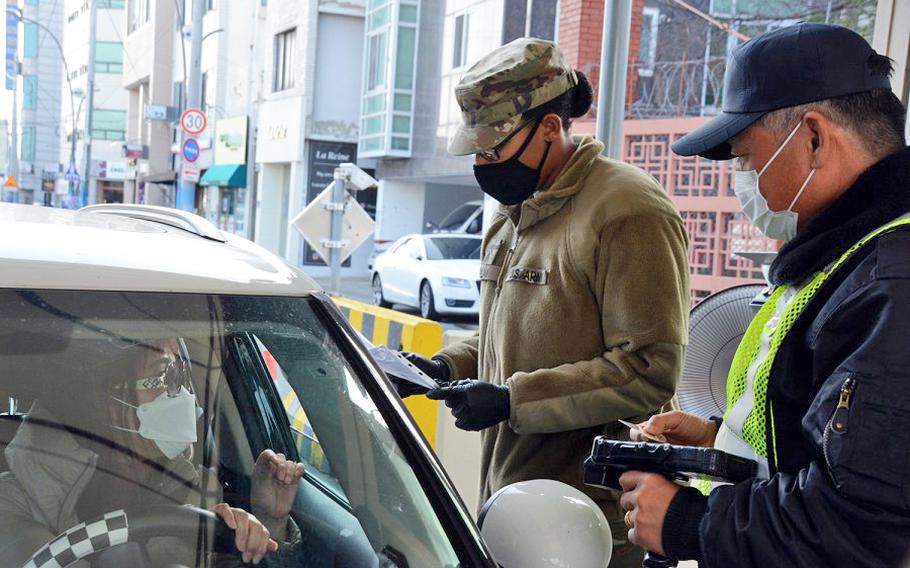 SEOUL, South Korea — The wife of an American soldier who tested positive for the new coronavirus also has been infected, the military said Saturday as the total number of confirmed cases in South Korea soared past 3,000.
The soldier was the first U.S. service member to contract the pneumonia-like illness, which has spread rapidly since first appearing in China late last year.
His wife and their baby were transported from Daegu to an isolation unit at Camp Humphreys where the soldier also is being held, officials said.
The woman had been in self-quarantine since Wednesday, when her husband tested positive, according to U.S. Forces Korea. She also was confirmed to have the virus earlier Sunday.
"She's now been admitted to an isolation room at the U.S. hospital," the command said, adding it would not provide information about the child without the parents' consent.
"The patient has not been in contact with any other USFK or USFK affiliated personnel since going into quarantine," USFK said. South Korean and U.S. health professionals had determined it was not necessary to investigate her movements due to the lack of interaction.
USFK commander Gen. Robert Abrams and his wife, Connie, donned full hospital protective gear to visit them on Saturday.
"Just left our hospital where I visited with our soldier With COVID-19," Abrams wrote on Twitter. He said his wife visited with the soldier's wife and baby.
"Soldier doing well, asymptomatic today and will be tested again later," he added.
The woman is the fourth person affiliated with USFK to test positive for COVID-19, including the widow of a retired soldier and a South Korean employee.
All were stationed on bases in the southeastern city of Daegu and surrounding areas that are at the center of the recent outbreak.
South Korea has the highest number of confirmed cases outside China.
The government reported 813 new cases on Saturday, raising the total to 3,150, most in Daegu and surrounding areas. Seventeen COVID-19 patients have died, and 28 have recovered and been discharged, according to the Korea Centers for Disease Control and Prevention.
Officials warned that the numbers would continue to grow as it tests members of a secretive religious movement linked to the spread of the virus.
So far, 55,723 of 94,055 tests have been negative, with 35,182 still pending, the KCDC said Saturday.
The U.S. military has restricted movements on and off bases on the divided peninsula and implemented health screening checks before entry onto U.S. military installations. On Wednesday, U.S. Indo-Pacific Command restricted nonessential Defense Department travel to South Korea in order to reduce the spread of illness.
USFK remains on high alert "and is implementing all appropriate control measures to help control the spread of COVID-19 and as a prudent measure to protect the force," the press release said.
gamel.kim@stripes.com Twitter: @kimgamel