What is the 'Libya model' and why does it set N. Korea's hair on fire?
by
ROBERT H. REID
May 24, 2018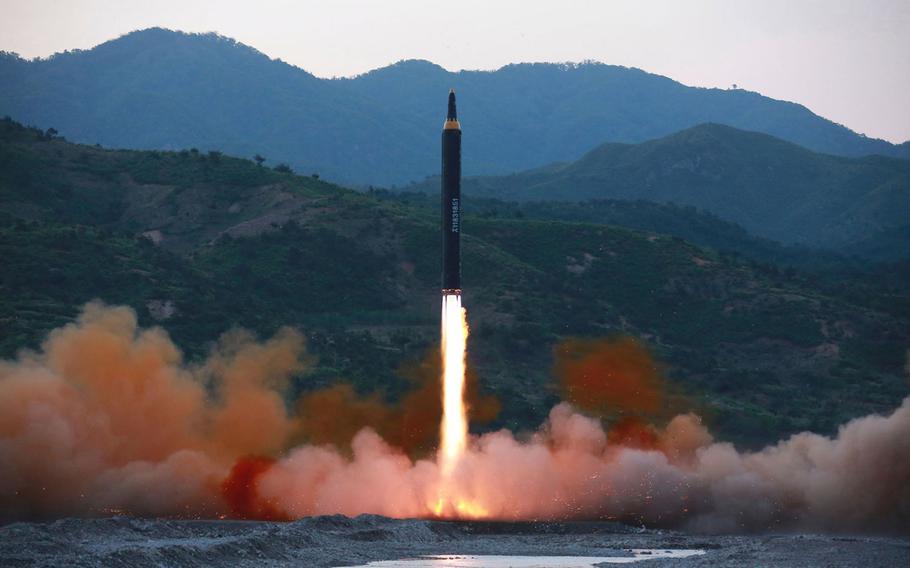 President Donald Trump called off the June 12 summit with North Korea's leader after Pyongyang unleashed a hostile diatribe against Vice President Mike Pence for referring to the "Libya model" when discussing ways to eliminate the Communist state's nuclear weapons.
No matter that Trump himself had already dismissed the "Libya model," first raised last month by his hardline National Security Adviser John Bolton in television interviews. To the North Koreans, any comparison with Libya's nuclear disarmament is a provocation.
What is the "Libya model" and why does the North react so vehemently against it?
To the Trump Administration, the phrase refers to a successful program in which a sovereign state, Libya, chose to abandon nuclear weapons and allow international inspectors to verify the country's disarmament.
After the U.S.-led invasion of Iraq toppled President Saddam Hussein in 2003, Libya's leader Col. Moammar Gadhafi feared he might be next. On Dec. 19, 2003, Gadhafi announced he intended to rid Libya of its weapons of mass destruction.
Within a few months, Libya handed over vast amounts of equipment, documents and centrifuges — all of which were flown out of the country, mostly to Oak Ridge, Tenn. Gadhafi allowed international inspectors into Libya, and, in about two years, they certified that Libya's nuclear weapons program was no more. Full destruction of Libya's chemical weapons program was due to be completed by 2016.
What's wrong with that?Gadhafi hoped the United States and its allies would reciprocate with economic aid and trade concessions — although he had no firm guarantees they would do so when he made the disarmament announcement. The mercurial leader did receive some rewards, including a temporary seat on the U.N. Security Council, but he complained that the international community was not as generous with its financial rewards as he thought he deserved. To the North Koreans and other critics, Gadhafi had foolishly given away his most valuable security asset while getting little in return.
Making matters worseFast forward to 2011, when the Arab Spring uprisings roiled the Middle East. Riots broke out across the country, including in the eastern Libyan city of Benghazi. On March 19 of that year, the U.S. and its European allies - the very powers Gadhafi sought to cultivate by foreswearing nukes - launched a seven-month bombing campaign — ostensibly to stop attacks on civilians but in reality to topple his regime. On Oct. 20, 2011, Gadhafi was found hiding in a drainage ditch in Sirte after rebels overran the coastal city. He was beaten senseless by a crowd and shot dead.
What else does North Korea find fault with in the Libya formula?North Korea objects to any comparison between its nuclear program and Libya's nuclear program — which, at the time of disarmament, was in its initial phases and had not yet produced a bomb. When Gadhafi announced his plan to end Libya's nuclear program, the International Atomic Energy Agency estimated the Libyans were three to seven years from successfully producing a nuclear weapon.
By comparison, North Korea has built a significant number of nuclear bombs. The Washington Post, citing a Defense Intelligence Agency report, estimated last year that North Korea could have as many as 60 nuclear weapons — although other estimates have placed the figure at fewer than 20. North Korea has also conducted at least six nuclear tests, which its government insists qualifies it to be recognized internationally as a nuclear weapons state.
What's so important about being a nuclear weapons state?The Nuclear Non-Proliferation Treaty designates five countries — the United States, China, France, Russia and Britain — as nuclear weapons states. In addition to these five countries, India, Pakistan and North Korea have nuclear weapons. (Israel is widely believed to also possess nuclear weapons, but has never officially confirmed this.) By building and testing nuclear weapons, North Korea has joined an elite class of nations, giving its leadership a claim to be accepted as a serious player on the global stage deserving of being treated in negotiations as an equal.