'Welcome Home, Daddy': USS Milius sailors join 7th Fleet at Yokosuka
by
Caitlin Doornbos
May 22, 2018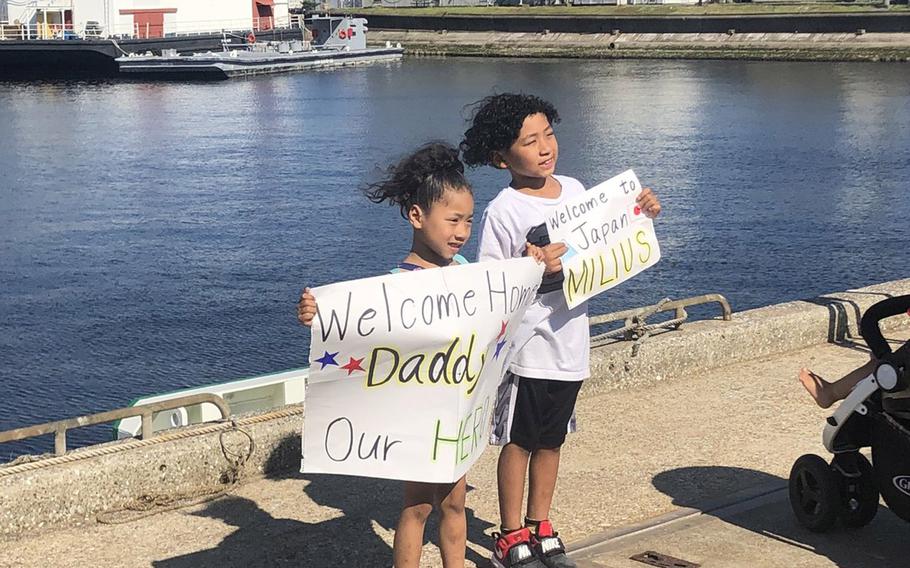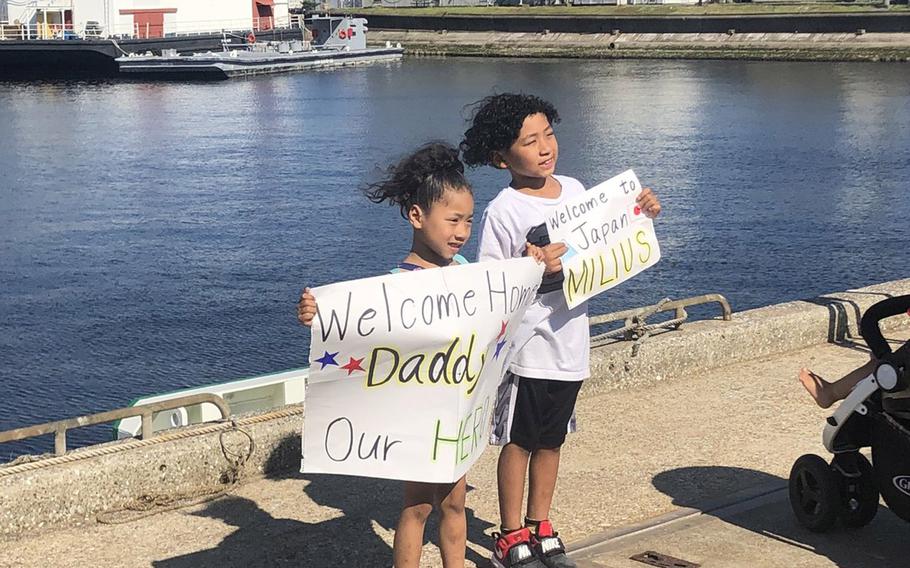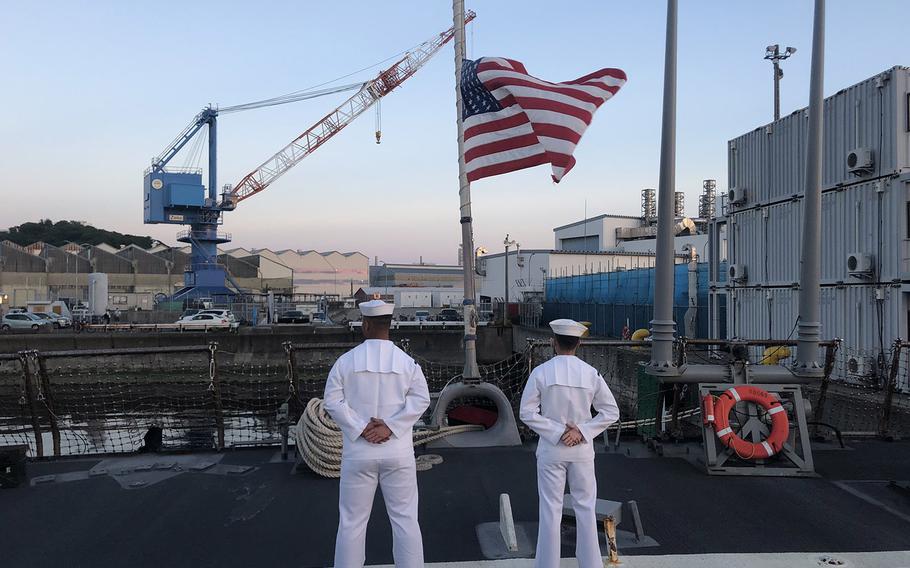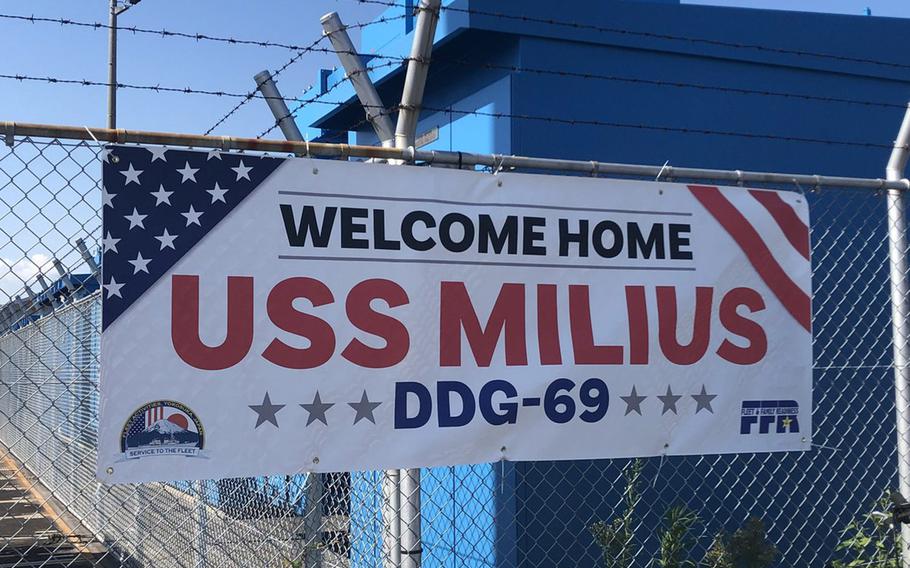 YOKOSUKA NAVAL BASE, Japan — The Navy's 7th Fleet welcomed the destroyer USS Milius and its crew of 300 to the ship's new home at Yokosuka on Tuesday.
Cmdr. Jennifer M. Pontius, commander of the USS Milius, said Tuesday that the ship brings with it a "well-trained team ready for any tasking."
It also brings enhanced missile defense capabilities with its new Aegis Baseline 9 combat system. The ship's arrival date in Yokosuka was pushed out nearly a year as it underwent maintenance and modernization, including upgrades to its air, ballistic missile defense, surface and undersea warfare capabilities, according to a Navy statement.
A highlight of the new system, the Aegis Ballistic Missile Defense platform, enables Milius to shoot down short-range ballistic missiles within the atmosphere, and short- to intermediate-range missiles above the atmosphere, according to the Navy.
Milius' arrival reinforces Navy efforts to place more of its advanced platforms and weaponry in the region. In 2015, the destroyer USS Benfold arrived at Yokosuka with the Aegis Baseline 9 upgrade. The upgraded destroyer USS Barry arrived the following year.
Before the 505-foot long, 8,230-ton Milius came to Japan, it completed qualification trials and multiple live-fire events to test its new weapons, the Navy said.
"Our combat system and our well-trained crew are ready to support whatever mission we are called to accomplish," Pontius said.
Milius will help alleviate some of the workload of the forward-deployed fleet, which has undergone a trying past year and a half.
Although former Pacific Fleet commander Adm. Scott Swift told Stars and Stripes in 2017 that Milius is not meant to replace destroyers severely damaged in fatal collisions last year, 7th Fleet has had a shortage of the ships as the USS Fitzgerald and USS John S. McCain undergo repairs.
Pontius said her ship has "really look[ed] internally" after the collisions, thoroughly reviewing the Milius crew's training and other operations.
"We've actually taken the time to study the events to learn from them, and to take those lessons learned and make sure that we're implementing them," Pontius said. "Not just on our watch team, but ship-wide — because it affects every single one of us."
Milius left its former 3rd Fleet homeport in San Diego last month, stopping for a port visit in Hawaii along the way to Japan. Some of the crew's families left for Yokosuka in March, readying their new Japan homes as their loved ones sailed across the Pacific.
Others, such as Natsumi Brown, had been in Yokosuka for a while. Brown's husband, Chief Petty Officer Kevin Brown, had been stationed in Yokosuka before leaving for San Diego about a year ago.
As the three Brown children held signs reading, "Welcome Home, Daddy," Natsumi Brown said she was "excited" to have her family reunited.
Though Pontius said the ship is "in excellent shape," Milius will remain in Yokosuka for an undisclosed amount of time as it enters a routine maintenance period, allowing its sailors to settle into their new homes in Japan.
doornbos.caitlin@stripes.com Twitter: @CaitlinDoornbos