'We consider them family': US military furloughs thousands of South Korean employees in blow to alliance
by
Yoo Kyong Chang Kim Gamel
April 1, 2020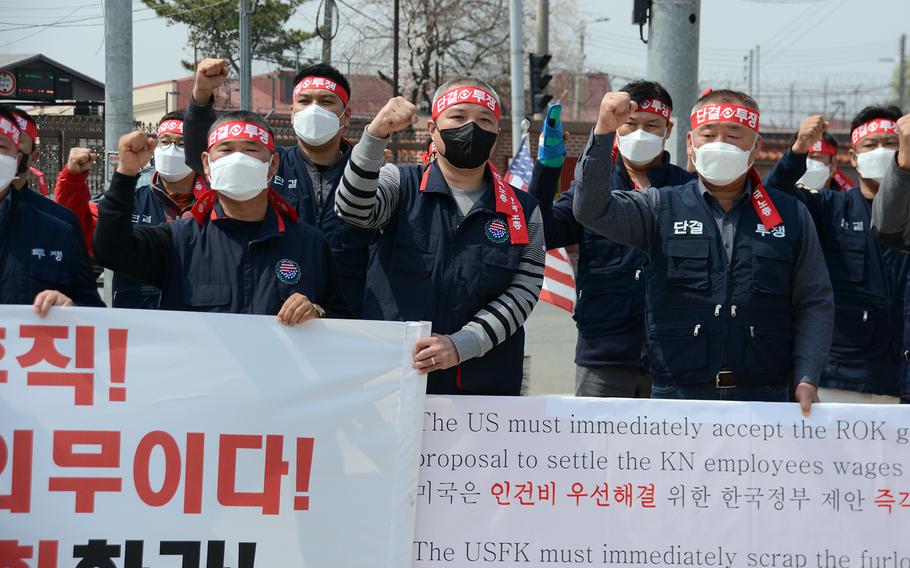 CAMP HUMPHREYS, South Korea — Following months of warnings, the U.S. military put 4,500 South Korean base employees — about half its local workforce — on unpaid leave indefinitely Wednesday after the allies failed to agree on a new defense cost-sharing deal.
The furlough — the first of its kind — was a blow to the alliance and joint military readiness to fight on the divided peninsula, which commanders say already has been jeopardized by restrictions on movement aimed at preventing the spread of the coronavirus.
Negotiators have been deadlocked over the United States' demand that South Korea sharply increase its contribution to offset the costs of stationing some 28,500 service members on the divided peninsula as defense against the nuclear-armed North.
U.S. Forces Korea commander Gen. Robert Abrams expressed regret and promised to continue to press both governments to reach a new Special Measures Agreement as soon as possible since the previous deal expired at the end of the year.
"The partial furlough of (South Korean) employees is not what we envisioned or hoped what would happen," he said in a videotaped message. "The furlough is in no way a reflection of their performance, dedication or conduct, but rather due to a lack of a burden-sharing agreement making programmed funds unavailable."
"These are our employees, our co-workers, our teammates, and we consider them family," he added. "And while this is an unfortunate situation, and we will miss them dearly, we will work to minimize the impact on our 'fight tonight' posture despite the strenuous circumstances."
South Korean officials blamed the American side, saying they had offered compromises including a way to isolate the labor issue while continuing to negotiate on other items.
"Our government has suggested a variety of measures, including the execution of a budget to address the wage issue first, based upon the notion that the furlough does help the combined defense posture," said defense ministry spokeswoman Choi Hyun-soo.
She added that the government would push for a special law to grant loans to help the USFK employees who were ordered not to report to work.
"The ministry will continue to work closely with the U.S. Department of Defense and USFK to prevent the current situation from affecting the joint posture," she said.
The Americans had been paying salaries for the first three months of 2020 with programmed funds, but those dried up on Tuesday.
Pong Ha-song, a 60-year-old dining facility employee who has been with USFK for nearly 30 years, said he hopes a deal can be reached soon so he can go back to work.
"President Trump has been holding Korean USFK workers hostage. This is a hard blow for us," he said Wednesday as he joined the Korean Employees' Union in a small protest outside Camp Humphreys, the main U.S. base south of Seoul.
"My family's livelihood is in danger and I'm going to have difficulties putting food on the table," he added. "If the furlough drags on, I think I'm going to have to look for a part-time job or something."
Hopes were raised when South Korean President Moon Jae-in agreed to send coronavirus testing kits to the U.S. during a phone conversation with Trump last week. Three South Korean firms are planning to ship the diagnostic equipment after winning interim approval from the Food and Drug Administration.
On Tuesday, Jeong Eun-bo, South Korea's lead negotiator, said the two sides were close to a deal after seven rounds of talks, most recently in mid-March in Los Angeles, and were continuing close discussions.
The Yonhap News Agency, quoting an unidentified diplomatic source, also reported that the two sides had reached "the stage of putting on the finishing touches" and could announce a deal later Wednesday.
But a Foreign Ministry official, who spoke on condition of anonymity in line with department rules, played down the report and said no official announcement was in the works.
U.S. negotiators have reportedly dropped initial demands for a fivefold increase in funding of nearly $5 billion a year but are still seeking an increase of at least three times the $920 million that South Korea paid last year.
Seoul, meanwhile, is believed to have offered to go as high as 10% more but wants to maintain the framework of the agreement, which covers most of the South Korean workers' salaries as well as other logistical and construction costs.
gamel.kim@stripes.com Twitter: @kimgamel