Wayward mortar damages civilian vehicle as Japanese soldiers train east of Kyoto
by
Aya Ichihashi Matthew M. Burke
November 16, 2018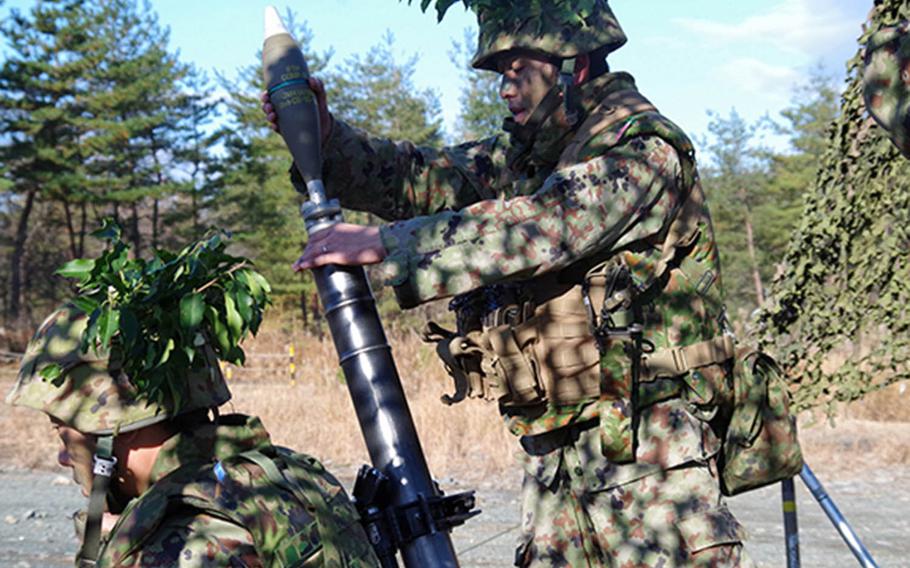 CAMP FOSTER, Okinawa — The Japan Ground Self-Defense Force is investigating after a stray mortar landed near a public roadway and struck a civilian vehicle in a prefecture just east of Kyoto.
The incident occurred at about 1:20 p.m. Wednesday when three mortars went wide of their target during routine training at the Aibano Training Area in Takashima City, Shiga prefecture, said JGSDF spokesman Muneyuki Yatsuo.
One of the 81mm trench mortars — nearly 16 inches long and weighing nearly 9 pounds — landed about 130 feet from the vehicle of Chohtaro Kawamura, 71, he told Japan's Fuji News Network. He was not injured, but the mortar blasted out a window, dented the body of his vehicle and damaged the asphalt.
"I heard a loud sound and the next thing I know, I saw the rear window shattered and saw dust coming from the ground," he said. "I saw the asphalt surface was ripped off, and I saw a metal mortar on the ground."
JGSDF officials said that mortar landed just over a half-mile from its target.
"We are still investigating what caused the window to shatter — a piece from the mortar, a piece of asphalt or what," Yatsuo said.
Minister of Defense Takeshi Iwaya has halted use of that type of mortar nationwide and apologized to residents.
"I take this incident very seriously," he told reporters Wednesday. If someone had been standing near where a mortar landed, "something really serious would have happened. We will investigate the incident and not allow such a thing to happen again."
The mortars came from the JGSDF's 37th Infantry Regiment, the Asahi newspaper reported Thursday. It is believed that the soldiers had dialed in the wrong setting ahead of the drills.
After the first two mortars failed to reach their target, the soldiers adjusted the settings, the Asahi report said. The third mortar is the one that landed near Kawamura's car.