VP Pence comes face to face with North Koreans at DMZ
by
Kim Gamel
April 17, 2017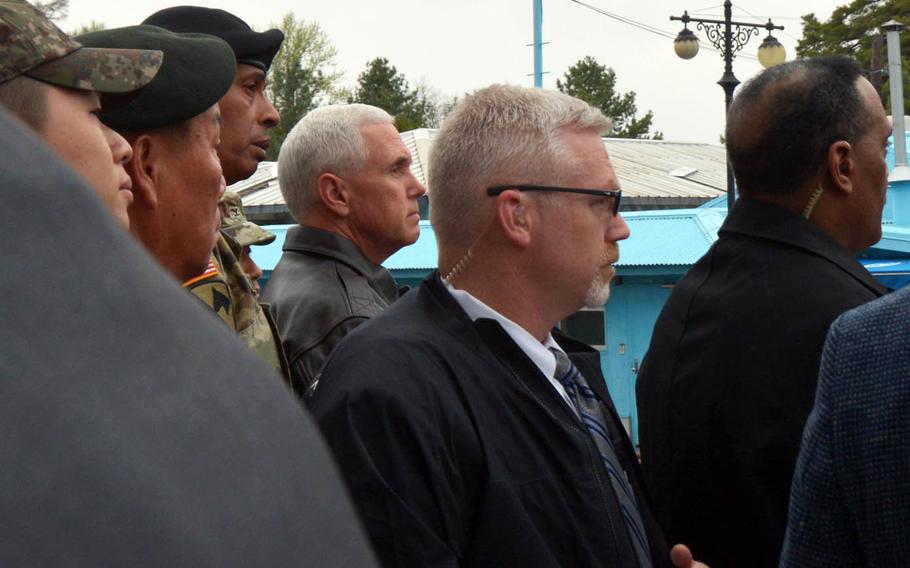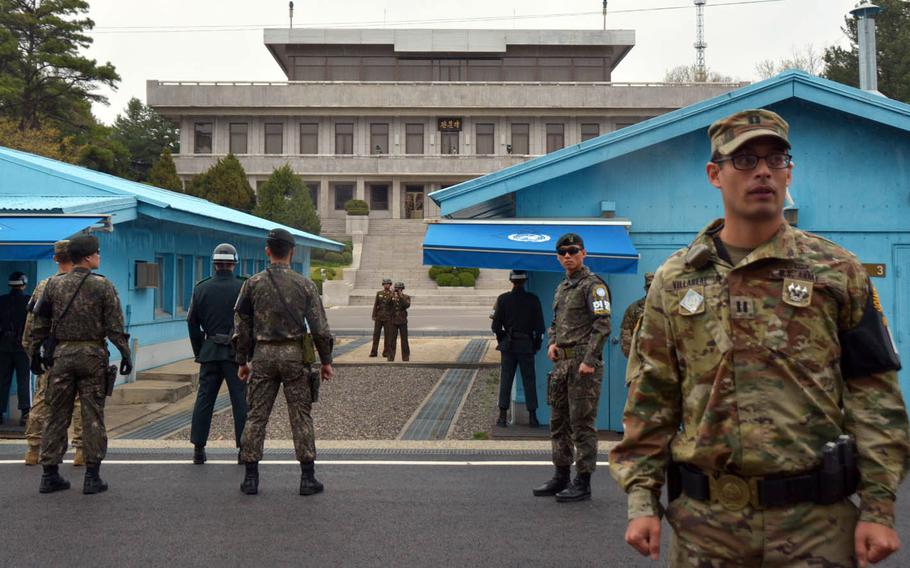 PANMUNJOM, South Korea — Vice President Mike Pence wasn't expected to go outside during his visit to the so-called Freedom House on Monday, which stands within eyesight of North Korea.
The vice president made remarks to reporters inside the hall, calling the unique border area "the historic frontier of freedom" as he looked out through glass doors onto the blue buildings straddling the demarcation line that divides the peninsula.
But suddenly American and South Korean soldiers rushed out to form a security cordon, and Pence — accompanied by the commander of U.S. Forces Korea Gen. Vincent Brooks and their entourage — walked out onto the steps.
Two North Korean soldiers filmed the scene from their side of the concrete berm that separates the two sides in the truce village of Panmunjom.
Pence didn't go any farther due to security concerns, but the unscripted move gave him a clear view of the communist state that has emerged as one of the main foreign policy issues facing President Donald Trump's administration.
He said his visit to the tense border showed the U.S. resolve and warned the North not to test President Donald Trump.
North Korea tried but failed to launch a missile on Sunday, the day the vice president arrived in South Korea to start his first regional tour since taking office.
Pence hammered home Washington's insistence that it would like to deal with the growing threat from North Korea through peaceful means such as negotiations — but is prepared to get tough.
The vice president, whose father was awarded a Bronze Star for his service as a soldier in the 1950-53 Korean War, also offered reassurances to South Korea that the United States will stand by its ally of nearly seven decades.
"All options are on the table to achieve the objectives and ensure the security of the people of this country and the stability of this region," he said in his remarks to reporters.
"We seek peace, but America has always sought peace through strength, and my message here today … is a message of resolve," he said, reiterating that "the era of strategic patience is over."
Trump has been outspoken in calling President Barack Obama's policy toward the North, which relied heavily on diplomatic pressure and economic sanctions, a failure.
But the administration has offered few details about how things will change, other than to say that China needs to take more action to rein in its communist ally.
Pence said he was "heartened" by China's recent moves regarding the North but insisted more needed to be done.
"Either China will deal with this problem or the United States and its allies will," he said. "We want to see change. We want to see North Korea abandon its reckless path."
Pence, who arrived at nearby Camp Bonifas by helicopter, also viewed North Korea from the hilltop Observation Point Ouellette.
He later greeted U.S. and South Korean soldiers at a dining facility before rain forced him to ride in a motorcade back to Seoul for a meeting with South Korea's acting president, Hwang Kyo-ahn.
"Just in the past two weeks, the world witnessed the strength and resolve of our new president in actions taken in Syria and Afghanistan," Pence said later at a joint press conference. "North Korea would do well not to test his resolve or the strength of the armed forces of the United States in this region."
Pence is scheduled to travel to Japan on Tuesday, where he will meet with Prime Minister Shinzo Abe.
Speaking to the national Diet on Monday, Abe called for more pressure on the North Koreans so they will respond seriously to talks.
"Needless to say, diplomatic effort is important to maintain peace," Abe said, according to The Associated Press. "But dialogue for the sake of having dialogue is meaningless."
On Wednesday, Pence is scheduled to speak to sailors aboard the aircraft carrier USS Ronald Reagan at Yokosuka Naval Base.
gamel.kim@stripes.com Twitter: @kimgamel
---
---
---