Volunteers lining up to help outside Misawa's gates
by
T.D. Flack
April 1, 2011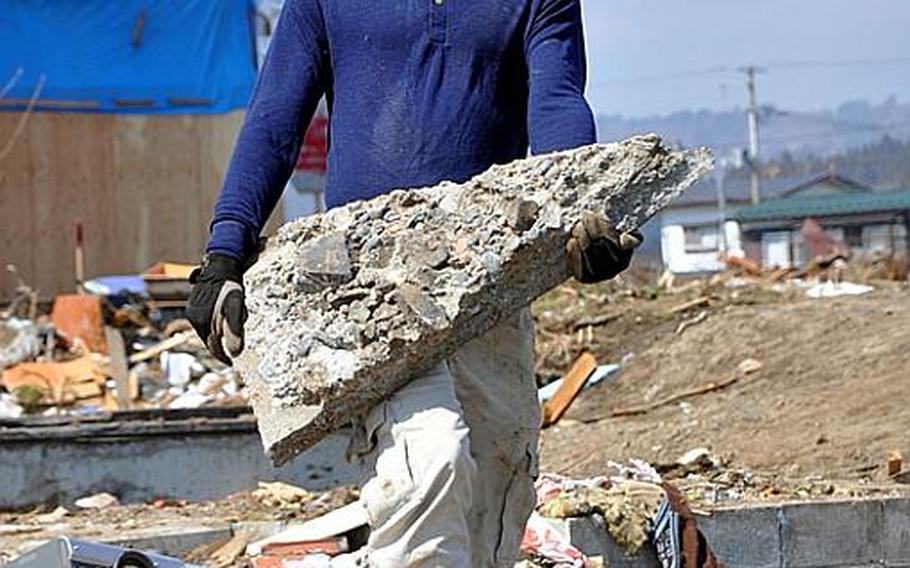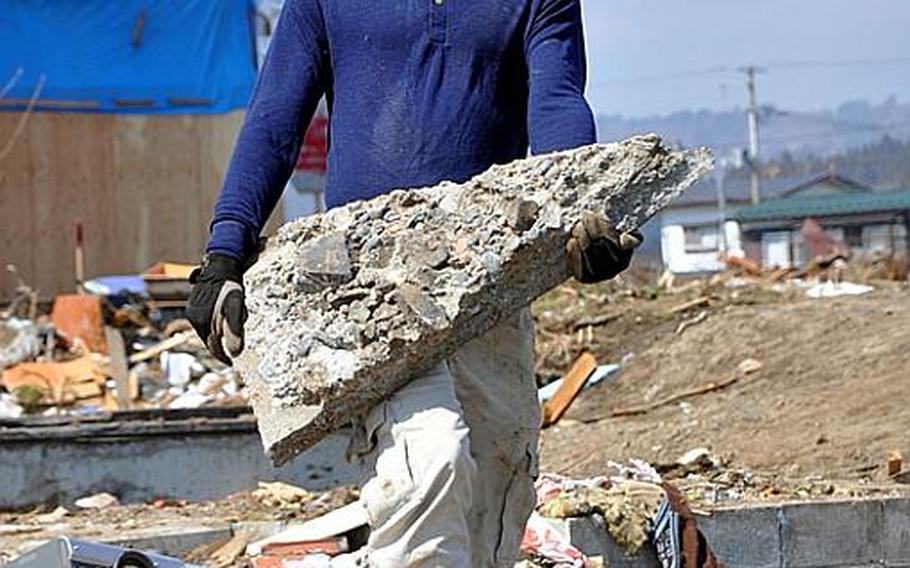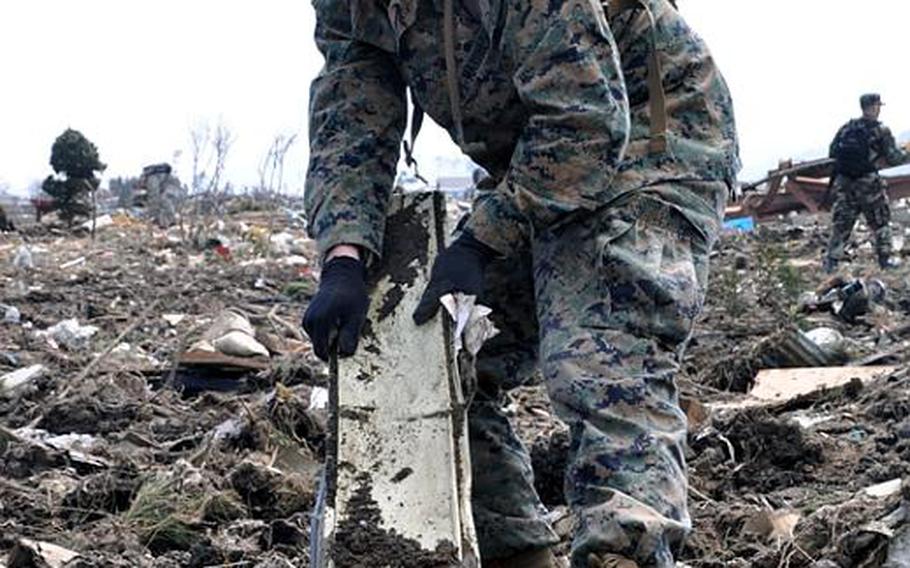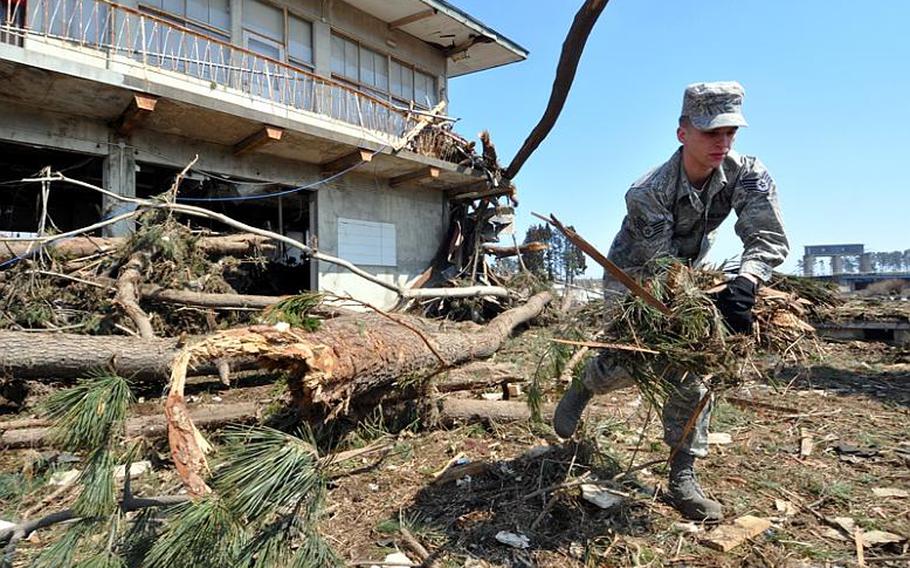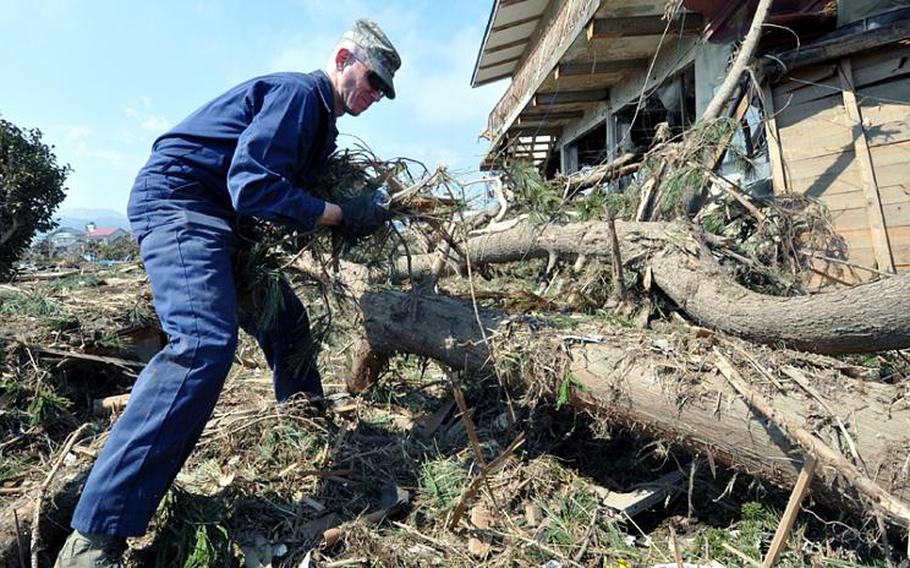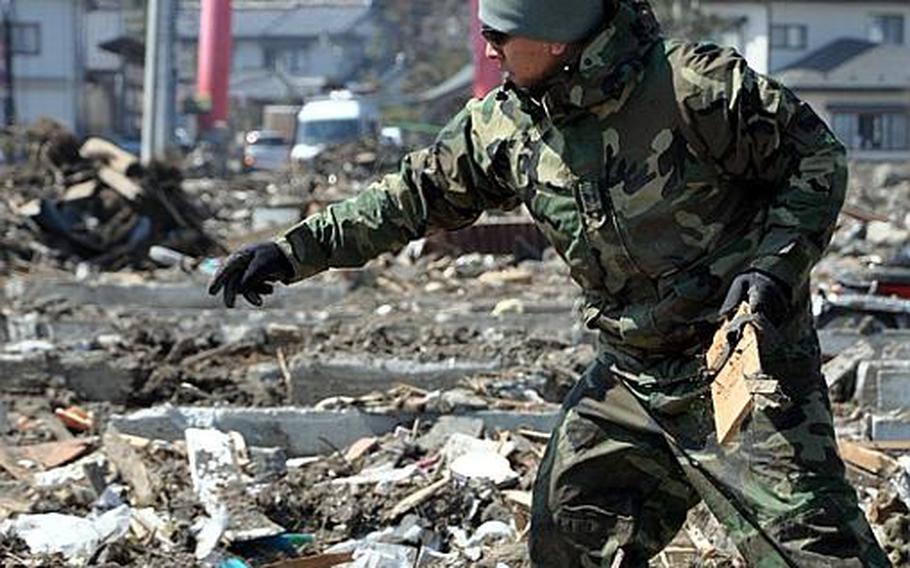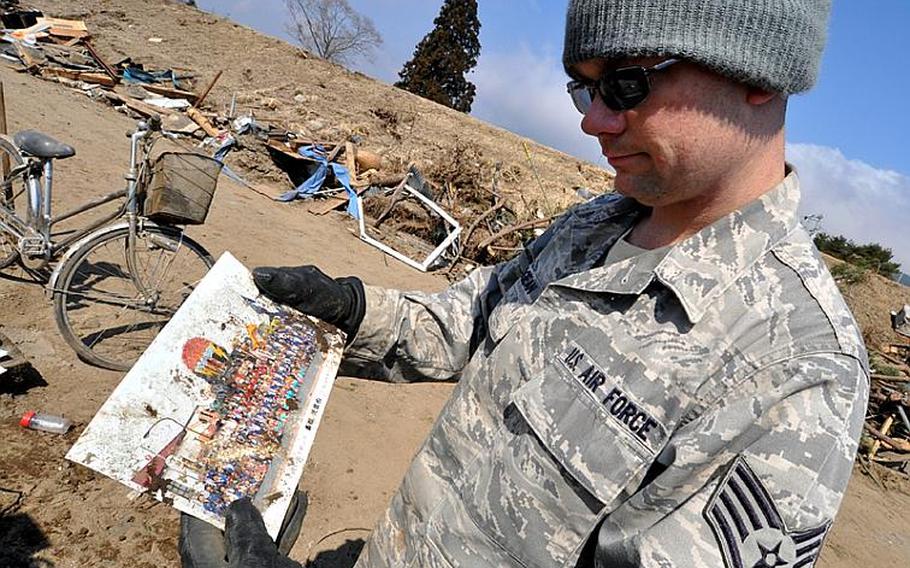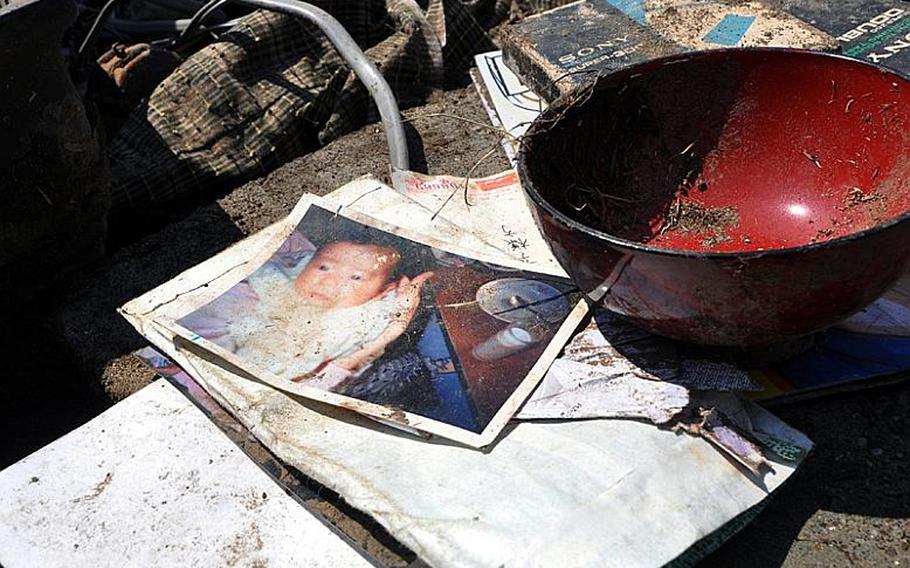 NODA VILLAGE, Japan — It was the kids' stuff — crushed toys, drawings and mud-caked clothing — that was the hardest for volunteers to pull from the debris in what was once a waterfront neighborhood in this tiny fishing village.
"I was pulling toys out of the mud, and somebody said it was a kindergarten that we were cleaning," said Marine Lance Cpl. Garrett Williams of the volunteer work he performed on Tuesday. "I was like, 'Oh my God.' I have a 7-month-old daughter. I didn't even want to come back out."
But despite how hard it was to think about those homes, those schools and those kids, he came back Friday.
Williams was one of about 80 volunteers who made the two-hour bus trip Friday from Misawa Air Base to continue cleanup of this destroyed neighborhood. He is one of about 1,000 Misawa residents — of all branches, both military and civilian — who have volunteered to help Japanese friends and neighbors since the March 11 earthquake.
The effort began with small groups of base residents heading out to the Misawa city port in the first few days after the tragedy struck. It's grown into a full-time, command-sponsored program called Misawa Helps.
In the last 14 days, residents have donned cold-weather gear, work boots and heavy gloves and pitched in at 17 sites in five cities.
Some volunteers have gone every day.
Noda village — the farthest point south the volunteers have gone — presents "a more devastated community" than Misawa volunteers had seen, program organizer Capt. Tyler Harris said. Until now, most of the work had been in industrial areas, like the Hachinohe fishing port. But in this village, volunteers are cleaning debris from remains of a residential neighborhood.
On Friday, they labored to pile fallen trees, chunks of wood, housing roof tiles and scrap metal in areas where contracted Japanese laborers will later load them into trucks. Dotted across the work site, small piles of valuables that were pulled from the mud and sludge grew, including family photos, ultrasound shots, an old set of samurai swords, papers and unbroken dishes.
"You want to hope that the people will get these things back," said Col. Cheryl Minto, who volunteered with her husband, Pat.
Harris' assistant in the program, Master Sgt. Chris Burch, was on the site, clearing debris, coordinating with city officials, asking where the Americans could best help, and directing the group. With 18 consecutive years of duty in Japan, and the ability to speak some Japanese, he was a natural choice to help, said Harris.
Burch said he thinks the program has been so successful – sometimes it's hard to get a seat on the bus because so many people want to volunteer – because folks just want to help.
"If we can help, we should be helping," Burch said. "We're in a position to help, so I think everyone's doing their part."
Misawa Helps launched its own Facebook page and placed a sign near the front of the base to track how many people actually volunteer. They've even started an information campaign with the catchphrase, "Have you done it?"
Col. Michael Rothstein, 35th Fighter Wing commander, "has done it," and he has urged community members to be involved, going as far as telling unit commanders to let as many folks participate as possible during the day.
Weekend trips are more family friendly, though kids under 14 can't participate because of safety issues.
At the site Friday, Marine Lance Cpl. Julia Bartolon-Morales said she was happy she was finally able to volunteer. Along with Williams, and other Marines from Okinawa's Combat Logistics Regiment-3, she was brought on temporary duty to Misawa to help the voluntary departure of family members who wanted to return to the United States as Japan continues to deal with an ongoing nuclear crisis in Fukushima.
With the main body of family members gone, the Marines can now volunteer for more boots-on-the-ground work.
"It feels great," Bartolon-Morales said. "Because you want to do it, it feels even better."
Noda village official Hidemasa Koyachi expressed thanks for the help during a phone interview Friday afternoon.
"We are deeply grateful to the volunteers of the U.S. military," Koyachi said. "I used to think American people at the air base were our neighbors, but now, I regard them as our very close friends."
Koyachi said the Americans are gladly cleaning areas in heavy mud, where heavy machinery can't go.
"They rushed over at the time when we were in despair and in great need, offering helping hands without any hesitation," he said.
Harris said cleanup efforts will continue as long as the help was needed.
And he's got a message for those who haven't been able to volunteer yet: "Man up!"
He said those who have helped get the feeling that it's "one of the highlights of my time here."
To volunteer, or for more details, call Misawa Helps at DSN 226-3757.
Chiyomi Sumida contributed to this story.