'Virtual battlefield' lets Korea GIs test-drive tanks in the classroom
by
Jon Rabiroff
September 3, 2011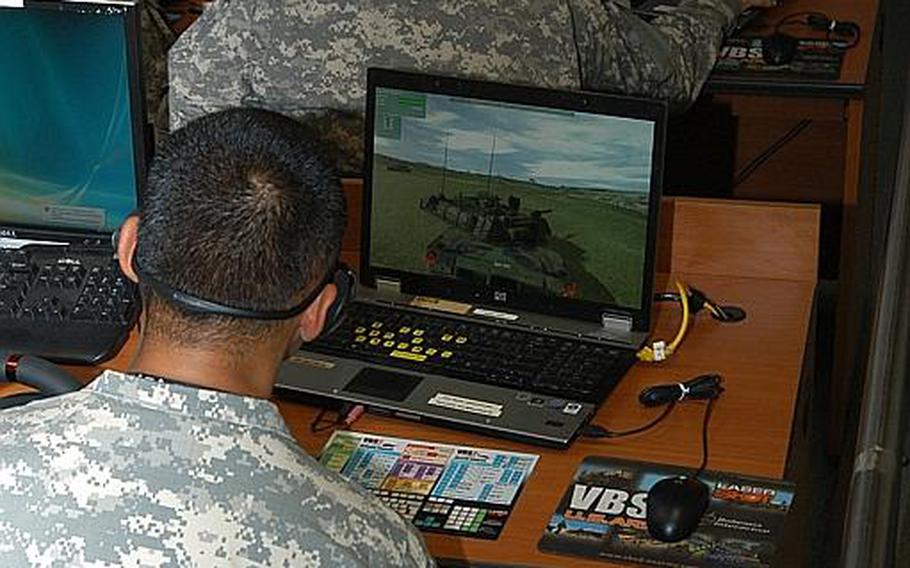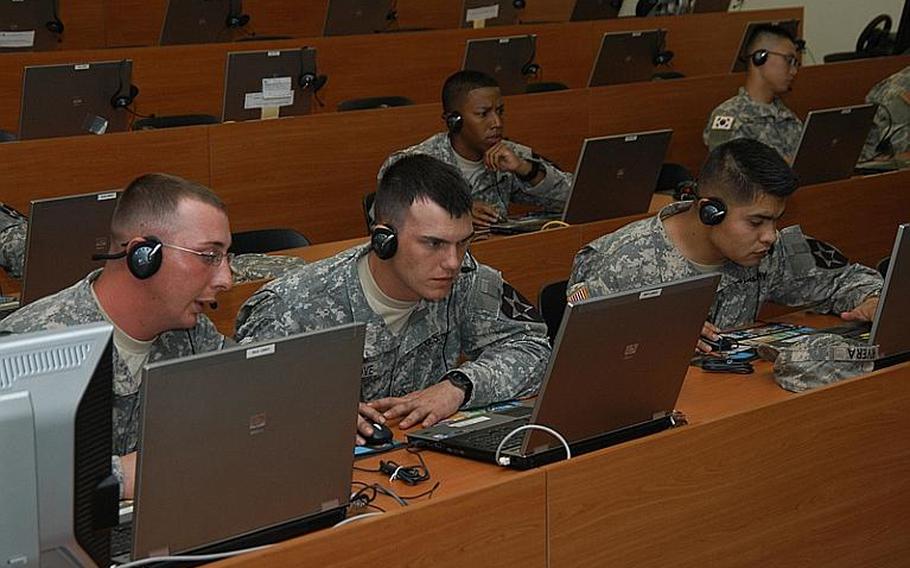 CAMP CASEY, South Korea — The tank commander scans the landscape and sees a potential threat approaching.
"Truck, truck, truck," he yells at his driver. "Go left, left, left."
Nearby, another commander is visibly frustrated that his superiors will not let his tank pass an animal carcass along the side of the road — for fear that it could be hiding an improvised explosive device — even though he is being asked to provide cover for an explosive ordnance disposal team headed to the scene.
"We were told we could not bypass the IED and we cannot maintain far-side security," he tells his superiors. "We can pull far-side security from the opposite side of the IED, though."
The scenes were played out, not in Afghanistan, but in an auditorium at Camp Casey by soldiers practicing their tank maneuvers on laptop screens, some connected to joysticks or steering wheels. While using video-game technology to train soldiers is obviously nothing new, 2nd Infantry Division commander Maj. Gen. Michael Tucker said it is an extremely useful tool for his charges stationed in South Korea.
"While battalions in the States or Europe have the ability to train their mission set live at expansive combat training centers, Korea does not have that capability," he said. "So, by leveraging (Live, Virtual, Constructive and Gaming Integrated Training Environment) technology, we are able to train at the battalion level with a very high degree of fidelity without actually putting the entire unit in the field."
"Virtual does not replace live," Tucker said. "(But), this is how we maintain the edge in a geographically constrained environment."
The Virtual Battlespace 2 system allows 2nd ID soldiers to use various kinds of equipment to simulate what they would see and do during missions.
"We can alter battlefield conditions based on what we expect to encounter, and also have the added benefit of conducting multiple iterations of an operation against variations in the enemy's array and reactions," Tucker said.
Michael Randt, an alternative technical oversight representative for VBS2, said that while the system doesn't offer the smells or the sounds of war, it does provide cost savings, allowing the soldiers to rehearse their missions and develop standard operating procedures without wasting fuel or incurring maneuver damage to expensive vehicles.
"Obviously you have to combine it with the real thing," he said.
After a recent training session, members of the 2nd Battalion, 9th Infantry Regiment's Delta Company seemed impressed with how practical the experience had been.
"Obviously, it's slightly less training value because we're not actually in the tanks, but it still helps us figure out the tactics and the training and what we're going to do," said Pfc. Dylan Horn.
As a gunner, Horn said the real world of tank assaults is more complex than "click, boom. But it's still great training, that's for sure. This beats being in the motor pool any day."
After the training session, First Platoon leader 2nd Lt. Seth Staugler went over some of the lessons learned during the session with the soldiers who participated.
"You cannot shoot at anything you want to shoot at," he said. "To just kill a civilian because you thought he had something, that's a no-no. That puts a black stain on the United States Army, as well as it's the wrong thing to do morally."
Another lesson learned from the session, he said, was the importance of speaking clearly no matter how intense the battle situation.
"I find myself a lot of times forgetting something to say, and then I'm like, 'Uh…uhhh,' " Staugler told the group. "Communication is always the key. We can always be more clear and concise."
The platoon leader said his soldiers also had trouble with the spacing between tanks.
"A lot of times, we were too spaced out and then we tried to play catch-up and we were scrunched together," he said. "[The enemy] can almost hit two birds with one stone. We have to maintain good spacing so we prevent that."
Staugler later said one of the advantages of the video training is it allows the soldiers to work through mistakes with a minimum of cost or risk.
"It's like a rehearsal, so we identify all the things we did good and all the things we did bad," he said. "Reporting (and) communication between each tank is probably what we need to work on most. I think we did fairly well."
---
---
---