Video game-style respawns keep Air Force jets in the sky during Cope North dogfights
by
Seth Robson
February 28, 2020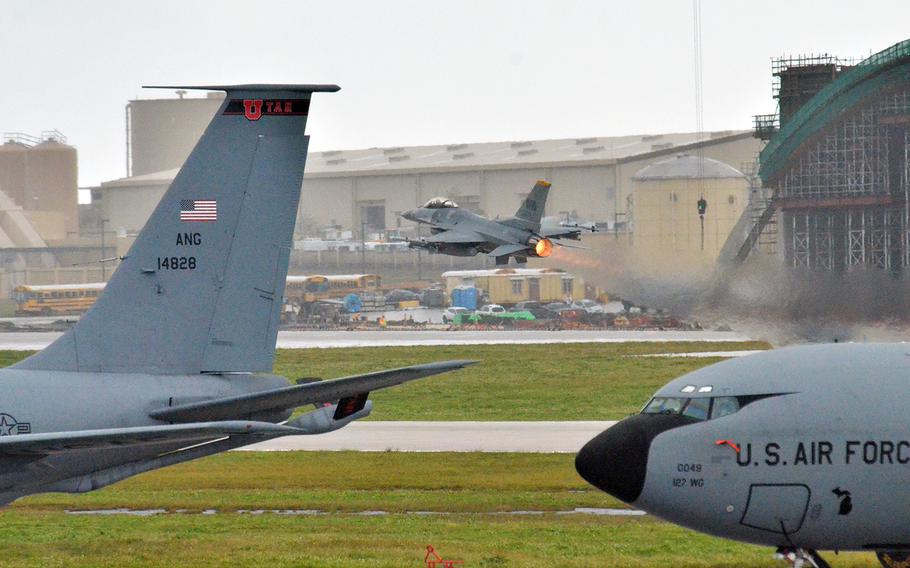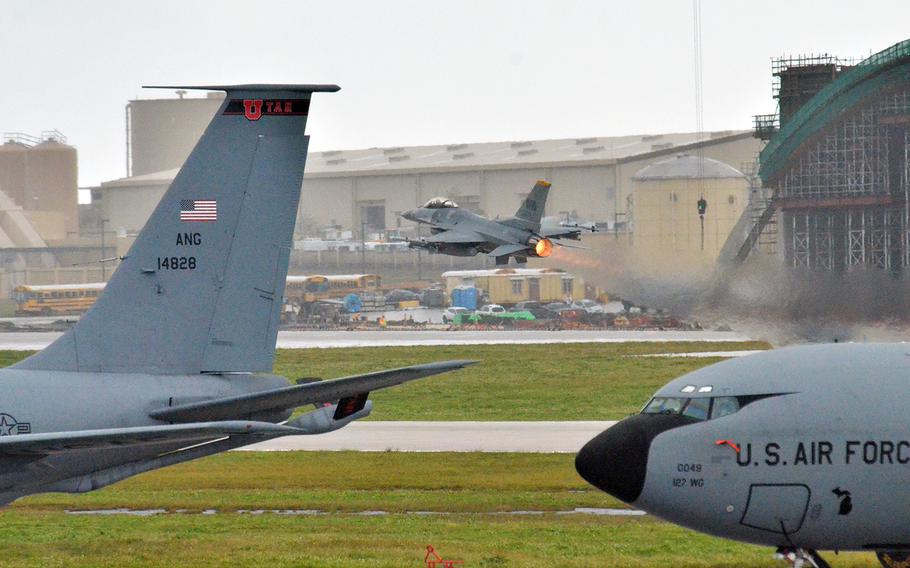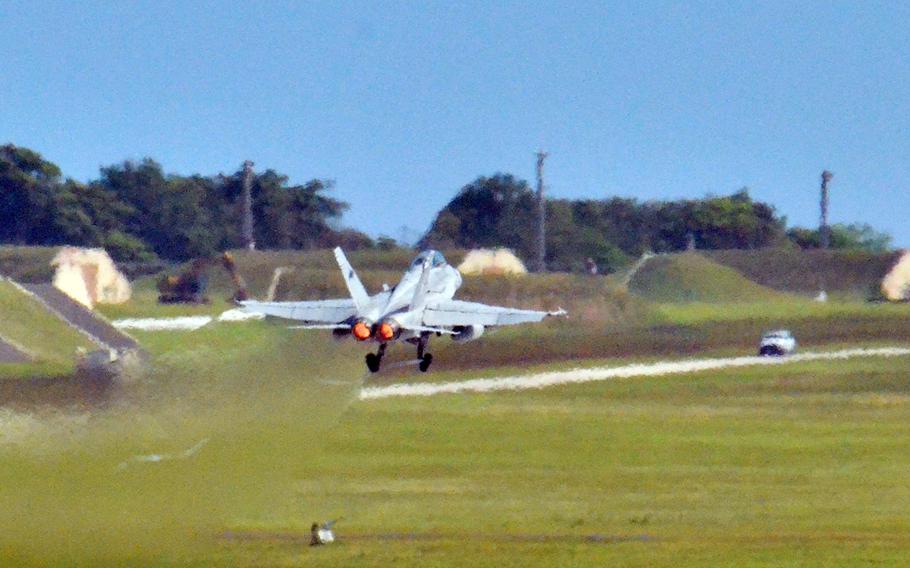 ANDERSEN AIR FORCE BASE, Guam — Pilots staging mock dog fights over the Pacific this month took a page out of video gamers' playbooks.
Gamers are used to respawning to rejoin cyber-battle when their characters are killed in massive multiplayer combat.
During this month's Cope North drills in the Northern Marianas, aircraft "shot down" in simulated air battles had to fly to a regeneration point before they could rejoin the fight, said the exercise director, Air Force Col. Mike "Skid" Rowe.
This year's exercise, which began Feb. 12 and concluded Friday, involved more than 100 aircraft and 2,100 military personnel from the United States, Japan and Australia honing skills they'll need to engage a well-equipped enemy force.
As many as 60 aircraft have been airborne over Guam during Cope North, but Rowe said there are limits on how many can take part in a dogfight.
"No more than eight airplanes can be involved in a visual fight at one time in training for safety reasons," he said near the Andersen flight line Feb. 19.
The exercise prepares the three nations' forces to operate in the same air space without spending undue energy keeping out of one another's way, David Johnson, of the Center for Advanced Defense Studies in Washington, D.C., said in a telephone interview Friday.
Capt. Matt "Chaos" Borek, 29, of Brooklyn, N.Y., flew an F-15 for the 67th Fighter Squadron during the exercise. When the pilots in his unit take to the sky, they don't know how many enemy aircraft they might face but they prepare for the worst, he said.
"If we are outgunned, we are hoping that through our techniques, tactics and procedures we can defeat the bad guys," he said.
The fighters practiced missions such as escorting strike aircraft, defending a point against enemy air attack and protecting a helicopter recovering a downed airman, Borek added.
Tech Sgt. Lindsay Brown, 32, of Palmdale, Calif., an F-15 maintainer participating in the drills, said he got a kick out of watching so many combat jets take flight.
"During launches you can look down the ramp and see all the other units' aircraft taxiing out," he said. "It provides motivation for all the maintainers."
The forces participating in Cope North have practiced complex missions involving command and control planes, fighters and tanker aircraft flying vast distances over the Pacific, Rowe said.
"Not a lot of air forces around the world can do that and we do it every year," he said.
The training isn't geared toward any particular adversary, Rowe said.
However, Paul Buchanan, an American security analyst in Auckland, New Zealand, in a telephone interview Friday said China's military is the major potential adversary for the U.S. and its allies in the western Pacific.
A Chinese navy destroyer shot a weapons-grade laser at a Navy P-8A Poseidon patrol aircraft about 380 miles west of Guam on Feb. 17, according to the U.S. Pacific Fleet, which dubbed the move "unsafe and unprofessional" in a statement Thursday.
It's important for partners and allies in the region to practice flying airborne early warning and control and aerial refueling missions alongside U.S. forces, Buchanan said.
"From an American perspective they need highly professional air forces who play by the American play book," he said.
robson.seth@stripes.com Twitter: @SethRobson1