Vice governor duo to fill in after sudden death of Okinawa's Onaga
by
Aya Ichihashi Matthew M. Burke
August 9, 2018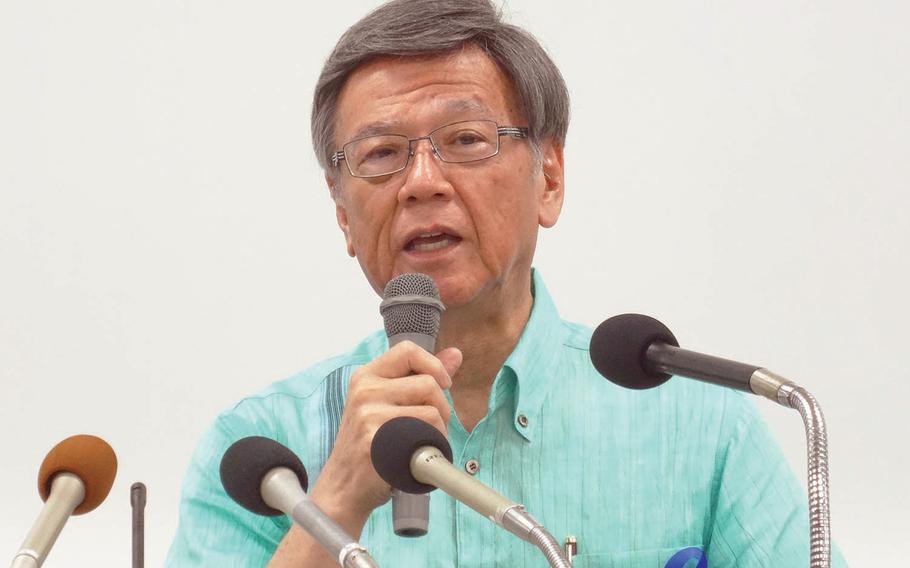 CAMP FOSTER, Okinawa – A pair of vice governors will take turns leading Japan's southern island prefecture following the sudden death of Okinawa Gov. Takeshi Onaga.
Onaga, 67, died Wednesday evening following a bout with pancreatic cancer. The fervent anti-U.S. base governor's passing came less than two hours after officials announced he would be stepping down temporarily over health concerns.
Vice governor Kiichiroh Jahana will fill in for Onaga until Aug. 12, after which fellow vice governor Moritake Tominaga will takes the reins.
It is unclear if Tominaga will remain interim governor until a yet-to-be-scheduled gubernatorial election that had been planned for November. The island must now hold elections within 50 days of Onaga's death – or by Sept. 28 - according to Japanese law.
News of Onaga's sudden passing came as a bombshell to many in Japan, including government officials.
Prime Minister Shinzo Abe – who often butted heads with Onaga over the military footprint on the island – promised Thursday to reduce the burden of U.S. bases and support economic development in the prefecture, according to the Jiji Press news agency.
"I pay respects for Governor Onaga's contribution to Okinawa's development," he said. Defense Minister Itsunori Onodera said he was "deeply shocked" by Onaga's sudden death, Japan's Sankei newspaper reported Thursday.
"I greeted him at the [Okinawa Memorial Day] service in June, and that was the last time I met him directly," he said. "He seemed like he had lost weight, and I was very concerned for his health."
"I have known Governor Onaga since he was still in county council, and I have many memories," Onodera added. "I would like to express my deepest condolences."
Air Force Lt. Gen. Jerry Martinez, commander of U.S. Forces Japan, called Onaga a "respected and passionate leader" in a message posted Thursday on Twitter.
"On behalf of the men and women of [USFJ], I extend my sincerest condolences to the family and friends of Okinawa Governor Takeshi Onaga and to all of the people of Okinawa," Martinez wrote.
'Delirium'Onaga was pronounced dead at 6:43 p.m. Wednesday at Urasoe Hospital, the Ryukyu Shimpo newspaper reported.
Less than two hours earlier — at 5 p.m. — Jahana told reporters that Onaga would be temporarily stepping down. He reportedly experienced "delirium" Tuesday and had previously directed his staff to take over his duties should he become incapacitated.
Jahana was scheduled to assume the governorship on a temporary basis until Aug. 12.
After that, fellow vice governor Tominaga was to take on the role "until further notice."
Onaga went public with his health issues in April after an operation and had been undergoing chemotherapy ever since. He had been hospitalized since June 30, Okinawa Television Broadcasting reported Wednesday. His cancer spread to his liver, causing the disorientation.
Onaga had previously survived a bout with cancer, according to the Sankei newspaper.
Upon its return, he took some time off from his duties in the spring.
Protest governorOnaga was swept into office in November 2014 on a wave of popular support, defeating incumbent Hirokazu Nakaima by 100,000 votes on a platform vowing to block the relocation of Marine Corps air operations within the prefecture and the removal of MV-22 Osprey tiltrotor aircraft.
Onaga caused significant delays for moving Marine Corps Air Station Futenma to the remote northern coastal base of Camp Schwab via a series of unsuccessful court challenges, the most recent ending in March.
On July, he unveiled a plan to once again attempt to revoke permitting for the project over environmental concerns. The move is seen as a last-ditch effort to stop the relocation. Landfill for the runway into Oura Bay that will facilitate the move was slated to begin Aug. 17.
A hearing regarding the decision went forward as planned Thursday afternoon, a prefectural government spokesman said. The prefectural government will now review the data compiled at the hearing and decide whether to withdraw permitting.
"I am really sad," Okinawa Peace Activity Center chairman Hiroji Yamashiro said Thursday, according to the Okinawa Times. "I always thought and imagined that Governor Onaga would get better and stand in front of his people. I wish he could give us an inspirational speech once again. I hate to say goodbye."
Okinawa's most widely recognized protest leader said Onaga would want protestors to continue their resistance with Okinawan "dignity and courage."
"I will carry on his wish and for the future of Okinawa," he said. "I will keep trying to stop the Henoko landfill."
burke.matt@stripes.comichihashi.aya@stripes.com