Veterans honor famed war correspondent Ernie Pyle as signs, memory fade
by
Matthew M. Burke
April 17, 2017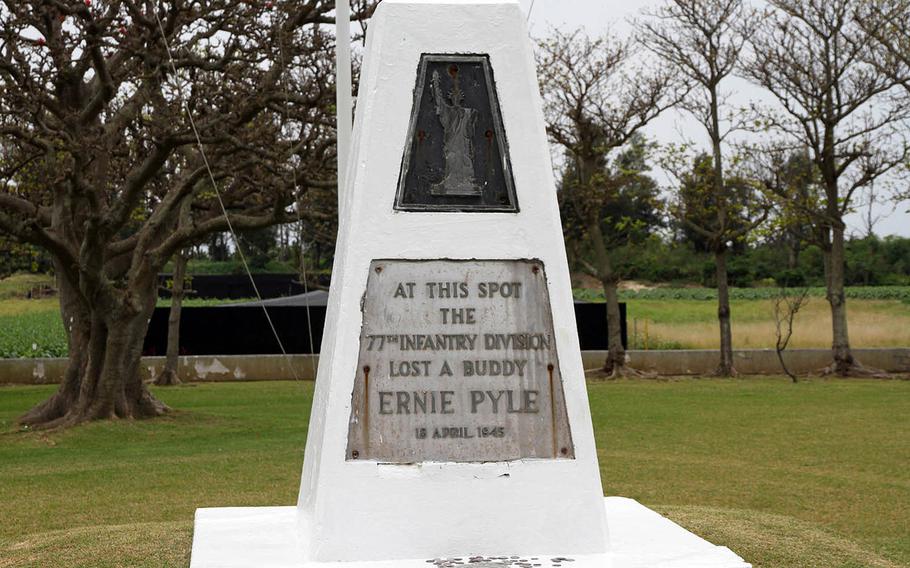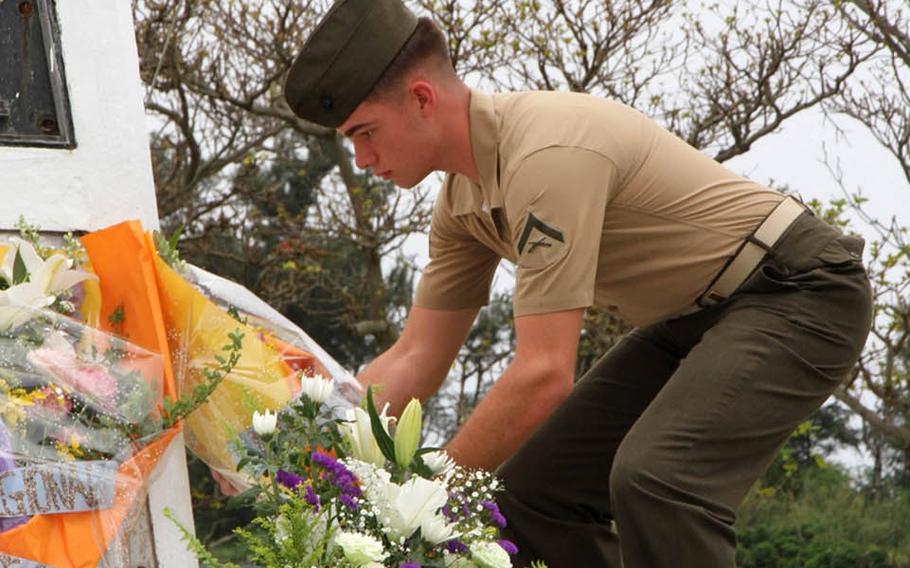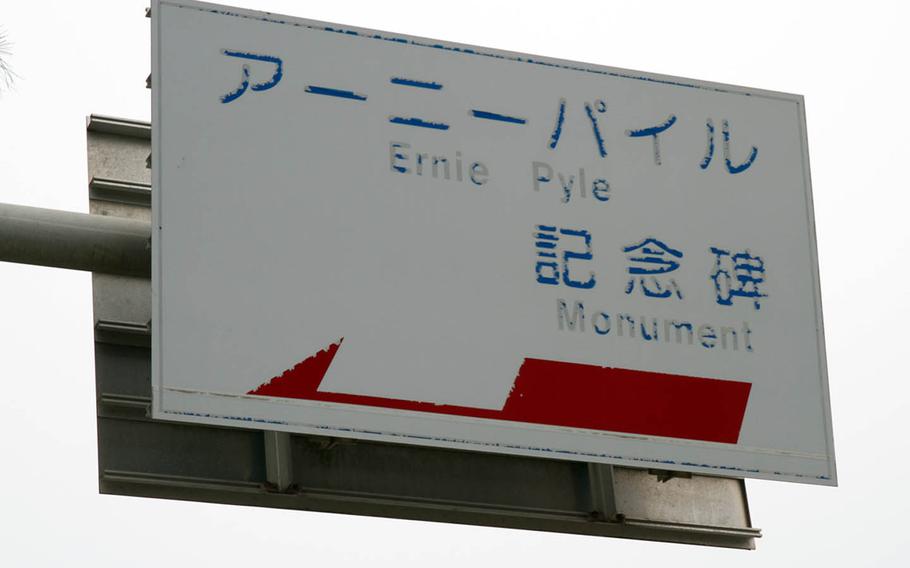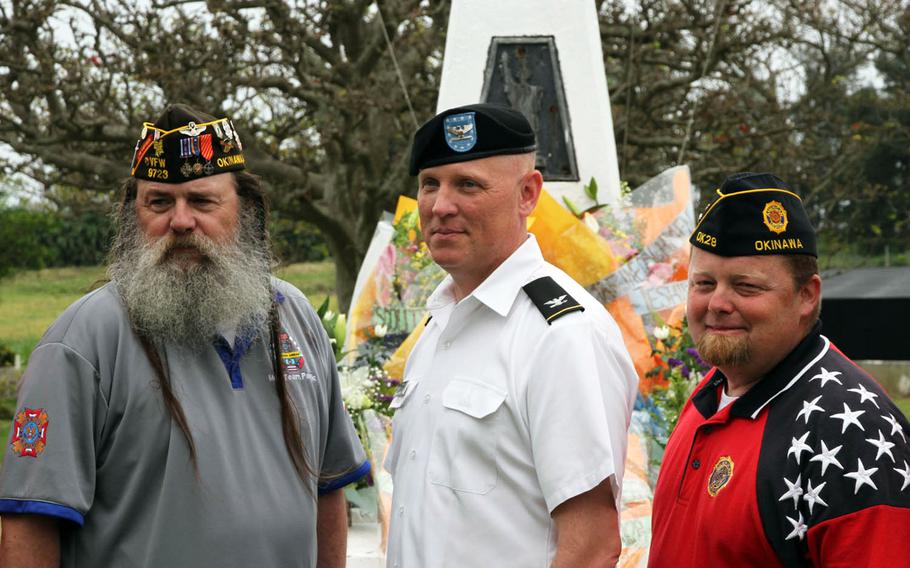 IE SHIMA, Okinawa — Every year since 1952, Okinawa's American Legion Post 28 has made a solemn pilgrimage to Ie Shima to honor the life of famed World War II correspondent Ernie Pyle.
Pyle – who was awarded a Pulitzer Prize for telling the story of America's troops overseas to an anxious nation back home — was felled by Japanese machine-gun fire on April 18, 1945.
His grave lies alongside the troops he covered in Hawaii's National Memorial Cemetery of the Pacific.
On Easter Sunday, two days before the 72nd anniversary of his death, legionnaires, soldiers, Marines, local officials and Boy Scouts from Troop 112 gathered to discuss Pyle's legacy and the challenges associated with keeping it alive so many years removed from the war.
The road sign above the pristine historical site is faded, as is the board that features information about the acclaimed war correspondent; the plaque on the monument that marks the spot where Pyle fell is also withering.
"He was an inspiration and a voice for the men and women thousands of miles from their homes facing combat," Army Col. Derek Jansen said, addressing the audience at Sunday's memorial service. The 10th Regional Support Group commander recalled Pyle's suggestion in one of his columns that combat infantrymen receive "fight pay," which Congress granted; such was Pyle's influence.
Pyle was born Aug. 3, 1900, near Dana, Ind. After graduating high school, he joined the Navy Reserve, just in time to see the final months of World War I on active duty. He was discharged with the rank of petty officer 3rd class.
After the war, Pyle studied journalism at Indiana University. He went on to write for newspapers in Indiana and Washington, D.C., but won acclaim writing daily feature columns as a war correspondent for Scripps-Howard newspapers. As his profile grew, his work was featured in a growing number of newspapers, including Stars and Stripes.
Pyle traveled to London in 1940 to report on the German bombs falling from the sky. It wasn't long before he joined the American troops stationed there. He covered the war in North Africa, Italy and finally Normandy, France.
He was awarded a Pulitzer Prize in 1944 for his coverage of the war in Europe.
After a short respite, Pyle volunteered to cover the Pacific campaign. He linked up with the 77th Infantry Division as it bore down on Okinawa, Japan.
"He walked through mud, crouched in foxholes and thumbed rides in jeeps and tanks," said Marine Master Gunnery Sgt. Bennie Helton, American Legion Post 28 commander. "He didn't file his stories from the rear, but hammered out his columns while bullets and exploding shells whistled over his head … Next to President Franklin Roosevelt and Winston Churchill, Ernie Pyle was one of the most idolized civilians during the World War II period."
Pyle was known as "the GI Journalist" and the "soldier's best friend," Helton said.
Pyle was killed on Ie Shima, a tiny scrape just a short distance off Okinawa's main island that saw heavy fighting at the tail end of the war. It was a deflating moment for troops still fighting and a loss for a nation that felt connected to the war through his work.
As memories of the war fade into legend, it remains a struggle to keep memories of what Pyle meant to that generation alive, Legion officials said.
"[I know] a little bit, not a lot [about Ernie Pyle]," said Marine Sgt. John Whitney, a trumpet player from the III Marine Expeditionary Force who played taps at the ceremony. Whitney said he believes someone like Pyle is integral when it comes to covering conflict.
"A lot of times the media will have their own idea of what they want to say, but when they're actually in the thick of things and they see what it's like, I think it's healthier that way," he said.
Legion Post 28 leases the site where Pyle died and maintains the memorial with the help of Marines stationed on the island.
For Sunday's service, the monument and the steps up to it were freshly painted a bright white, providing contrast with the grass and surrounding farmland. Yet rust and the elements threaten the hallowed World War II site.
Legion officials plan a fundraising effort to restore the memorial plaque soon.
"It's a great honor for us. It's really important that we keep this going," said Post 28 vice commander Brad Reeves. "My father fought in World War II and Ernie Pyle meant a lot to him."
Reeves' voice wavered. He said he was afraid that today's generation would forget who Pyle was and what he represented.
"He's such a great part of history," Reeves said. "As we move further and further away, generations forget and that's one of the reasons behind our memorial — so we don't forget."
'The death of Captain Waskow'An excerpt from Ernie Pyle's most famous and most widely reprinted column, Jan. 10, 1944's "The death of Captain Waskow," from the front lines in Italy:
"Dead men had been coming down the mountain all evening, lashed onto the backs of mules," Pyle wrote. "They came lying belly-down across the wooden pack-saddles, their heads hanging down on the left side of the mule, their stiffened legs sticking out awkwardly from the other side, bobbing up and down as the mule walked. I don't know who that first one was. You feel small in the presence of dead men, and ashamed at being alive, and you don't ask silly questions."
Pyle then recounted the soldiers' reaction to the body of their beloved Capt. Henry Waskow of Belton, Texas being laid out before them.
"Then the first man squatted down, and he reached down and took the dead hand, and he sat there for a full five minutes, holding the dead hand in his own and looking intently into the dead face, and he never uttered a sound all the time he sat there. And finally he put the hand down, and then reached up and gently straightened the points of the captain's shirt collar, and then he sort of rearranged the tattered edges of his uniform around the wound. And then he got up and walked away down the road in the moonlight, all alone."