Veteran of Iraq, Afghanistan assumes command of US forces in S. Korea
by
Ashley Rowland
October 2, 2013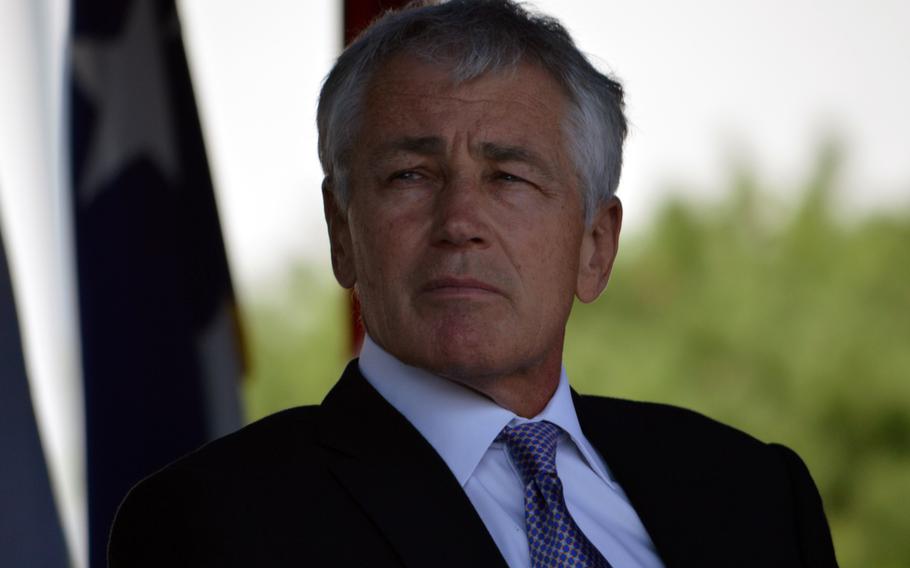 SEOUL — Gen. Curtis "Mike" Scaparrotti assumed command of U.S. Forces Korea on Wednesday, putting the Iraq and Afghanistan veteran in charge of American troops in another hotspot.
Scaparrotti replaced outgoing commander Gen. James Thurman during a 90-minute ceremony at U.S. Army Garrison Yongsan's Knight Field that included speeches by Secretary of Defense Chuck Hagel, Joint Chiefs of Staff chairman Gen. Martin Dempsey and South Korean Minister of National Defense Kim Kwan-jin.
Scaparrotti, an Ohio native and West Point graduate, vowed to remain "vigilant and ready" to defend South Korea with the 28,500-strong U.S. force here.
"I am confident in our warfighting abilities and our ability to deter North Korean aggression and, if necessary, to decisively fight and win," he said.
He will also oversee the expansion of Camp Humphreys, the centerpiece of the military's plan to relocate troops in and north of Seoul to regional hubs in the southern portion of the country by 2016, a $10.7 billion project that is one of the U.S. military's largest-ever.
The change of command came as the U.S. and South Korea discuss whether to delay the December 2015 transfer of wartime operational control to Seoul. Currently, the USFK commander would lead forces from both countries, if war broke out here. South Korea would like the transfer delayed due to concerns over North Korea's nuclear program.
The USFK commander also heads the Combined Forces Command and the United Nations Command.
Dempsey praised Scaparrotti as "smart and decisive," and noted the new commander's unusual connection to South Korea — a role as an extra in the 1981 movie "Inchon," which starred Laurence Olivier as Gen. Douglas MacArthur but flopped at the box office. MacArthur led the amphibious landing that was a turning point in the Korean War.
Hagel called Thurman, who is retiring after more than 38 years in the military, "one of the greatest Army leaders of his generation."
His tenure was marked by a number of provocations by North Korea, including its third nuclear test earlier this year, and the death of dictator Kim Jong Il, who was replaced by son Kim Jong Un.
Thurman spearheaded the drafting of a U.S. –South Korean counter-provocation plan following the North's 2010 shelling of Yeonpyeong Island, and oversaw forces during a period of near-daily threats of war from Pyongyang earlier this year raised tensions between the two Koreas to a fever pitch.
Of the 10 commands he has led, Thurman called South Korea "by far the most challenging and most rewarding."
"To all our servicemembers — accept your new commander because there's probably a provocation around the corner," he said. "You've got to be ready to fight tonight."
Scaparrotti, an Ohio native and West Point graduate, most recently served as director of the Joint Staff at the Pentagon and was the No. 2 U.S. commander in Afghanistan from July 2011-June 2012.