USS Wasp strike group departs Sasebo for patrol of Western Pacific
by
James Bolinger
August 9, 2018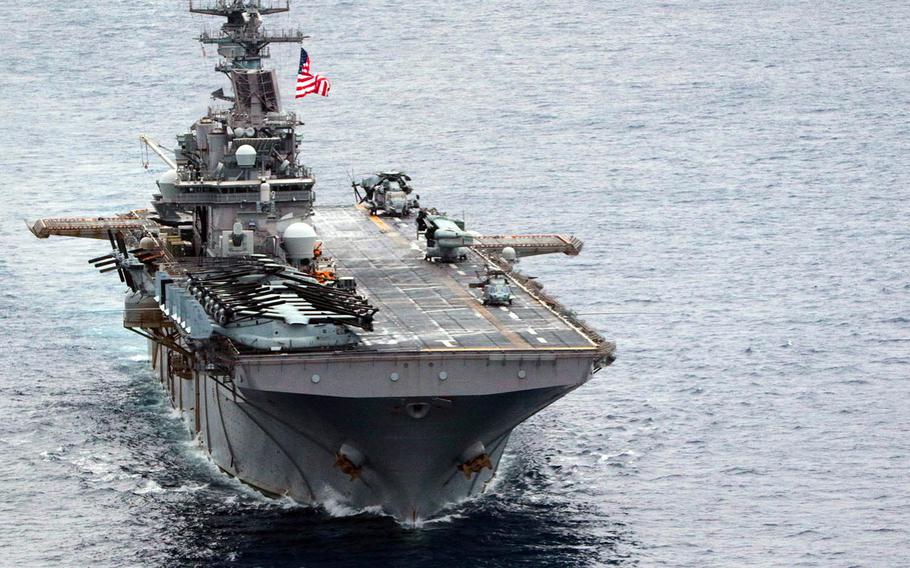 MARINE CORPS AIR STATION IWAKUNI, Japan — Two U.S. warships have left their homeport in southern Japan for a mission in the Western Pacific.
The USS Wasp amphibious-assault ship and the USS Ashland landing-dock ship departed Sasebo Naval Base this week for a deployment that marks only the second time F-35B Lightning II stealth fighters have embarked aboard the Wasp.
The Iwakuni-based short-takeoff, vertical-landing aircraft operated from the ship for the first time during a patrol earlier this year. The test of the "upgunned expeditionary strike group" concept included the guided-missile destroyers USS Dewey and USS Sterett and Marines from the Okinawa-based 31st Marine Expeditionary Unit.
An upgunned ESG combines the lethality of the F-35B with destroyers, giving the strike group the ability to hunt enemy submarines and ships, and engage in surface-to-surface combat. The 844-foot flat-deck Wasp acts like a mini-aircraft carrier that can support more than 1,600 Marines during an amphibious assault or protect a strike group at sea. It can also carry 31 aircraft and launch hovercraft from its well deck.
The Wasp arrived in Japan in January after being fitted with a new flight deck to handle the heat generated by the F-35B during vertical landings.
bolinger.james@stripes.com Twitter: @bolingerj2004