USS Warrior arrives in Sasebo to replace grounded Guardian
by
Matthew M. Burke
March 27, 2013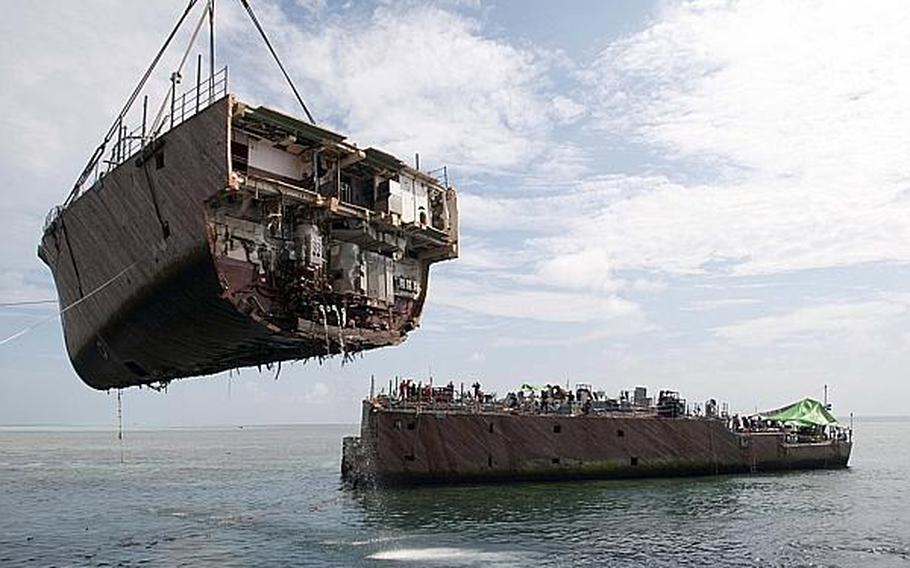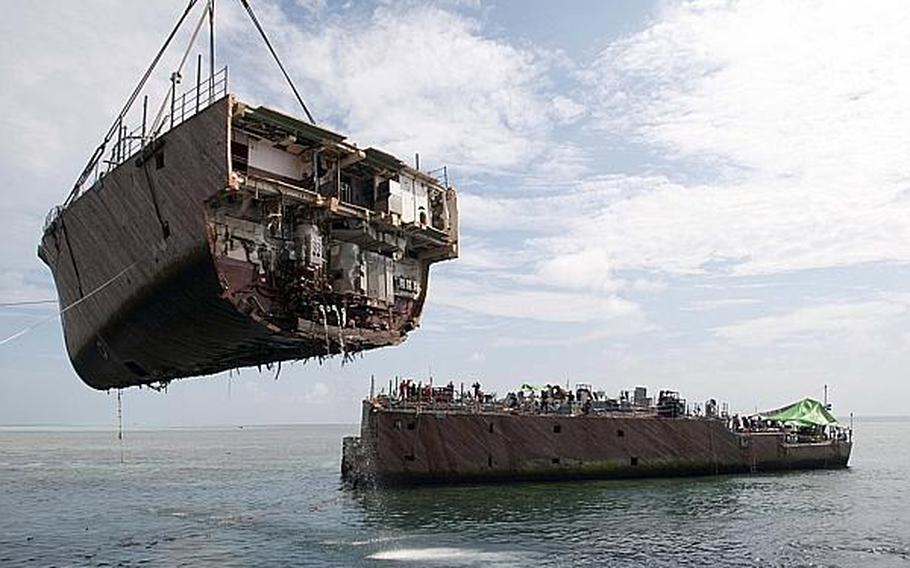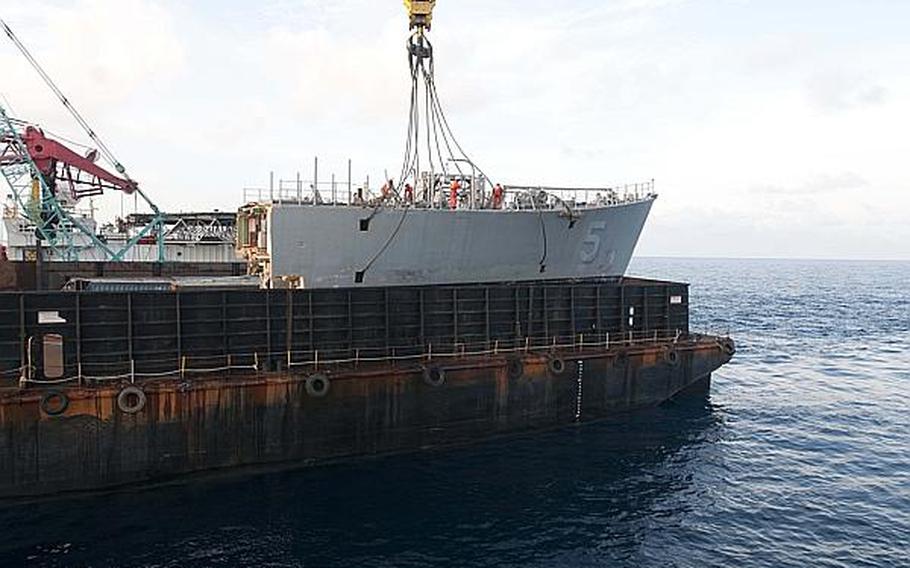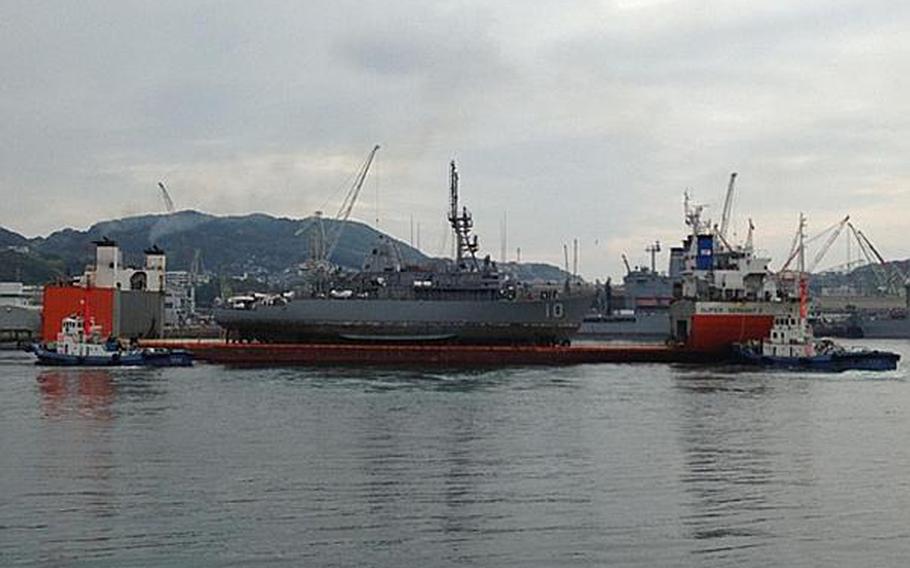 SASEBO NAVAL BASE, Japan — As the USS Warrior arrived in Sasebo under gray skies Wednesday, salvage crews worked to remove the final pieces of the ship it is replacing — the USS Guardian — from a reef off the coast of the Philippines.
The Warrior arrived atop a heavy-lift vessel from Bahrain, where it just completed a deployment to the Navy's 5th Fleet area of operations, Task Force-76 spokesman Lt. Brian Wierzbicki said.
A day earlier, salvage crews on a crane ship began dismantling and sectioning the wooden and Fiberglas hull of the grounded Guardian and lifted the bow onto a waiting barge, according to a 7th Fleet statement. The remaining three sections will be removed in the next few days as weather and safety permits.
"The lifting of the first large hull section was a significant accomplishment," salvage supervisor Capt. Mark Matthews said in the statement. "Each of these sections weigh about 250 tons."
No one was injured when the Guardian, an Avenger-class mine countermeasures ship, ran aground around 2:25 a.m. on Jan. 17 while transiting the Sulu Sea. The 79 crewmembers were removed the next day as a safety precaution.
A Navy investigation into the grounding continues.
Over the following two months, the 224-foot ship slid around on Tubbataha Reef, a World Heritage Site, damaging the reef and causing hull breaches. The ship was deemed a complete loss, and a $25 million salvage effort began Feb. 22.
The grounding sparked protests outside the U.S. Embassy, and Philippine officials have called for the U.S. Navy and government to pay stiff fines.
The Guardian was stricken from the naval registry on Feb. 15 and decommissioned at a ceremony in Sasebo on March 6.
The Warrior, also an Avenger-class minesweeper, was chosen to replace the Guardian forward deployed to Sasebo because contingency plans call for four mine countermeasure ships in theater.
Matthews said preparing the Guardian for sectioning has been "extremely challenging."
First, crews had to clear a two-foot path inside the ship, he said. Then the hull cutting could begin.
"The hull cutting is done manually by Navy divers and salvage contractors using chainsaws and reciprocating saws, and some of this cutting is underwater using hydraulically driven tools," Matthews said.
The Warrior will be placed in the water Sunday, Wierzbicki said. The Guardian's crew will take over, and an official arrival ceremony will take place in the coming weeks.