USS Theodore Roosevelt skipper says carrier won't wait for all sailors to clear quarantine before going back to sea
by
Caitlin Doornbos
May 5, 2020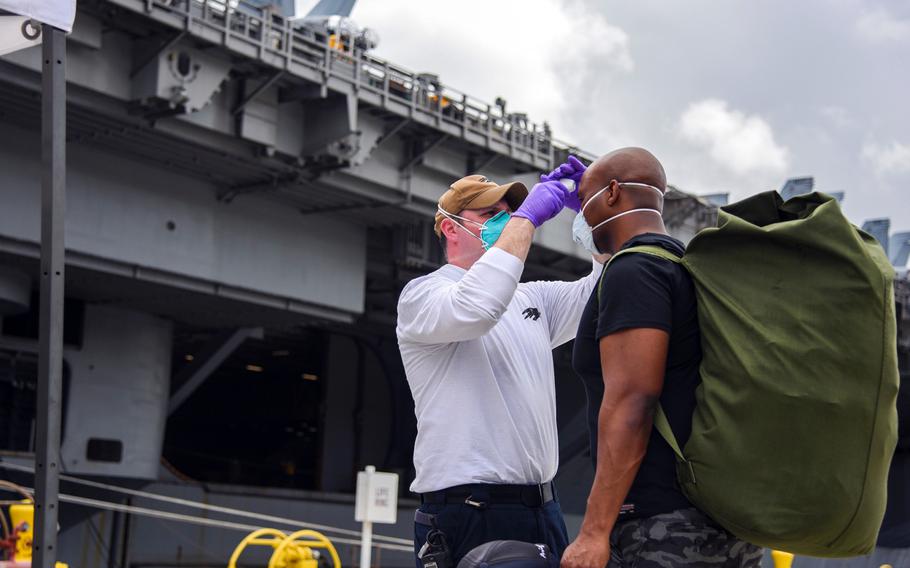 The USS Theodore Roosevelt will not wait for all its sailors to clear quarantine before returning to sea after more than a month sidelined on Guam battling a coronavirus outbreak on board, the ship's commander said in a CBS News report Monday.
The San Diego-based aircraft carrier had been patrolling the Western Pacific before diverting to Guam on March 26 after several sailors required coronavirus treatment. Since then, at least 1,156 sailors have tested positive, one of whom died.
The Navy on Friday stopped publicly reporting daily tallies of new coronavirus cases among the Roosevelt crew.
"We've taken 45 days from that business (of patrolling) and it's a dangerous business, so we have a lot of training to complete," Roosevelt commander Capt. Carlos Sardiello told CBS News.
Sardiello took over last month after the ship's former commander, Capt. Brett Crozier, was relieved when a letter he sent pleading for help for his sailors and warning of future deaths was leaked to the San Francisco Chronicle.
Sardiello also preceded Crozier as the carrier's commander, having left for a position with Naval Air Forces command five months earlier, according to the Navy.
Crozier's removal drew rebuke from the carrier's crew, which rallied and chanted the captain's name as he left the Roosevelt on April 3. Sardiello told CBS that "the mood of the crew was a challenging situation" when he replaced Crozier.
"We have a job to do," Sardiello said he told the crew, according to CBS. "It's like no job we have ever faced, but we're U.S. sailors. You know me. I know you. I had your back before. I'm going to have your back now."
After spending about a month isolated in hotel rooms on Guam as the carrier was sanitized and all crew members were tested for coronavirus, sailors began moving back onto the Roosevelt on April 29, the Navy said. More than half of the crew was on board as of Monday, according to the CBS report.
Sailors allowed back on board had tested negative for coronavirus three times, the Navy said in a statement April 29. However, a few were turned away at the pier after showing coronavirus symptoms despite testing negative, Politico reported Monday.
Those embarking are given an N95 mask "to be worn at all times except when sleeping, showering or eating," according to the Politico report.
Meanwhile, an investigation into the outbreak is underway, Navy officials said Friday. A report on its findings and recommendations is due to Chief of Naval Operations Adm. Mike Gilday by May 27.
It is unclear when the Roosevelt will return to sea. The Navy as policy does not discuss planned ship movements.
doornbos.caitlin@stripes.com Twitter: @CaitlinDoornbos
---
---
---