USS Theodore Roosevelt officially restarts patrol two months after coronavirus outbreak
by
Caitlin Doornbos
June 4, 2020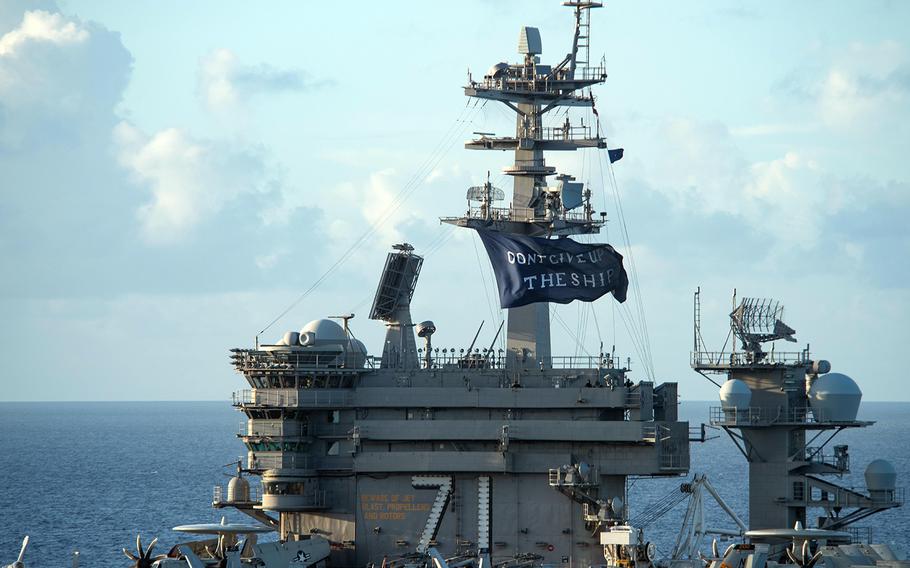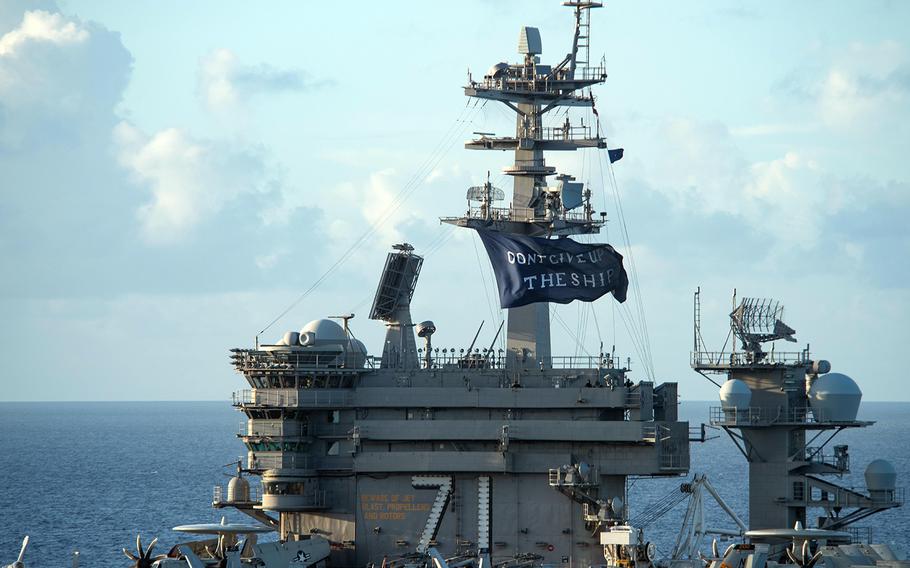 Stars and Stripes is making stories on the coronavirus pandemic available free of charge. See other free reports here. Sign up for our daily coronavirus newsletter here. Please support our journalism with a subscription.
The USS Theodore Roosevelt redeployed Thursday after a coronavirus outbreak on board that had sidelined the aircraft carrier at Naval Base Guam since March.
Sailors manned the rails "as a gesture of respect and admiration for the people of Guam for their support and hospitality over the last two months" as the ship left the island, the carrier's commander, Capt. Carlos Sardiello, said in a Facebook post Thursday afternoon.
"We owe them all a debt of gratitude that words cannot express," he said.
The carrier was patrolling the Western Pacific when it diverted to Guam on March 26 after several of its sailors tested positive for the coronavirus. Over the following weeks, more than 1,150 of the Roosevelt's 4,800 crewmembers became infected, according to the Navy.
One Roosevelt sailor died from the virus, according to the Navy.
The aircrew returned to sea two weeks ago for carrier flight qualifications before the ship went back to Guam this week to retrieve the remaining sailors who were medically cleared to re-embark, Sardiello wrote in the post.
"To this date, since returning TR to sea two weeks ago, we continue to sail and operate with no return of the virus onboard," he said. "The Rough Riders and our families' tenacity and resiliency in the face of uncertainty has been put to the test and met the challenge."
Sailors still battling the coronavirus were left behind, where "they will continue to be cared for ashore until all are recovered, while we remain on mission," Sardiello said.
"Now it is time to continue to protect our ability to do our mission and protect our sailors' health," he added. "We have returned Theodore Roosevelt to sea as a symbol of hope and inspiration, and an instrument of national power."
Sardiello took over for Capt. Brett Crozier, the carrier's former commander, when then-acting Navy Secretary Thomas Modly removed Crozier from command in April.
The removal came after a letter Crozier had written to Navy higher-ups pleading for help for his crew was leaked to the San Francisco Chronicle and picked up by worldwide media.
"The spread of the disease is ongoing and accelerating," Crozier wrote March 30. "We are not at war. Sailors do not need to die."
Modly received backlash from sailors and lawmakers for removing Crozier. Video of thousands of Roosevelt sailors chanting Crozier's name as he walked off the carrier for the last time flooded social media.
Modly resigned about a week after removing Crozier when a recording of his speech to the Roosevelt's crew criticizing the former skipper and calling him "stupid" was leaked to the public.
A report on the outbreak's handling was turned in to Chief of Naval Operations Adm. Mike Gilday last week. Crozier's removal prompted an inquiry into the situation, which led Gilday to order a follow-on investigation.
Gilday's office has not commented on the report but told media on May 27 that Gilday will need time to review and endorse its contents.
doornbos.caitlin@stripes.com Twitter: @CaitlinDoornbos