USS Ronald Reagan sets sail for sea trials ahead of upcoming patrol
by
Caitlin Doornbos
May 14, 2018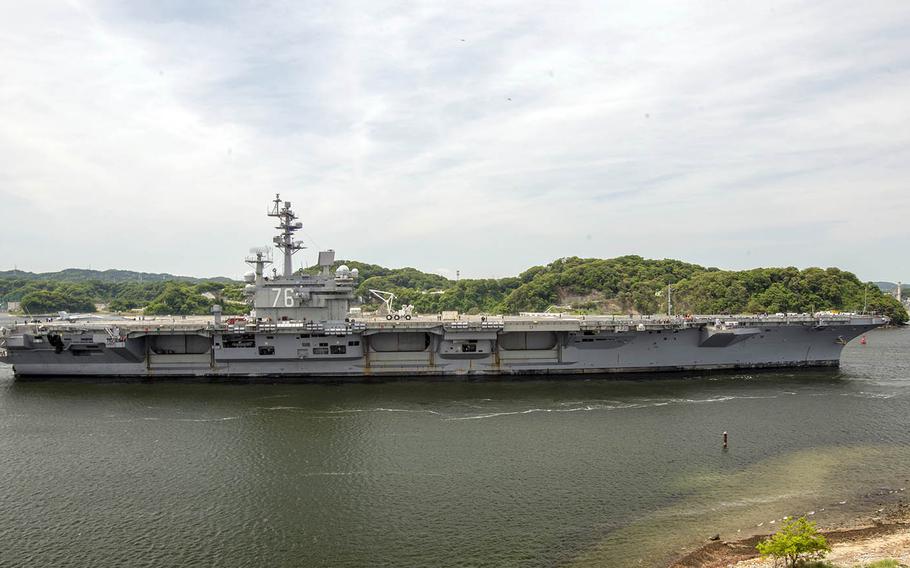 YOKOSUKA NAVAL BASE, Japan — The Navy's only forward-deployed aircraft carrier is conducting sea trials this week in preparation for its upcoming deployment.
The USS Ronald Reagan set sail Friday after finishing a two-day "fast cruise" at its homeport in Yokosuka. The simulated underway period tested the ship's "equipment and systems, as well as the crew's ability to perform operations," the Navy said.
The Ronald Reagan had been at Yokosuka undergoing maintenance since January. Teams from the carrier, Puget Sound Naval Shipyard, the U.S. Naval Ship Repair Facility and Japan Regional Maintenance Center worked on the aircraft carrier for the past four months to make necessary improvements, according to the Navy.
The maintenance period focused on repairs and changes to two aircraft elevators, the pilothouse, parts of the flight deck and the propulsion plant system, the Navy said in January. The projects included more than 99,000 man hours of work from the ship's crew.
This week's sea trials will include "the execution of high-speed turns, sea and anchor evolutions, precision anchoring trials" and "testing of the ship's self-defense weapons system," a Navy statement said.
On Monday, the Ronald Reagan conducted a replenishment at sea with Military Sealift Command's civilian-crewed USNS Cesar Chavez. The ship "provides fuel, food, ordnance, spare parts and other supplies to Navy throughout the world," the Navy said.
On Sunday, sailors tested the carrier's fire-suppressing "countermeasure wash-down system," which spews a special firefighting foam — called aqueous film forming foam — from nozzles during emergencies. The Navy released photos of crews scrubbing the white foam across the Ronald Reagan's hangar bay.
"This is all about doing what we've been trained to do," Quartermaster 3rd Class Miguel Medrano, one of three qualified master helmsmen aboard the Ronald Reagan, said in the statement. "We have to make sure the ship drives like it's supposed to and that all our watch teams, from engineering to the bridge, are ready to go for a full patrol."
Capt. Buzz Donnelly, the Ronald Reagan's commander, said he's proud of his sailors, who are ready to showcase their capabilities.
"This is what we have been working towards for these last few months," he said in the statement. "Everyone involved has made it possible to get us poised for success for our upcoming patrols."
The sea trials are scheduled to end Friday. The Navy has not announced when the carrier will officially begin its next patrol.