USS Nimitz carrier strike group trains with Indian ships in Indian Ocean
by
Wyatt Olson
July 20, 2020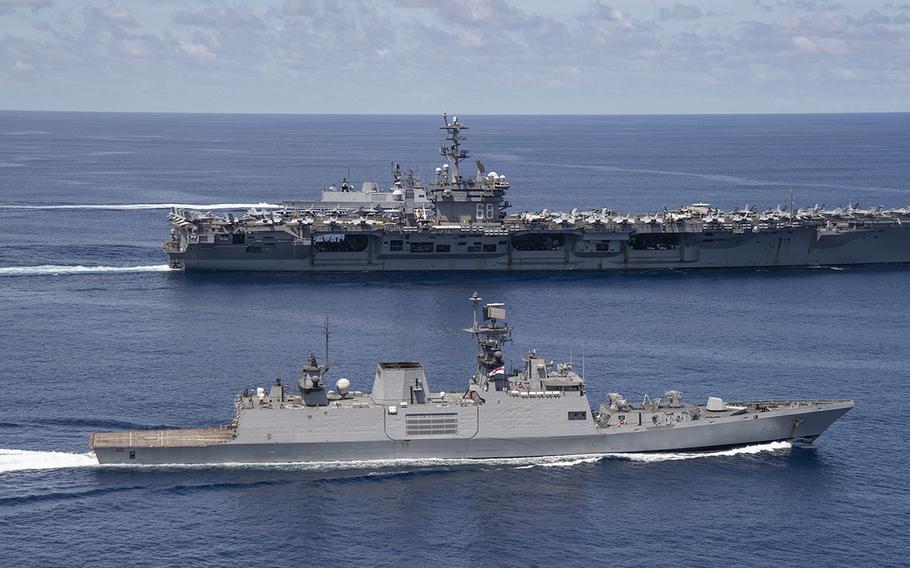 The Nimitz Carrier Strike Group met up with ships of the Indian navy on Monday for an exercise in the Indian Ocean, the Navy said in a statement.
The strike group was most recently in the South China Sea, where it operated in tandem with the USS Ronald Reagan Carrier Strike Group.
"It was a privilege to operate with the Indian Navy," Rear Adm. Jim Kirk, commander of the Nimitz strike group, said in a Navy statement Monday.
Kirk described the Indian Eastern Fleet as "a powerful and highly skilled fleet," saying that the series of exercises were "a testimony to the flexibility of both our navies."
Military forces of both India and the United States have been grappling with China's increasingly assertive armed forces. In June, at least 20 Indian soldiers died during a savage clash with Chinese troops in a contested border area in the Himalayas.
Relations between Washington and Beijing have frayed this year as China appears to be taking advantage of the worldwide coronavirus pandemic to step up control over the South China Sea.
The presence of the Nimitz and Ronald Reagan strike groups in those waters last week was just the latest in the Navy's high-profile operations pushing back on China's maritime claims.
The Navy did not say how long the Indian Ocean exercises would take place. Indian media outlets reported that the Nimitz strike group entered the Indian Ocean through the Malacca Straits on Saturday and is on its way to the Middle East.
The strike group includes the flagship carrier USS Nimitz, guided-missile cruiser USS Princeton and guided-missile destroyers USS Sterett and USS Ralph Johnson.
Among the Indian ships participating in the exercise were the destroyer Rana, the frigates Sahyadri and Shivalik and the anti-submarine corvette Kamorta.
In a tweet Monday, an Indian navy spokesperson described it as a passex, an exercise in which multiple ships operate in close vicinity of one another as they steam toward a destination.
The exercise is meant to improve handling and navigating skills for all crews involved.
"Naval engagements such as these exercises improve the cooperation of U.S. and Indian maritime forces and contribute to both sides' ability to counter threats at sea, from piracy to violent extremism," the Navy statement said. "These engagements also present opportunities to build upon the pre-existing strong relationship between the United States and India and allow both countries to learn from each other."
olson.wyatt@stripes.com Twitter: @WyattWOlson