USS Lassen heads to new home after nearly decade in Japan
---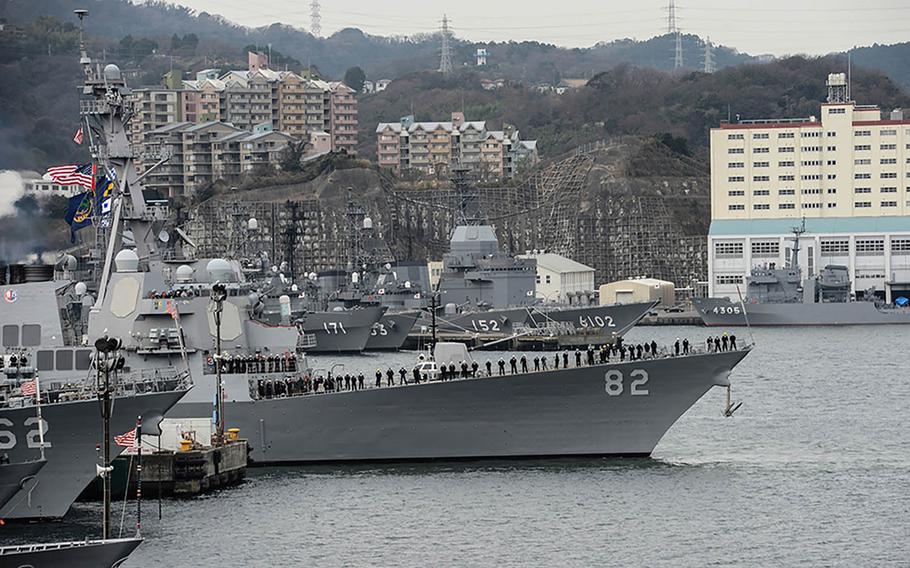 YOKOTA AIR BASE, Japan — The USS Lassen steamed away from Japan Wednesday after spending nearly a decade aiding the Asia-Pacific region out of its homeport at Yokosuka Naval Base.
The guided-missile destroyer — named after Medal of Honor recipient Clyde Everett Lassen, who rescued two naval aviators during the Vietnam War — will conduct one last patrol of the western Pacific before heading to its new home at Naval Station Mayport near Jacksonville, Fla.
"Lassen's performance in the 7th Fleet was beyond expectations," Capt. Christopher J. Sweeney, commander of Destroyer Squadron 15, said in a Navy statement. "[Its] ability to support the mission improved our relationships with key allies and became an integral part of DESRON's presence in the Indo-Asia-Pacific region."
In October, Lassen made headlines worldwide when it challenged China's territorial claims in the South China Sea by sailing within 12 nautical miles of Subi Reef, one of several artificial islands that Beijing has been building up with runways and fortifications. The freedom-of-navigation exercise drew strong protests from Beijing.
Other highlights of Lassen's service include helping with the recovery of the Cheonan, a South Korean warship that North Korea sank in 2010, killing 46 sailors. After Typhoon Haiyan devastated the Philippines in 2013, Lassen served as a fueling station for helicopter squadrons that aided rural villages.
"Lassen has provided support for DESRON and Carrier Strike Group 5 for a long time," Cmdr. Robert Francis, Lassen's commander, said in the statement. "I'm proud of the accomplishments of our sailors that have served in 7th Fleet on such a great ship, and I'm looking forward to what is to come after the homeport change."
Lassen will be replaced by the USS Barry, a guided-missile destroyer equipped with the latest Aegis combat system and capable of firing all Vertical Launch System ordnance, including the latest missiles, the statement said.
---
---
---
---