USS Germantown chief petty officer sentenced for sexual assault
by
Erik Slavin slavin.erik@stripes.com
July 30, 2013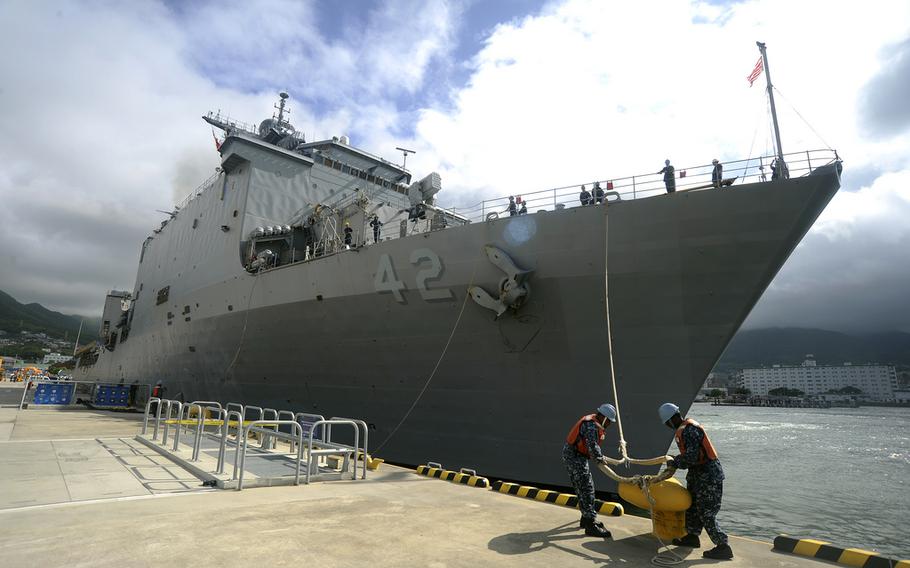 YOKOSUKA NAVAL BASE, Japan — A military jury sentenced a USS Germantown chief petty officer to 90 days in jail late Monday after finding him guilty of sexually assaulting a sailor he once mentored.
Chief Petty Officer John Charles Averell, 41, faced up to 33 years in prison after pleading guilty to fraternization and adultery before opening arguments at his trial, then being convicted of sexual assault.
Instead, he may be home in time for Christmas with his still-supportive wife and four children, whom defense attorneys argued would bear a crushing burden if Averell were sent to prison for several years. Averell will also be reduced in rank to E-1 and receive a bad conduct discharge, meaning he will lose the lifetime pension he earned from his 23 years of service.
The ruling is one of the first to be adjudicated where the court found that President Barack Obama's comments exerted "apparent unlawful command influence" when he said in May that sexual offenders "should be prosecuted, stripped of their positions, court martialed, fired, dishonorably discharged. Period."
After vetting an unusually large pool of 22 potential jurors for signs that Obama's commands would unlawfully influence a decision, the court dismissed 15 people last week, choosing six senior enlisted sailors and one Navy commander.
In finding Averell guilty, the jury rejected his argument that a sailor half his age came on to him in a dental office aboard a barge supporting the USS Germantown.
From the witness stand Monday, the young woman removed her black-rimmed glasses and wiped away tears as she continued, after multiple hearing and cross-examinations, describing the aftermath of being sexually assaulted on Oct. 20, 2012.
She said she rarely left her room, even after being transferred away from a gossip-ridden atmosphere at Sasebo Naval Base.
She attempted to commit suicide several months later. It happened following her testimony at an investigative hearing, where she once again saw Averell, a medical corpsman who had agreed to mentor her as she began her Navy career.
She now sees five different doctors and takes several medications, one of which prevents her from dreaming altogether.
"He took advantage of me," she said. "And I want to make sure that everyone here today knows that."
The female sailor began drinking around 1 p.m., celebrating a shipmate's birthday with cocktails, tequila shots and beer pong, she said.
Defense attorney Lt. Brandon Sargent disputed how much she drank, based on testimony from other sailors. Two medical experts testified they could not conclusively determine she was drunk that night.
Neither side disputed that she shouted loud obscenities when she returned to the barge. She then fell down a ladder, prompting medical attention.
When a doctor tended to her, she told him to back away and asked for Averell, who wasn't on the ship at the time. She told the court she feared she was in trouble for what she did in her drunken state.
"[Averell] always had my back when other chiefs yelled at me," she testified.
Averell came to her aid and found no major injuries. She got up, went for a cigarette, and promptly fell down another ladder. After another examination, she returned to her rack, where yet another incident prompted Averell to remove her and take her to the chief's mess — a place normally off-limits to junior sailors.
The story diverged from there. The woman says Averell touched her leg, which he denied. He then took her into the dental office, where he told her she was in trouble, and aggressively told her to strip off her clothes, according to the victim's version of events. The self-described "troubled sailor" complied with sex for about five minutes out of fear, prosecutor Lt. Ben Garcia said.
"She is drunk, vulnerable and afraid, and she does what her chief tells her to do," he said.
Averell, who opted to take the stand, said that she kissed him when the dental office closed, then took her clothes off voluntarily. Sex lasted only 10 seconds, he said.
"And that's when your conscience overcame you?" Garcia asked.
"Yes sir," Averell replied.
Garcia later likened Averell's version of events to "the kind of story we might expect to see in a bad porno."
Just before jury deliberation for sentencing, defense attorney Lt. Mishonda Moseley argued that any punishment against Averell was unnecessary, since his three felony convictions would always follow him and prevent him ever practicing medicine.
"Not only that, Chief Averell is a convicted sex offender," Moseley said. "That is a lifelong burden."
Averell's tears flowed, too, as he apologized to his wife, who testified that she would stand by him; his best friend, a Navy officer and godfather to his children; and a senior chief aboard Germantown, who testified to Averell's character and competency as the #1 rated chief aboard the ship.
He choked back his sobs as he addressed the jury, pleading for leniency on behalf of his wife and four children, some of whom have special needs.
"Please let me go home to my kids," Averell said. "Let me raise them."
He also apologized to the junior sailors he oversaw in the gallery, several of whom supported him. While apologizing, he briefly glanced to the opposite side of the gallery, where the victim watched in silence.
Twitter: @eslavin_stripes