USS Fort Worth will make it back to US under its own power
---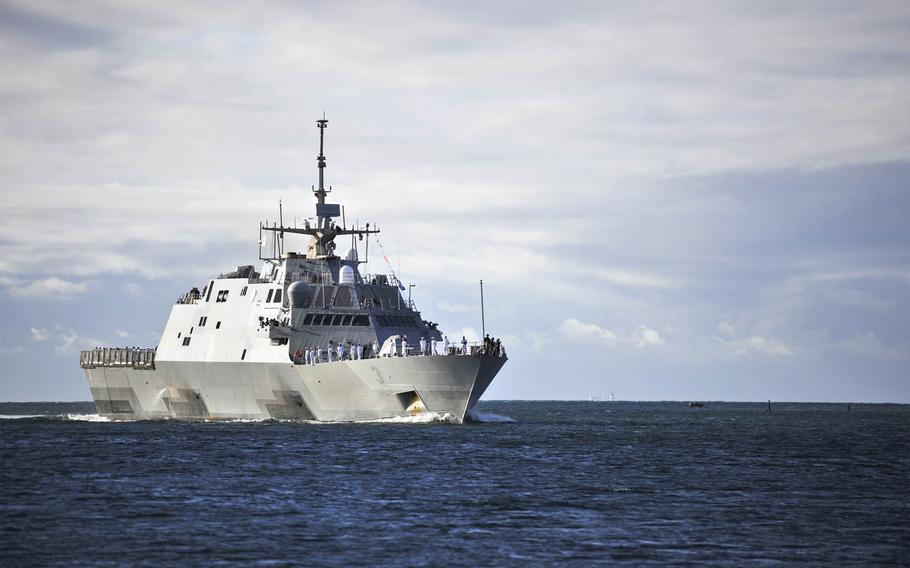 YOKOSUKA NAVAL BASE, Japan — One of the fastest ships in the Navy's fleet will be taking a very slow trip back to San Diego for repairs later this year, after a January mishap in Singapore damaged its main propulsion system.
The littoral combat ship USS Fort Worth will make it home under its own power, Pacific Fleet command said Wednesday in Hawaii.
It remained unclear for months whether the Navy would hire contractors to fully repair the ship in Asia or partially repair the ship in preparation for a return to the U.S.
With its diesel propulsion system down, Fort Worth will use its gas-turbine engines to make the transit from Singapore to southern California in about six weeks.
It's a plodding cruise for a ship whose top speed is listed as "more than 46 mph" on the Navy's website.
Fort Worth's rough six-week timeframe includes several underway supply replenishments and fueling stops.
The ship's engine damage occurred Jan. 12, when the crew started the main engine and grinded the port and starboard combining gears because of a lack of lube oil.
"The decision to complete full repair of Fort Worth's combining gears in San Diego was based on several factors, including maintenance timelines, efficiency of repairs, and shipyard capabilities," a Navy statement.
The ship's commanding officer was removed last month in the middle of an investigation into the accident, following preliminary findings that the crew failed to follow basic procedures.
Preliminary figures on how much the repairs would cost were not immediately available.
Fort Worth is still "several months" away from departure as sailors conduct inspections, flush the oil system and work on engineering preparations, the Navy statement said.
In November 2014, Fort Worth became the second littoral combat ship to begin a deployment to the Asia-Pacific. Its planned 16-month deployment was lengthened by the accident.
Fort Worth rotates three crews of about 50 sailors during deployment; sailors specific to the ship's mission add about 50 more personnel.
slavin.erik@stripes.com Twitter: @eslavin_stripes
---
---
---
---