USS Fitzgerald moves into dry dock at Yokosuka for full damage assessment
---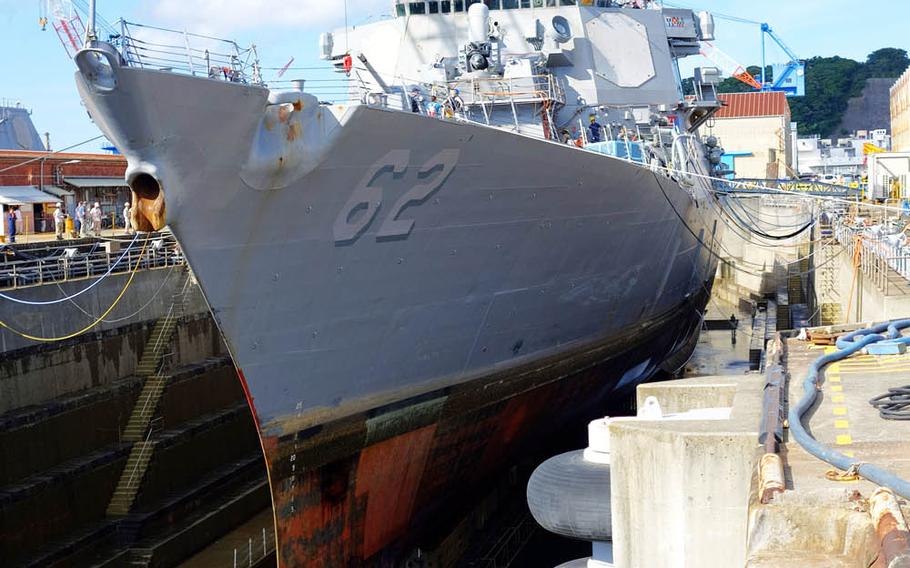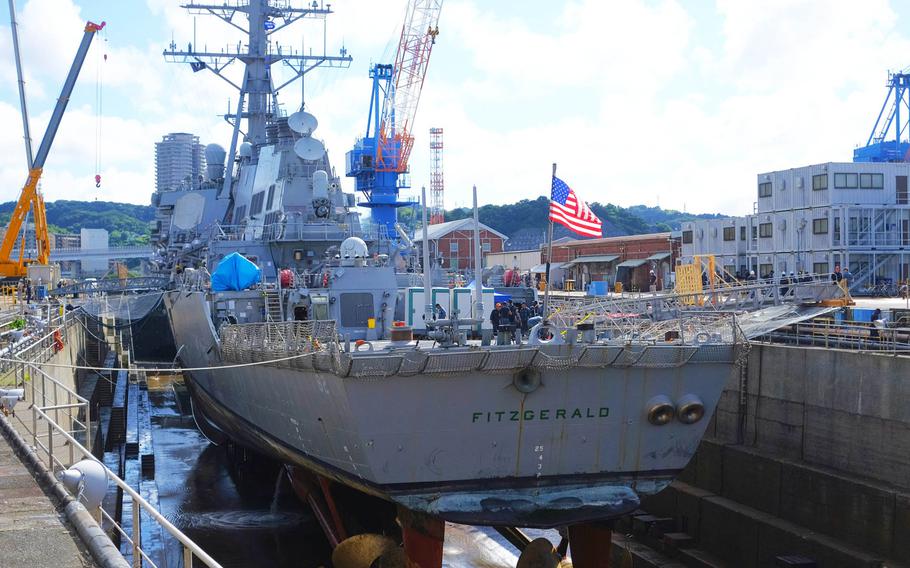 YOKOSUKA NAVAL BASE, Japan — The USS Fitzgerald is now in Yokosuka's dry dock 4, where officials will conduct a full assessment and decide the next step for the damaged destroyer.
Seven sailors were killed in a June 17 collision between the Fitzgerald and a Philippine-flagged cargo ship, about 64 miles southwest of the naval base.
Officials will "conduct assessments that will inform options for long term repairs," a Navy statement said Monday. They are trying to determine if the Fitzgerald is able to travel to the states under its own power or will need to be towed there for repairs.
Preparations for moving the ship to dry dock included patching the damaged hull, pumping out water and removing fuel and ammunition.
"Only a slight variation from a normal undamaged, routine, scheduled dry dock," Lt. Dave Reinhardt, a docking officer, told Stars and Stripes on Tuesday.
"The flooded compartments were another variable we had to deal with. We were always talking with the salvage guys and had a plan to put the ship into dock even with an extra amount of water. The patch was put on, it held and we were able to pump out the water from flooded compartments which enabled us to do things more routinely."
The Fitzgerald was damaged above and below the water line on the starboard side near the bridge after being struck by the cargo ship, which is nearly four times its size. The collision destroyed the captain's cabin and hospitalized Cmdr. Bryce Benson for a brief period.
"As far as damage … I think this was greater damage compared to the USS Cole," Chief Andrae Sutherland, a damage controlman, told Stars and Stripes on June 19. He participated in emergency response efforts after the October 2000 bombing that killed 17 Americans and injured 39.
Seventh Fleet Commander Vice Adm. Joseph Aucoin and Pacific Fleet Commander Adm. Scott Swift have both indicated the Fitzgerald will be repaired and returned to service.
"The ship is salvageable," Aucoin told reporters on June 17. "It will require some significant repairs. You will see the USS Fitzgerald back as one of our warships here. [Repair time] will take months, hopefully under a year."
Swift is looking for a ship to take over for the Fitzgerald and is considering vessels outside of the 7th Fleet, he told Stars and Stripes on June 26. He said he has two candidates in mind but declined to name them.
"The overall focus is … we're gonna fix Fitz," Swift said.
Also unclear is the future of the Fitzgerald's sailors. There has been speculation that they will be transferred stateside along with the ship. Naval Forces Japan spokesman Darian Wilson said nothing will be decided until the damage assessment is completed.
"The Fitzgerald came into dry dock [Tuesday] and this initial assessment is going to take a couple weeks at minimum," he said. "At that time [decisions will be made] about what's going to happen next to the ship."
The Navy announced last month that Rear Adm. Brian Fort will lead an investigation into the collision. Officials from the U.S., Japan Coast Guard and Japan Transport Safety Board have also launched investigations.
---
---
---
---