USS Carl Vinson joins S. Korea in joint war games after failed N. Korean missile test
by
Kim Gamel
April 28, 2017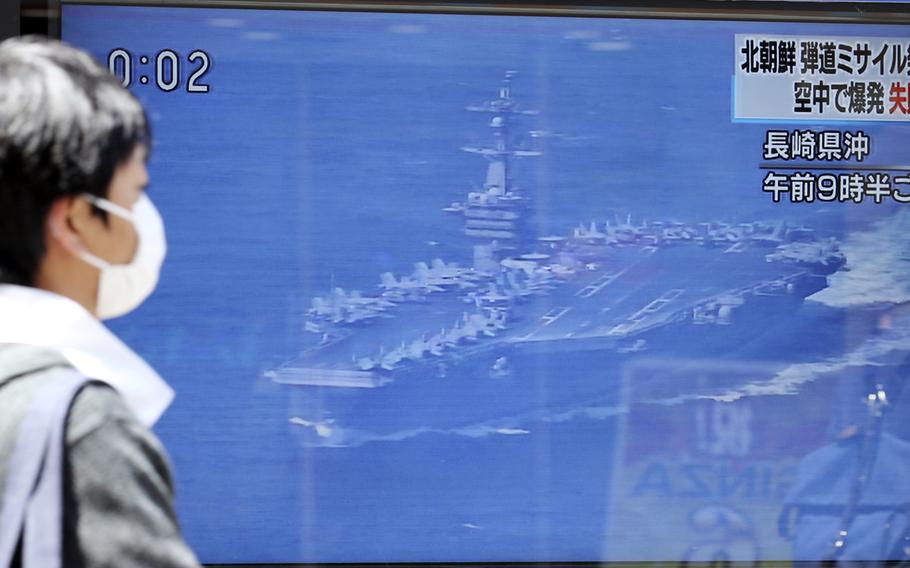 SEOUL, South Korea — The USS Carl Vinson strike group joined South Korean ships in joint war games on Saturday, hours after the North defiantly test-fired a missile despite international pressure to halt its nuclear weapons program.
The maritime drills — the second in less than two months for the aircraft carrier and its accompanying warships — were taking place in the sea off the Korean Peninsula's east coast, South Korea's navy said.
The U.S. Navy described the exercises as "routine operations and training in the Western Pacific," but the drills were occurring against the backdrop of sharply rising tensions in the region.
U.S. Pacific Command said it detected a missile fired from a site near the Pukchang air field earlier Saturday, but it apparently exploded over land shortly after takeoff.
"The missile did not leave North Korean territory," said Cmdr. Dave Benham a spokesman for the command. Past tests have seen missiles launched into the sea off the country's east coast.
South Korea's military said the missile flew for several minutes and reached a maximum height of 44 miles before it apparently failed.
It said it was still analyzing the type of missile. A U.S. official, speaking on condition of anonymity, told The Associated Press the missile was likely a medium-range KN-17.
North Korea routinely conducts missile tests, and Saturday's launch was the sixth effort — including one involving multiple missiles — since President Donald Trump took office on Jan. 20.
U.S. officials caution against gloating over failures, noting that North Korea learns something from each launch and is making faster-than-expected progress toward its goal of developing a nuclear-tipped missile that could reach the U.S. mainland.
Experts also say the North is prepared to conduct another nuclear test. It already has carried out five underground nuclear explosions, including two last year.
Trump, who has called on China to do more to rein in its communist ally, responded on Twitter: "North Korea disrespected the wishes of China & its highly respected President when it launched, though unsuccessfully, a missile today. Bad!"
South Korea's Foreign Ministry denounced the missile test, calling it the latest display of North Korea's "belligerence and recklessness."
It also warned the country's leadership that it will continue to face strong U.N. sanctions "if it continues to reject denuclearization and play with fire in front of the world."
Trump's administration has signaled he favors a hard line against the North by deploying a large amount of military hardware to the region, including the Carl Vinson.
But it has signaled more recently that it's planning to take a more diplomatic approach, while keeping all options, including military action, on the table.
The initial order for the Carl Vinson was announced ahead of the April 15 celebrations honoring North Korea's late founder Kim Il Sung, when many anticipated another nuclear test that failed to occur.
But it turned out the strike group was headed in the opposite direction, causing much confusion.
The Navy said the Nimitz-class aircraft carrier along with the guided missile destroyers USS Michael Murphy and USS Wayne E. Meyer were joined by the South Korean ships Sejong The Great and Gang Gam Chan.
"These operations demonstrate the U.S. Navy's commitment to regional security and steadfast partnership with the Republic of Korea Navy," Lt. Joshua Kelsey, a spokesman for U.S. Naval Forces Korea, said in a statement.
On Friday, U.S. Secretary of State Rex Tillerson stressed the need for stronger diplomatic and economic measures against the North and singled out China as he urged countries to fully implement those that are in place.
"Failing to act now on the most pressing security issue in the world may bring catastrophic consequences," he said while chairing a ministerial meeting of the U.N. Security Council.
Tillerson proposed ideas including suspending diplomatic relations with the North, a ban on coal imports from the country and preventing its overseas laborers from sending money home.
He also warned that Washington would move unilaterally against international firms conducting banned business with Pyongyang, which could ensnare banks in China, the North's primary trade partner.
But the meeting also underscored the divisions over Trump's hard-line toward North Korea, which has defiantly persisted with its nuclear program despite years of U.N. sanctions.
China pushed back, saying it was not only up to Beijing to solve the North Korean problem. Chinese Foreign Minister Wang Yi said dialogue and negotiations were the only solution
"The use of force does not solve differences and will only lead to bigger disasters," he said.
China, which is North Korea's main ally and trading partner, has grown increasingly impatient with Pyongyang's defiance and signed onto the last two rounds of tightened sanctions. It also suspended coal imports from the North earlier this year.
But it also wants to avoid toppling the regime or provoking an all-out conflict that would destabilize the region.
Trump has in turn criticized Beijing for failing to do enough and praised it for stepping up its efforts against the North.
On Thursday, Tillerson told Fox News that China threatened the North Korean government with sanctions in the event of another nuclear test.
Beijing has not publicly commented on that assertion or Trump's tweet.
North Korea's state-run media, meanwhile, claimed U.S. territory already has been exposed to an attack.
Most experts believe the country has years to go before it has an operational intercontinental ballistic missile and a miniaturized warhead that would fit on it and survive re-entry into the atmosphere.
The Rodong Sinmun newspaper also downplayed concern about the Carl Vinson.
"Rendering aircraft carriers useless is not even a problem" for its military, it said, according to AP.
The U.S. has about 28,500 servicemembers in South Korea, which remains technically at war with the North after the 1950-53 conflict between the countries ended in an armistice instead of a peace treaty.
gamel.kim@stripes.com Twitter: @kimgamel
---
---
---
---