USS Arizona Memorial to reopen over Labor Day weekend after yearlong floating dock repair
by
Wyatt Olson
August 29, 2019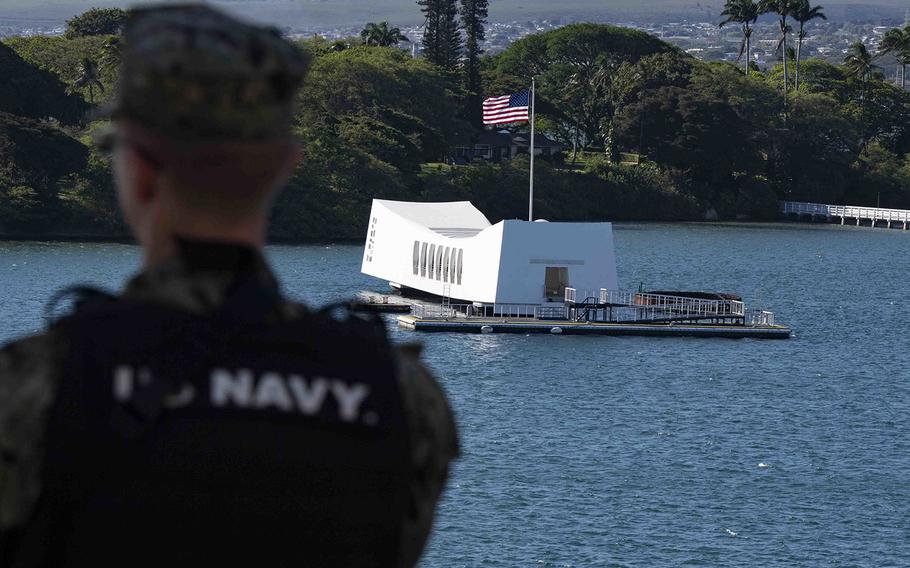 FORT SHAFTER, Hawaii — The USS Arizona Memorial will open to visitors Sunday morning after a yearlong closure for $2.1 million in repairs.
The memorial in the waters of Pearl Harbor closed last year after divers discovered the anchoring system used to hold a floating dock in place was damaged. Visitors arrive by boat and access the viewing area via a walkway on the dock.
The memorial — which draws more than 4,000 visitors a day when open — is the heart of the Pearl Harbor National Memorial, which focuses on the history of the Japanese surprise attack on Oahu on Dec. 7, 1941. The site is managed by the National Park Service.
During the attack, Japanese planes sank the battleship USS Arizona, killing 1,177 men, some of whom were entombed in the sunken hulk.
In May 2018, park service personnel discovered tiny cracks on the dock, and divers subsequently found that six galvanized chains anchored to concrete pilings in the harbor floor were loose.
The concrete pilings had apparently shifted at some point, said Pearl Harbor National Memorial spokesman Jay Blount.
"We'll never know the full extent to why it happened," he said. "The concrete anchoring blocks are submerged in this really soft, mucky sediment on the bottom of Pearl Harbor, and all the divers could see was the chains."
Engineers have guessed that the concrete shifted during particularly high king tides in early 2017, he said.
"We're assuming those high tides may have picked up those concrete blocks and moved them, and when they settled, they didn't settle in the same location," he said.
The new anchoring system has more flexibility in high tides.
The system anchors using large screws tightened into the harbor floor, in some cases up to 100 feet into the stone, Blount said. The dock is then connected to those anchors with stretchable synthetic cords.
"These have some stretch so that if there is a tide event they'll allow for the dock to go up higher without moving the anchoring points themselves," he said.
The cost of the repairs came from a variety of National Park Service sources, he said.
During the yearlong closure, the park service offered visitors free, narrated boat tours of the former Battleship Row, which included passing near the Arizona Memorial. The Pearl Harbor National Memorial includes a host of other attractions, including the USS Bowfin Submarine Museum and the Battleship Missouri Memorial.
But the past year has been a disappointment for some making a once-in-lifetime trip to the historic site, only to find the Arizona Memorial off limits.
"A lot of people were frustrated," Blount said. "We shared people's frustrations here."
olson.wyatt@stripes.com Twitter: @WyattWOlson