USS Antietam commander relieved of duty following ship grounding
by
Erik Slavin
March 1, 2017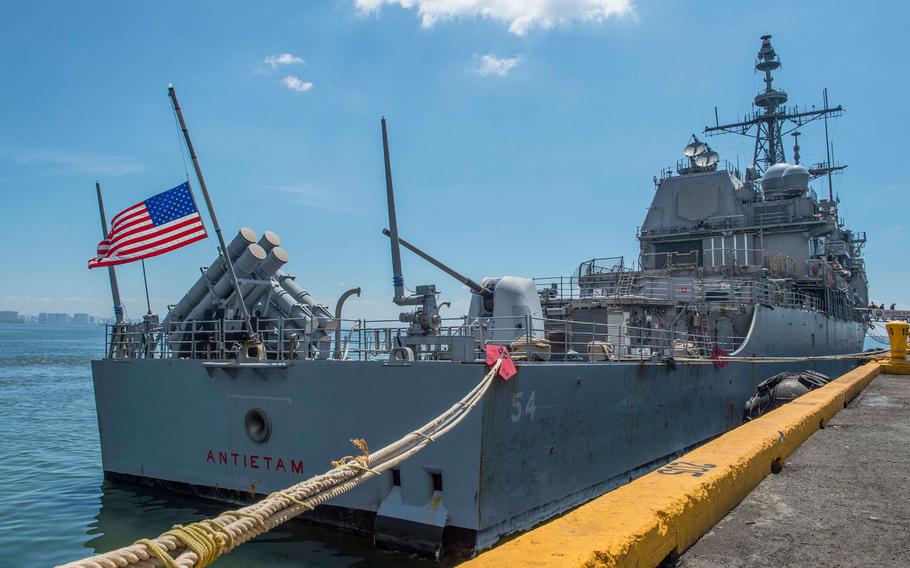 YOKOSUKA NAVAL BASE, Japan — The commander of the guided-missile cruiser USS Antietam was relieved Wednesday following results of an investigation into the ship's grounding earlier this year.
Capt. Joseph Carrigan was relieved due to a "loss of confidence" in his ability to command by Rear Adm. Charles Williams, commander of Task Force 70, according to a Navy statement from U.S. Pacific Fleet in Hawaii on Wednesday.
Carrigan's relief comes after Antietam ran aground on shoals just outside Yokosuka Naval Base on Jan. 31, leaking an estimated 1,100 gallons of hydraulic fluid into the bay.
"While the investigation is still under review by leadership, sufficient findings of fact emerged during the investigation to warrant the relief of the commanding officer," the statement said.
Antietam was anchored near the northeast side of the base at the Ammunition Handling Anchorage Area at about 11 a.m. when it drifted into the rocks, Naval Forces Japan officials said in January.
The area is a common anchorage point for both U.S. and Japanese ships prior to entering the base harbor. Sailors from other ships have told Stars and Stripes that rough seas and winds can make it difficult to control ships there, but still within a crew's capabilities during normal circumstances.
A high-wind warning was posted by weather officials at Yokosuka for early Jan. 31, but it remains unclear if the ship was affected by wind, or what other circumstances may have come into play.
Navy officials called Antietam's grounding a "minor operational setback." It is one of at least seven ships homeported at Yokosuka equipped for intercepting ballistic missiles.
The Navy is still finalizing plans for Antietam's repair, which is expected to commence in Japan in "the coming weeks," a Navy statement said. Capt. Jonathan Duffy, deputy commodore of Destroyer Squadron 15, will assume temporary duties as the ships commander until a permanent relief is assigned.
Carrigan has been temporarily reassigned to 7th Fleet headquarters in Yokosuka, which is typical following a command relief.
Carrigan previously served as executive officer aboard the destroyer USS Nitze and commanded the destroyer USS Russell before taking over Antietam. He earned his commission after graduating from the University of Notre Dame in 1993. He later graduated first in his class among all officers after earning a graduate degree in national security and strategic studies at the Navy War College.
His ashore duties included service as a Navy legislative fellow for former Sen. Jeff Sessions, who is now attorney general. Carrigan was also a speechwriter for the chairman of the Joint Chiefs of Staff.
Slavin.erik@stripes.com Twitter:@eslavin_stripes