US warship challenges restrictions near disputed islands in South China Sea
by
Caitlin M. Kenney
May 28, 2020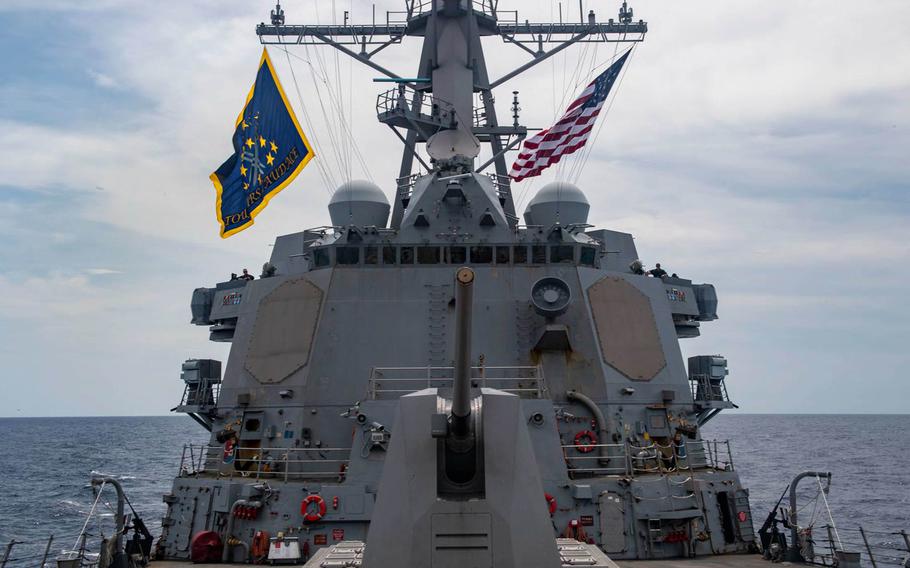 WASHINGTON — The guided-missile destroyer USS Mustin conducted a freedom-of-navigation operation in the Paracel Islands in the South China Sea on Thursday to challenge restrictions set by three nearby countries, according to the Navy.
The Mustin was challenging claims by China, Taiwan, and Vietnam that require military vessels to seek permission or provide advanced notification to travel through the territorial sea under "innocent passage," Cmdr. Reann Mommsen, a spokeswoman for 7th Fleet, said in a statement.
China claims sovereignty over the Paracel Islands and has occupied them since 1974, according to the CIA World Factbook. However, ownership of the islands is also claimed by Taiwan and Vietnam. China has set up military facilities on the islands, such as airfields and outposts, which has raised alarms from the United States about the growing militarization of the region.
The Navy said innocent passage is a right under international law and prior notification is not required.
"By engaging in innocent passage without giving prior notification to or asking permission from any of the claimants, the United States challenged the unlawful restrictions imposed by China, Taiwan, and Vietnam," Mommsen said in the statement. "The United States demonstrated that innocent passage may not be subject to such restrictions."
Ships in the 7th Fleet area of operations regularly conduct freedom-of-navigation and presence operations in the South China Sea. The shipping routes in the region are vital to global commerce and an estimated $3.4 trillion in trade passed through the South China Sea in 2016, according to the Center for Strategic and International Studies, a think tank in Washington, D.C.
The Pentagon's 2018 National Defense Strategy has shifted the military's focus from counterterrorism operations to "great power competition" with China and Russia. The economic policies of China and its militarization of the South China Sea and Russia's efforts to undermine NATO and its nuclear arsenal are major concerns for the U.S. military, according to the National Defense Strategy.
The Mustin was also challenging China's claim of "straight baselines" around the Paracel Islands, which gives them claim to more water and zoning than they are entitled to under international law, according to the statement.
The U.N.'s 1982 Law of the Sea states that territorial sea extends 12 nautical miles or 13.8 miles from the baseline or land of a coastal state.
kenney.caitlin@stripes.com Twitter: @caitlinmkenney
---
---
---