US warns North Korea of strong response to another nuclear test
---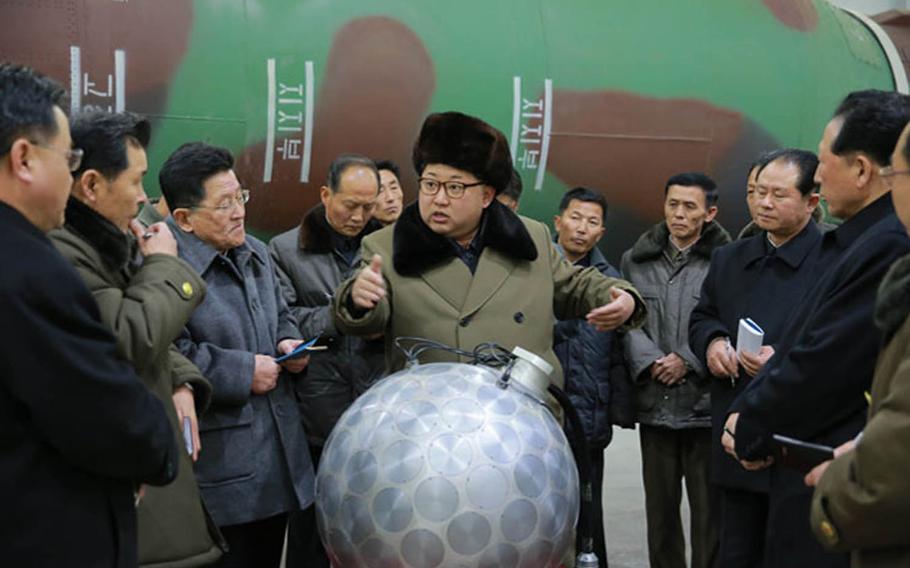 A senior U.S. diplomat warned Tuesday that America would respond strongly to a fifth nuclear test or any other provocations by North Korea, saying Pyongyang should learn from the example of the nuclear deal with Iran.
The warning came days after the North reportedly tried but failed to launch an intermediate-range missile. Many officials and analysts have speculated that North Korean leader Kim Jong Un, in defiance of harsh U.N. sanctions, was preparing a fifth nuclear test as a show of power ahead of a ruling party congress next month..
U.S. Deputy Secretary of State Anthony Blinken said the sanctions, which were imposed after the last nuclear test in January, should be given time to work. But he stressed the international community would respond strongly to any new provocations by North Korea.
"If North Korea undertakes additional provocations, the existing Security Council resolution calls for additional significant measures so we would anticipate that in that event that is exactly what the international community would do," he said at a joint news conference after trilateral talks with his South Korean and Japanese counterparts.
He called on the North to follow the example of the nuclear deal reached last year with Iran. Tehran, the United States and five other world powers agreed to a deal to curb Iran's nuclear activities in exchange for the lifting of sanctions that had frozen billions of dollars in assets and oil revenue.
"If a country, even one with which we've had the most profound differences, is prepared to engage seriously and credibly in answering the demands of the international community, we are also prepared to engage," Blinken said.
Blinken said Iran had made a "fundamental choice" to "freeze and roll back its nuclear program and allow inspectors to come in and create the time and space to see if we could agree on a comprehensive agreement."
"It's our hope that the DPRK will be inspired by that example," he said, using an acronym for the Democratic People's Republic of Korea.
North Korea has stepped up its bellicose rhetoric and weapons tests despite the fresh round of U.N. sanctions.
The South Korean military said Tuesday that it was strengthening its surveillance of the North. Monday, amid reports of increased activity at Pyongyang's main nuclear site, South Korean President Park Geun-hye said the North was preparing a fifth nuclear bomb test. She did not elaborate on what led her to that conclusion.
gamel.kim@stripes.com Twitter: @kimgamel
---
---
---
---