US urges restraint from North Korea but says military is ready if needed
---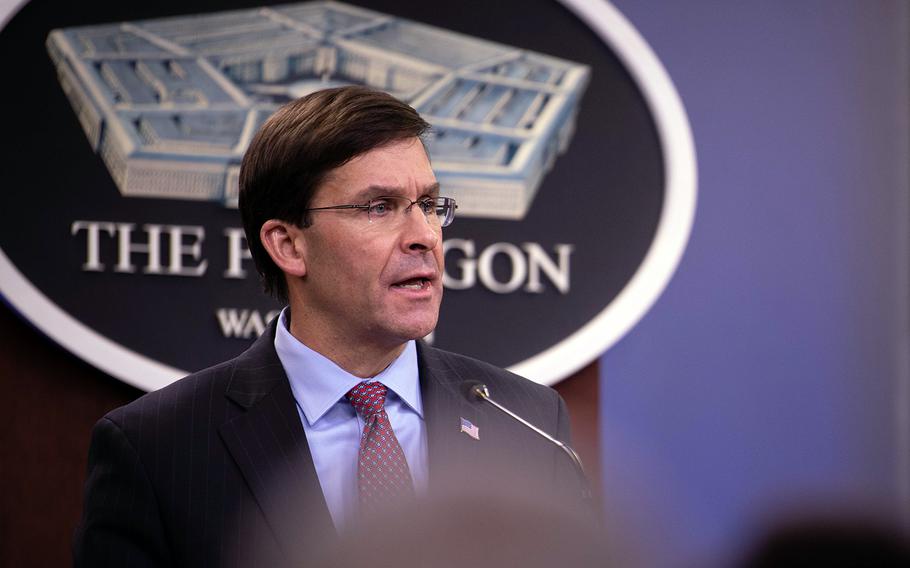 SEOUL, South Korea — Defense Secretary Mark Esper urged restraint from North Korea after it threatened to unveil a "new strategic weapon," but he said the U.S. military remains ready to fight if needed.
Esper maintained hope for diplomacy despite the resumption of weapons testing and saber rattling by the North after talks collapsed following a failed February summit between President Donald Trump and North Korean leader Kim Jong Un.
"We think the best path forward, with regard to North Korea, is a political agreement that denuclearizes the peninsula," Esper said Thursday in an interview with Fox News. "We are going to remain on that path, and we would, obviously, urge Kim Jong Un and his leadership team to sit back down at the negotiation table to do that."
"But that said — we remain, from a military perspective, ready to fight tonight, as need be, but more importantly, or as importantly, I should say, enable our diplomats to get an agreement done," he added. "So, we would urge restraint by Kim Jong Un."
The North Korean leader warned of an unspecified "shocking" action and said the North would unveil a "new strategic weapon … in the near future," in remarks reported by the state-run Korean Central News Agency on New Year's Day.
He offered no specifics, but the comments came amid fears the North may test-fire an intercontinental ballistic missile, which Trump has signaled would be crossing a red line.
On Friday, the country's official newspaper said that any threat to the country's "dignity and survival should be met by an immediate and powerful strike."
North Korea should "maintain invincible military power and beef it up," Rodong Sinmun said in an editorial.
Esper also pushed back against concerns raised by former national security adviser John Bolton that the reduction of joint military exercises with South Korea had harmed U.S. military readiness on the divided peninsula.
Bolton, a hard-liner who left Trump's administration due to policy differences, tweeted Wednesday that the United States should resume full-scale joint drills and hold congressional hearings on "whether US troops are truly ready to fight tonight."
Esper insisted the U.S. maintains "a full array of forces" and "they are ready."
"I'm confident in the readiness of our forces to deter North Korean bad behavior, and should that fail, to fight and win as necessary," he said.
Army Gen. Mark Milley, chairman of the Joint Chiefs of Staff, declined to comment on whether additional forces were on alert due to the latest threat, but he expressed confidence in military capabilities on the divided peninsula.
"I would say the alert statuses are at sufficient level that we can respond to anything that happens," he said during a separate press conference with Esper. "Our military defensive capabilities are adequate to defend the homeland."
Some 28,500 U.S. troops are stationed in South Korea, which remains technically at war with the North after their 1950-53 conflict ended in an armistice instead of a peace treaty.
The U.S. also maintains more 50,000 troops as well as warships and bombers in nearby Japan and Guam.
North Korea, meanwhile, stepped up its rhetoric days after Kim said the communist state is no longer bound by a self-imposed moratorium on long-range missile and nuclear tests.
gamel.kim@stripes.com Twitter: @kimgamel
---
---
---
---