US troops in Japan hit with curfew after alleged rape on Okinawa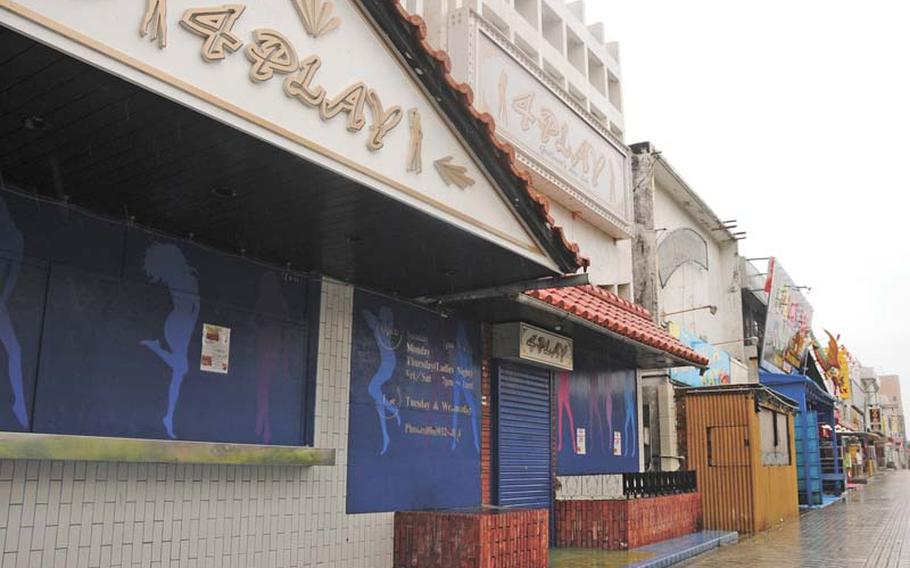 SASEBO NAVAL BASE, Japan — The commander of U.S. Forces Japan imposed a curfew Friday for all U.S. military personnel in Japan in the wake of this week's alleged assault and rape of an Okinawan woman by two U.S. Navy sailors.
"I want to personally apologize for the grief and trauma the victim has endured and the anger it has caused among people in Okinawa," Lt. Gen. Sam Angelella, commander, U.S. Forces, Japan, said in a statement. "Japan is one of our greatest allies, most trusted partners, and is the cornerstone of peace and stability in the Pacific region. We will continue to do all we can to ensure the U.S.-Japan relationship remains strong."
The 11 p.m.-5 a.m. curfew does not affect family members or any civilians or contractors employed by the U.S. government.
The only military exceptions are for troops who must commute to work outside of normal working hours — they are not allowed to make any stops en route — or those who have to deal with a medical emergency. Traveling servicemembers who are staying in off-base hotels must remain in their rooms after 11 p.m., with hotel bars and restaurants being considered off-limits.
The curfew will remain in effect indefinitely. Violations are punishable under the Uniform Code of Military Justice.
Angelella also ordered "core value retraining" for military and civilians covered under the status of forces agreement, as well as a review of the USFJ liberty policy over the next few weeks.
Japanese and Okinawan government officials did not immediately comment on the curfew.
Curfews following alleged violent acts by U.S. servicemembers are not new in the Pacific.
Troops in South Korea have been under a curfew for more than a year following two rapes of South Korean women, and others have been imposed in Japan.
Friday's order comes on the heels of the arrests Tuesday of Seaman Christopher Browning and Petty Officer 3rd Class Skyler Dozierwalker, both 23, of Fort Worth Naval Air Base, Texas. The pair of reservists came to Okinawa from Naval Air Facility Atsugi on Sunday and were scheduled to return to the U.S. on Tuesday morning, Okinawa Prefectural Police officials said.
The woman, who according to media reports is in her 20s, told police she was walking home from work in central Okinawa at about 4 a.m. when she was assaulted and raped in the parking lot of her apartment building. The woman suffered pressure injuries to her neck.
Shortly after the incident, police tracked two "foreigners" who matched the descriptions of the attackers to a nearby hotel. There, they found possessions belonging to the woman in the hotel rooms of Browning and Dozierwalker, a police spokesman said Friday.
Browning was arrested around 7:30 a.m. at the hotel, but police were unable to identify Dozierwalker as the other suspect at that time. He was taken to a police station for voluntary questioning, where he admitted to committing the crime, they said.
According to police, both men had been drinking before the alleged attack and officers detected alcohol on their breath when they were arrested.
The case was sent to the Okinawa Public Prosecutors Office in Naha on Wednesday, police said. Prosecutors have a little more than two weeks to decide whether to charge the men. They are being held at a police detention facility.
Japanese officials were quick to express outrage over the alleged crime, lodging protests with U.S. Embassy officials and demanding action.
Okinawa Gov. Hirokazu Nakaima was in Tokyo on Wednesday where he met with American diplomats to ask them to put measures in place to ensure this would never happen again. Nakaima will be visiting the U.S. next week to meet with government officials about base issues, a spokesman said. He now plans to directly protest the incident during those meetings Wednesday, the spokesman said.
Okinawa is home to more than half of all U.S. troops in Japan — 28,000 of 52,000 — despite being one of the country's smallest prefectures, USFJ officials said. The alleged rape has raised tensions on Japan's southernmost prefecture, where relations between the U.S. military and the public have been strained in recent months over the arrival of the controversial MV-22 Osprey aircraft, which a significant portion of the population believes is unsafe.
In addition, several sexually related incidents have stoked Okinawans' anger in recent years.
Marine Cpl. Iian Christopher Tarver, 21, was arrested at the end of August for allegedly committing a crime similar to the one Browning and Dozierwalker now stand accused of. Tarver is awaiting trial at the Naha Detention Facility. He will appear before a citizen panel in December, Marine officials said.
In the most high-profile case, three U.S. servicemembers abducted and raped of a 12-year-old schoolgirl in 1995.
Between 2006 and 2012, there have been three convictions in Japan for sexually related incidents involving Marines, Marine officials said citing USFJ data.
In February 2008, in the midst of protests over the rape of a 14-year-old Okinawa girl by a Marine staff sergeant and the arrest of two Marines in separate alcohol-related incidents, Marine Corps officials restricted servicemembers on Okinawa and Marine bases in mainland Japan to base or their off-base quarters for a "period of reflection" that lasted about two weeks.
In addition, they imposed a 10 p.m. to 5 a.m. off-base curfew for all active duty servicemembers and banned servicemembers from drinking alcohol off-base. The alcohol ban was lifted April 4, but the curfew lasted until September.
In September 2004, U.S. Forces Korea commander Gen. Leon LaPorte amended a curfew on servicemembers to include Defense Department civilians and contractors. But in February 2005, Local 1363 of the National Federation of Federal Employees pressed for hundreds of hours in back pay for its members, whom they said were effectively kept on "standby duty" because of the restrictions. Although claims for compensation were rejected over the timeliness of the claim, Laporte lifted the curfew on civilians shortly afterward.
Erik Slavin and Hana Kusumoto contributed to this report.
---
---
---