US to rotate more aircraft, troops through Philippines
by
Tara Copp
April 14, 2016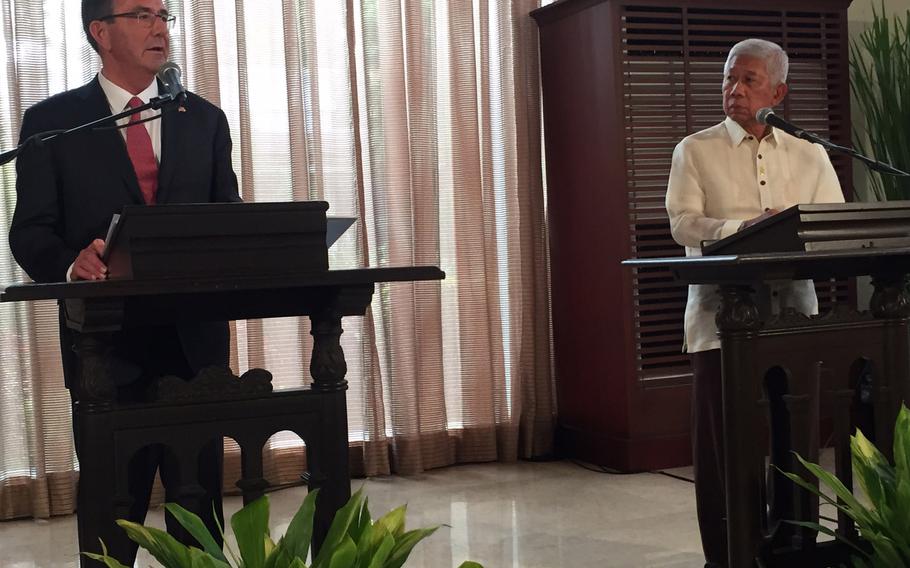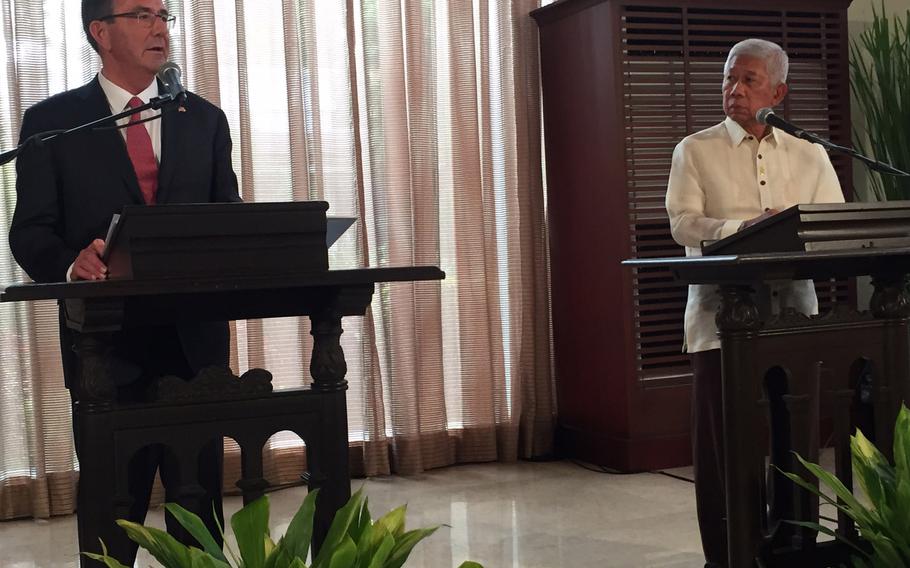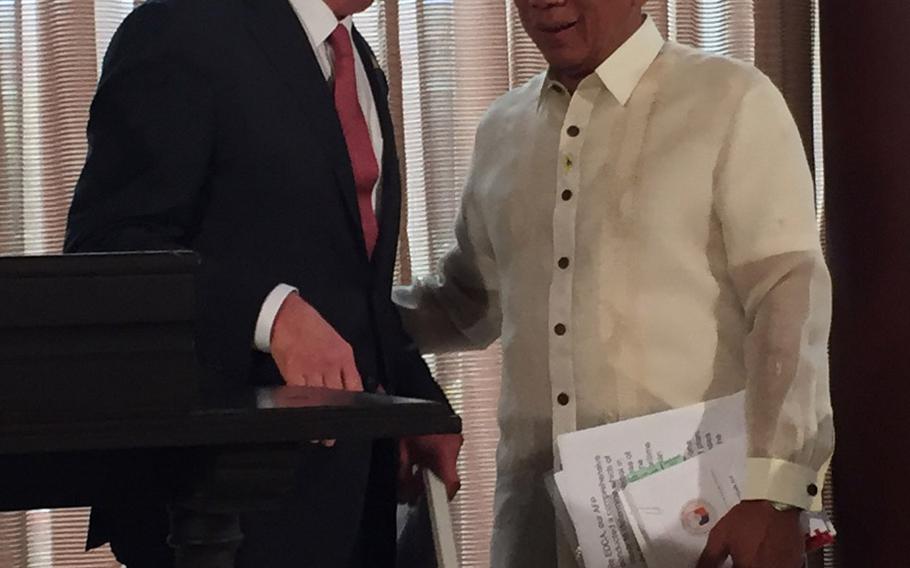 MANILA, Philippines — The U.S. is deploying nine aircraft and hundreds of U.S. troops and special operators to at least seven bases in the Philippines as part of a new, regular presence there, Secretary of Defense Ash Carter announced Thursday.
The first dispatch of forces, totaling about 275 people, will be pulled from the roughly 5,000 U.S. troops now in the Philippines as part of the bilateral Balikatan annual exercise, which ends Friday.
Additionally, the Defense Department announced that the U.S. and Philippines have twice conducted joint patrols in the disputed South China Sea, once in March and once in April, and said it plans to continue regular joint patrols in the future.
The 275 servicemembers will remain in the Philippines through the end of the month, but are expected to be replaced by follow-on personnel.
"There is going to be regular, periodic presence here of American forces," Carter said. "But it may change in its nature, and timing and duration depending on what we and the Filipinos decide is optimal."
Follow-on forces also could include different aircraft than those remaining this month, a senior defense official said.
"Follow-on rotations of additional aircraft will be determined in consultation with our Philippine allies," said a Defense Department fact sheet provided to reporters.
Up to 75 Marines will be assigned to Camp Aguinaldo in greater Manila, headquarters of the Philippine armed forces, where they "will support increased operations in the region and will enhance our combined [command and control] capabilities," according to the fact sheet.
The rotating forces also will include 200 airmen who will operate out of Clark Air Base, a former U.S. Air Force installation about 60 miles north of Manila on the main Philippine island of Luzon.
The U.S. based about 20,000 personnel at Clark prior to the base's closure in 1991, after it suffered catastrophic damage from Mount Pinatubo's eruption. Then in 1992, the U.S. Navy left Subic Bay — once among the largest overseas U.S. bases — after the Philippines rejected a new lease.
However, the Philippines now finds itself in an escalating conflict with China over territory and fishing rights in the South China Sea. It's one of a handful of countries in the region that has grown wary of China's rapid militarization of the sea, which includes newly built artificial islands equipped with weapons, radar systems and military-ready airstrips.
The additional American forces announced Thursday build on a growing U.S. military footprint in the Philippines.
The deployments "will ensure safety for military and civilian activities in international waters and airspace," according to the fact sheet.
The 200 U.S. airmen will deploy from various bases in the Pacific to support five A-10C Thunderbolt II attack aircraft from the 51st Fighter Wing at Osan Air Base, in South Korea; three HH-60G Pave Hawk helicopters from the 18th Wing at Kadena Air Base, Japan; and a MC-130H Combat Talon II special operations aircraft.
Defense officials would not specify where the Talon was based. The Talon specializes in delivering and extracting special operators into contested areas and has a suite of sensors that can be used to support rescue and humanitarian missions.
In March, the U.S. announced it would rotate troops to the following five Philippine bases: Antonio Bautista Air Base, Fort Magsaysay, Lumbia Air Base, Basa Air Base and Mactan-Benito Ebuen Air Base. The announcement came after a Philippine court earlier this year approved the Enhanced Defense Cooperation Agreement, which the two sides signed in 2014.
One of the bases, Antonio Bautista Air Base, is on Palawan Island. It is about 100 miles away from some of the Spratly Islands, a collection of rocks and small islands claimed by several countries in the region.
Carter announced Wednesday that the U.S. plans to expand its presence beyond those five bases to include Clark Air Base and Camp Aguinaldo.
Clark Air Base, where U.S. air assets are to be positioned, is about 120 miles from Scarborough Shoal, a Philippines reef that was seized by China in 2012. Recent activity by China suggests it may build up and militarize that formation as it has in other man-made islands in the South China Sea.
"For the Philippines, we expect the U.S. Forces to help us in our maritime awareness," Philippines Defense Secretary Voltaire Gazmin said. "With the presence here it will deter uncalled for action by the Chinese.
Carter said the deployment of U.S. aircraft and forces so close to China's own build-up is not meant to provoke or raise tensions in the region. China has already sent advanced fighters and air defense systems to the nearby and already-militarized man-made Woody Island.
"We do not want incidents associated with these land disputes," Carter said. "We're trying to tamp down tensions here."
copp.tara@stripes.com Twitter: @TaraCopp